I have a really hard time resisting any cream pie. Especially banana. It brings me back to my childhood when my mom would make a quick and easy version for Thanksgiving and sometimes in the summer time. That simple version has been a summer staple in my household for years now. I know there are fancy cook versions out there where you actually make your own custard/filling from scratch. They set up really nice and give you the accomplishment that you know exactly what went into your truly homemade dessert.
I'm guessing.
I've never made one like that.
I have no problems heading down the baking isle and tossing in a few boxes of instant pudding mix.
I think my foodie badge has probably been taken away from somewhere out there in foodie land.
I don't care. This pie is super easy, super tasty and super banana-ie! Plus, it set's up really nice!
AND as a bonus, I'm going to share a tip with you that forever changed the way I make my whipped cream.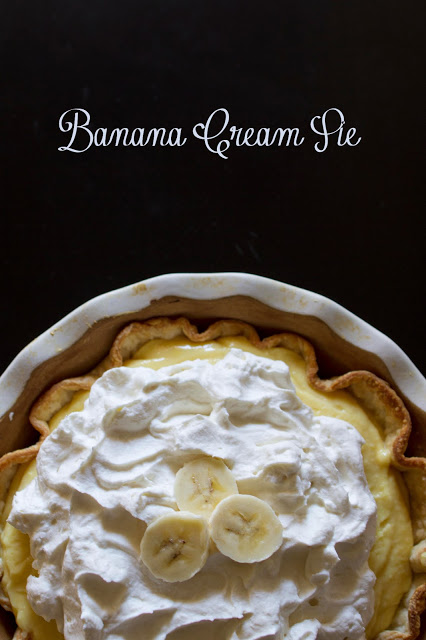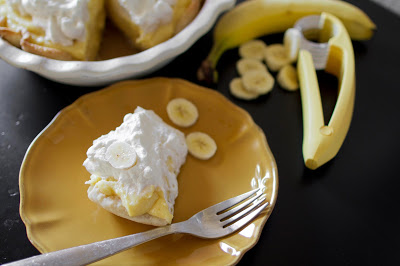 Banana Cream Pie
Printable Version
*1 precooked pie crust, cooled
3 small (3.4 oz) Banana Cream Instant Pudding, divided
1 (12 oz) evaporated milk (1 3/4 cups)
2 cups milk
2 large bananas
Reserve 1 TBSP of the pudding mix for the whipped cream. Set aside. In a large mixing bowl, whisk together pudding mix, evaporated milk and milk for two minutes. Slice one banana and layer slices on the bottom of the crust. Pour pudding over the banana layer and spread until smooth. Cover with plastic wrap and chill for 1 hour. Slice remaining banana and layer over the top of the filling. Top with whipped cream and serve. This will last up to two days in the refrigerator.
*I used a refrigerated Pillsbury pie crust and just followed the directions on the back of the box.
Whipped Cream
1 pint (2 cups) whipping cream
*1 TBSP Banana Cream Instant Pudding Mix
1 1/2 tsp pure vanilla extract
1/2 cup sugar
Place a large bowl and whisk in the freezer for 15 minutes. This will help with it whipping up a little quicker. Whip together whipping cream, instant pudding mix, vanilla extract and sugar. Whip on high for 5-10 minutes or until stiff peaks form.
*Adding one tablespoon of instant pudding mix creates the volume you need in whipping cream. It also helps keep it fluffy and not fall or separate hours after you make it. It will be as fresh as you first made it for 2 days in the refrigerator. Use vanilla pudding mix if you are wanting a classic whipped cream.