I have a lot of cook books. Not as many as some, but a good fair library. Half of that library I've never cooked anything out of. Partly because I've had them stuffed into a small cabinet above the fridge. Sound familiar?
I had this adorable chicken wire basket that was just sitting on top of my cabinets so I decided to put it to good use.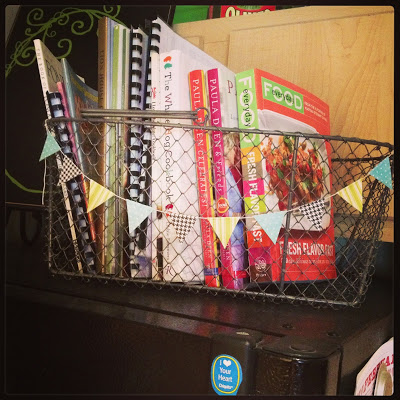 I still have a few larger cook books that are in the cabinet (they just wouldn't fit), but I'm super happy with how this turned out. They are just nestled on top of my fridge with easy access!
Two of those favorite cookbooks include these beauties. Not exactly gourmet, but they sure bring a smile to my face! My mom bought these for me from a book fair when I was in elementary school.
Does anyone else have these? It just brings me back to being a child and loving helping out in the kitchen.
It was fun to experiement with ingredients and come up with some concoction you just thought was so fancy. I need to remember that the kitchen is a play place. Not just for my kids, but for me, too!