I absolutely love a classic chicken salad. You know, a little shredded chicken, mayo, salt, pepper and maybe some celery. Super easy and really good. I especially like to eat mine with saltine crackers instead of bread.
Last summer I was craving chicken enchiladas, but it was too blazing hot and I wasn't in the mood to turn on the heat of my oven and cook my house even more. I had planned on incorporating my black beans into the enchiladas so I wanted to use them up somehow, but was at a loss of what else I could throw them into. I could have made black bean burgers but, then I would have to have turned on my stove again.
I wanted something cool and fresh tasting, then it hit me. Chicken salad with a twist! I already had the other ingredients I was going to garnish my enchiladas with (tomatoes and avocados) and knew they would be a perfect addition.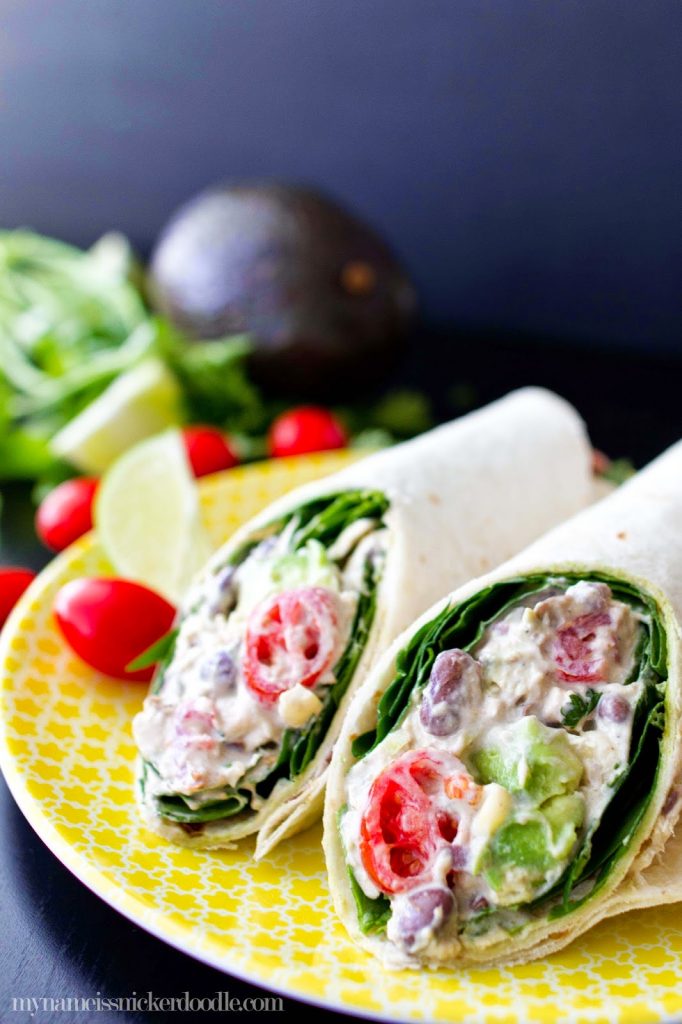 The dressing would need to have some sort of Mexican/Southwestern flavors so I mixed together a little mayo, cilantro, garlic, cumin and chili powder. I had some frozen corn in the freezer and tossed some in for more texture. I was going to just wrap it up in a tortilla but, I felt it still needed a little something. That's where the spinach comes in. It made it more 'wrap' like!
Because of the avocado and tomatoes it only lasts for about 3 days in the fridge. When we ran out of tortillas, we actually got smart and ate it as dip with tortilla chips!!! WHOA! So good!
Whether is summertime or not, this chicken salad makes for a great lunch or easy dinner option!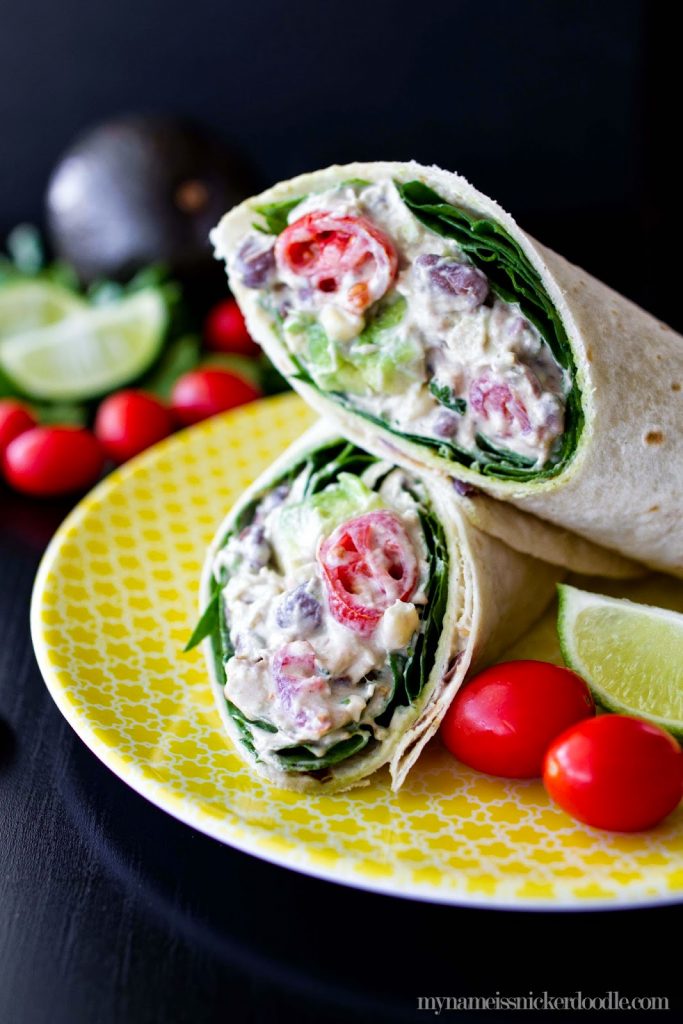 Southwestern Chicken Salad Wraps
Serves 4
Printable Version
Ingredients
2 cups chicken, cooked and shredded
2 cups black beans
1 cup frozen corn, thawed
1 cup cherry tomatoes, sliced in half
1 large avocado, ripe and cubed
2 green onions, thinly sliced, using all of white and most of the green
1 cup mayonnaise or Greek yogurt
1 bunch cilantro
2 TBSP lime juice, freshly squeezed
1 tsp cumin
1 tsp chili powder
1/4 tsp garlic powder
1/4 tsp salt
1/4 tsp pepper
9 oz. fresh baby spinach
4 10 inch flour tortillas
Directions
1. In a large bowl toss together chicken, black beans, frozen corn, cherry tomatoes, cilantro, avocado and green onions.
2. In a medium bowl mix together mayo, cilantro, lime juice, cumin, chili powder, garlic powder, pepper and salt.
3. Fold mayo into chicken mixture and gently mix until coated.
4. Place 4 tortillas onto a clean surface.
5. Evenly spread about 1 large handful of spinach onto each tortilla.
6. Evenly divide chicken salad mixture onto wach tortilla.
7. Tightly roll up each tortilla and individually wrap in plastic wrap or parchment.
8. Chill for 1 hour before serving. These can be made up to 24 hours ahead of time.
This recipe was originally shared over at Landeelu.
This recipe is linked up at –Mandy's Recipe Box, Lovely Little Link Party, The Creative Exchange,