All growing up I remember my dad used to talk about his mother's rice pudding. You could see the sparkle in his eyes just thinking about the cinnamon and raisin combination. Here's a little known fact about me…I didn't grow up eating rice. Like, at all! My mom just didn't make it. So, when my dad described to me what rice pudding was, I was slightly intrigued and disgusted at the same time. You cook already cooked rice in milk and then add cinnamon and raisins?! Um, no thanks.

That's until I had it with more fun flavors…like peanut butter and chocolate! When we were newly married a new dessert place opened up and all they served was rice pudding. They had a really good version of white chocolate and raspberry that I'm working on.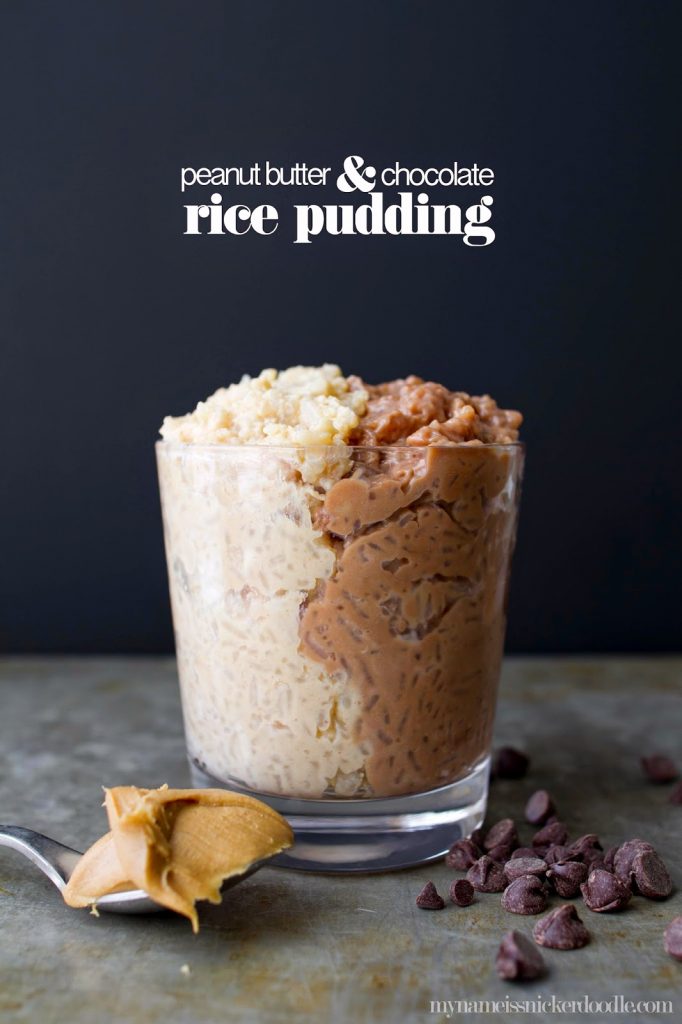 My peanut butter and chocolate versions definitely aren't your grandmother's rice pudding. Each on their own are simply delectable, but put the two together and you've got a complete winner! Plus, it really couldn't be easier to make. It just takes a little time and a few ingredients you most likely already have in your fridge!
You could always sub the peanut butter for chunky or even almond butter would be really good! If you like more of a dark chocolate flavor, feel free to use semi sweet or dark chocolate chips.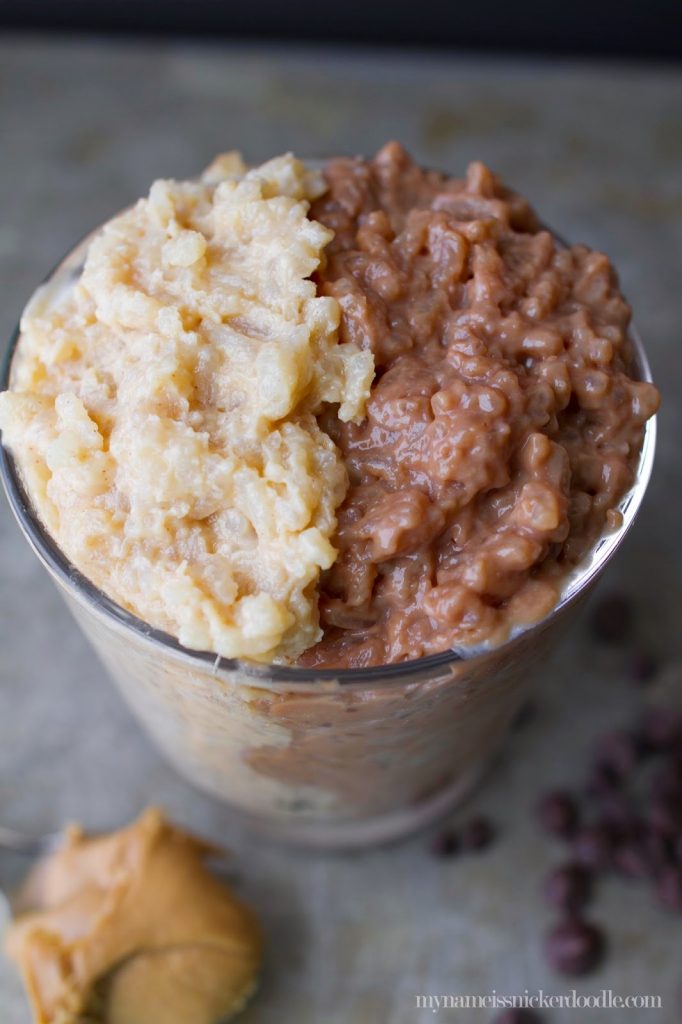 Peanut Butter and Chocolate Rice Pudding
Printable Version
Serves 6-8
Ingredients
2 cups cooked white long grain rice
4 cups 2% or whole milk
2 cups granulated sugar
1 large egg
2 tsp pure vanilla extract
1 cup heavy cream
1/3 cup peanut butter
1/2 cup milk or semi sweet chocolate chips
Directions
1. In a large pot bring to a boil cooked rice, milk, and sugar. Stir to combine.
2. Turn down to a simmer and cook for 45 minutes, stirring often. Mixture should be thickened.
3. In a small bowl, whisk egg with a fork.
4. Add in 2 tablespoons of hot rice mixture to the egg and whisk together. Continue to add 2 tablespoons of rice mixture until you've added about 1 total cup. This helps tempure the egg so it doesn't end up scrambled.
5. Pour egg mixture into the pot of the rice mixture and stir until completely combined. Cook for 2 additional minutes.
6. Turn off heat and stir in vanilla and cream.
7. Divide mixture equally into two medium bowls. About 3 cups each.
8. Stir in peanut butter into one bowl and mix until well incorporated.
9. Stir in chocolate chips and mix until chocolate is melted and well incorporated.
10. Cover and chill in the refrigerator for 4 hours before serving. This can be made up to one week in advanced.
You can check out the original post of this recipe I shared over at Landeelu.
This recipe is linked up at –Weekend Re-Treat, Whimsy Wednesday,