Yesterday when I said I didn't want to overwhelm you with two fabulous recipes in one post today, I guess I forgot that I was going to post two recipes anyways. Ooops! I hope you'll forgive me as you drool over these next pictures like I did! And you can't have one recipe without the other so they are kind of like one, right?
The first is a combination of two recipes that I made my own. I altered some things here and there and am super pleased with how it turned out. Who needs plan ol' sugar cookies when you can have chocolate sugar cookies? These almost have a brownie like texture to them. That's code for – they're extra great!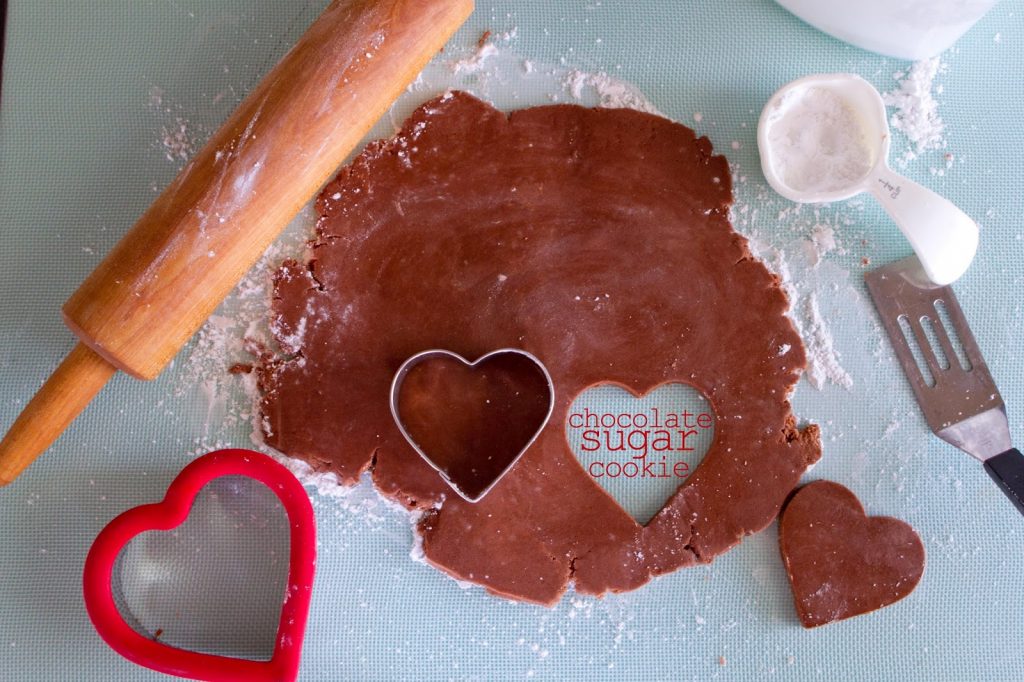 Chocolate Sugar Cookie Dough
Printable Recipe
Makes about 4 dozen cookies
1 cup real butter, softened
1/2 cup shortening
2 cups sugar
3 eggs, beaten
2 tsp vanilla extract
3 1/2 cups flour
1 cup cocoa powder
2 tsp baking powder
1/2 tsp salt
powdered sugar for rolling
In a bowl of a stand mixer, cream together butter, shortening and sugar for 2 minutes on medium speed. Add in eggs and vanilla extract and mix until well incorporated. In a separate large bowl, whisk together flour, cocoa powder, baking powder and salt. *This helps it to combine and get any lumps out of the cocoa. On medium speed, slowly add the flour mixture to the creamed sugar mixture. Mix until well combined, but not over mixed. The dough will be real sticky.
Place a large piece of plastic wrap on a clean, flat counter surface. Scoop out dough onto plastic wrap. Using the plastic, shape the dough into a log form. Cover completely with plastic wrap and place in the fridge for 6 hours or freezer for 4 hours or overnight.
Before baking, let the dough thaw for about 30-40 minutes on the counter. Preheat oven to 400 degrees. Divide dough in half. Sprinkle a little powdered sugar on a flat, clean surface and some on a rolling pin. This will help the dough not stick. Roll out to about 1/4 inch thickness. Cut out with cookie cutters. Place on a ungreased cookie sheet and bake for 7-8 minutes. Let cool for 5 minutes then transfer to a wire cooling rack to cool completely.
These chocolate cookies are just delicious on their own.
Remember when I said they tasted like brownies?
Yeah. I know!
What if they got even that much better? Like, iced with my Strawberry Buttercream Frosting? With Valentines coming up and everyone getting fancy with their dipped strawberries…or even stuffed dipped strawberries, this is such a fun twist from the holiday norm.

You could go even one step further and drizzle each cookie with melted chocolate! Any treat drizzled with chocolate already just seems to taste better just looking at it. I really hope you love these as much as I do!
Keep scrolling for the recipe…
Chocolate Dipped Strawberry Cookies
Printable Version


Chocolate Sugar Cookie Recipe, above
Strawberry Buttercream Frosting Recipe
1 cup semi-sweet chocolate chips, melted
Frost each cookie with enough frosting to cover top. Using a fork, drizzle melted chocolate onto each frosted cookie. Let the chocolate set for 2 hours and serve.
This recipe has been linked up to – Whipperberry, Tatertots and Jello, Six Sisters Stuff, Tip Junkie, The Creative Collection, Mandy's Recipe Box, The Best Blog Recipes,