I love it when Ian has a three day weekend!
We either spend them in our pajamas all weekend
watching a million hours of movies and eating take out or left overs.
OR we are on the go, go, go. This last weekend was definitely a "go" weekend and I loved it.
My long weekend actually started on Thursday when I spent the evening with two fabulous friends at the Cheesecake Factory. That should be the way everyone starts off a weekend!
Friday, Liam left with his cousins on a road trip to
Oklahoma to spend the night with more of his cousins.
(My niece was getting baptized on Saturday.)
So, it was just the three of us…and I decided to take Owen and Ian on a date. (Does it count as "my" date if Ian paid?)
We went to the Twisted Root Burger Company.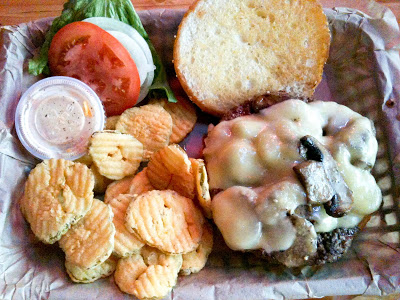 I had only heard great things about this place and did some research on the computer. It was featured on
Diners, Drive Ins and Dives
. Can you get any better?
I strictly wanted to go for the fried pickles, but the burger…OH the burger! I got the Garlic Mushrooms and Swiss burger and Ian got the Chipotle, Guac and Cheddar burger. We also sipped on their Banana Macadamia Nut Root Beer…soooo good! And if this place wasn't fun enough, they give you a celebrity name to call out when your order is ready. It was our last meal before we jumped both feet into trying to eat healthier and it was well worth it!
Saturday (way to early) we headed to OK and spent most of the day with Ian's family. We drove back the same day and got some well needed sleep. Owen is back to his lovable well self so thankfully he is sleeping through the night again.
Sunday Ian and Liam went to church, but I wanted to keep Owen home one more Sunday so I wouldn't scare anyone into thinking their kid was going to get RSV from mine! We lounged around and enjoyed each others company.
Yesterday we went out and about and got some fun materials to make over our laundry room. A new shelf, some curtains to hide the unsightly storage, and I am making some fabric baskets to match. Hopefully we can get it all done today. We also visited a friend who just had a baby…they come to the world so little!!!
Probably the best part about yesterday was something of a huge shock! We headed to Home Depot to find a bit that Ian needed to hang some things for our newly remodeled laundry room. After asking 5 different employees where it could be, two of those people being managers, they couldn't find it anywhere and said they probably didn't carry it. Joking around Ian said, "Well, I guess you are making me go across the street to Lowe's to see if they have it!"
I waited in the car while Liam and Ian headed in. Five minutes later I see Ian (holding Liam's hand) following some stranger through the parking lot. As Ian is walking back to the car, I see the huge smile on his face and he is holding something. The manager at Home Depot did some more looking at his store, found the bit hidden behind some things, drove over to Lowe's and hunted Ian down in the store. He gave it to us for FREE for all of our 'troubles'!!!
Now that is AMAZING service!