The bigger the better, I say!
Well, not a bigger waistline or bigger loads of laundry.
Not even bigger zits or bills…
BUT bigger with the good things in life.
Like a bigger slice of cake, a bigger bathtub to soak in
or bigger and better pictures!!!
I am please to say that I am sharing with you
my very first product review!
Megan from EasyCanvasPrints.com contacted me before
our big trip to try out a fun product.
I got to create my very own 8×10 canvas with
any picture of my choosing.
(I got the 1.5″ wrap around)
And let me tell you…the hardest part about doing this
was picking a picture.
It took me less than 5 minutes to create this
beautiful canvas of my boys (taken in November) and
I absolutely love it!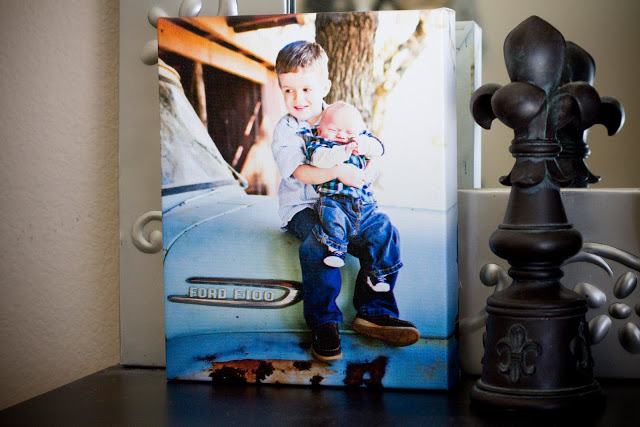 I especially love two things about it.
One, like their company name, it's super easy to create.
And two, the picture quality stayed true to the actual picture.
No funky changes, smudges or spots.
Oh, and I also like that it's
pretty affordable for something so darn cute!
I got it shipped to me pronto and
the second hardest part is deciding
where to display it in my house.
Right now, it's in my bedroom paired with my mirror on my dresser,
but I am eying out a new spot for it on the wall in the living room.
Decisions, decisions.
But, it's not a hard decision to check out
Easy Canvas Prints
and get your
pictures turned into
something bigger and better, pronto!!!