I started a project a few years ago when I was pregnant with my second child. He's about to turn 4! Am I done? Not even close, but I knew starting it would take me 20 years to finish. I'm hand stitching a 2 inch hexagon quilt from start to finish. Like, legitimately with only a needle and thread! And guess what? I am not a quilter by any means.
Go ahead.
Call me crazy.
Everyone else does!
And that's okay, because they always follow it up with thinking it's the coolest idea EVER! I had seen some hexagon quilts online and absolutely fell in love with the idea. Especially the ones that had no rhyme or reason to them. I had done little to no research and just jumped right in pretending I knew what I was doing. I mean how hard could it be really?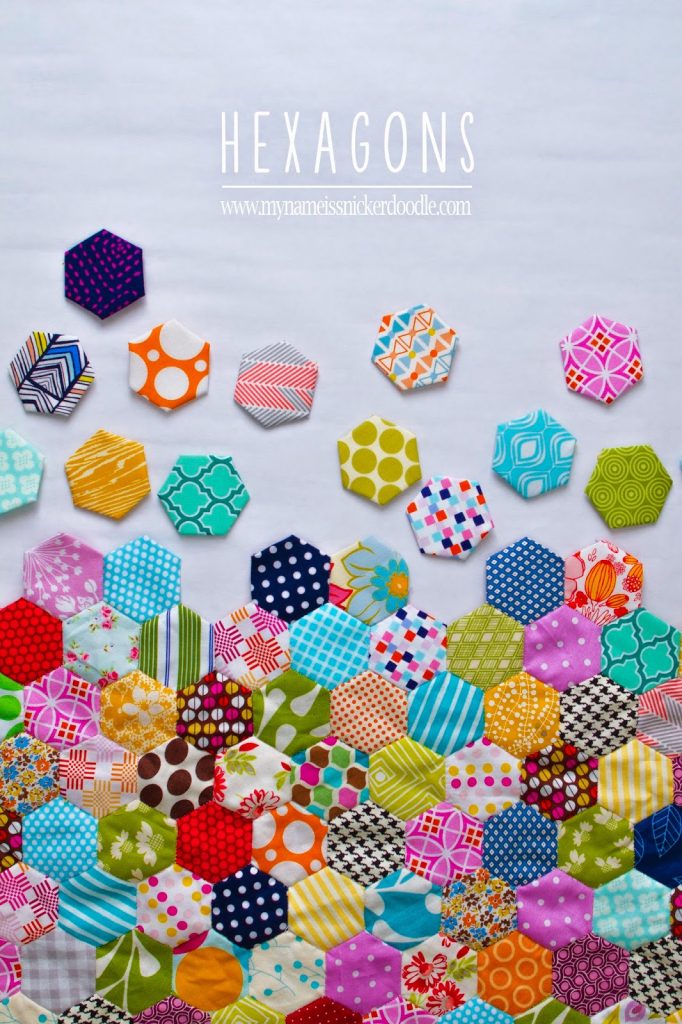 Actually, not hard at all! Completely time consuming, yes, but not hard. I did learn a few lessons along the way once I did more research and definitely through trial and error.
See, I have a hard time just sitting and watching a movie or show. It's not like I do that a lot anyways, but when I do, I like to be doing something with my hands. And this seemed like the perfect solution. There are nights (like when my husband and I indulged with watching all 5 seasons of Friday Night Lights for the first time) when I work on it until my fingers are so sore. Then there are times where I don't sew a stitch for weeks.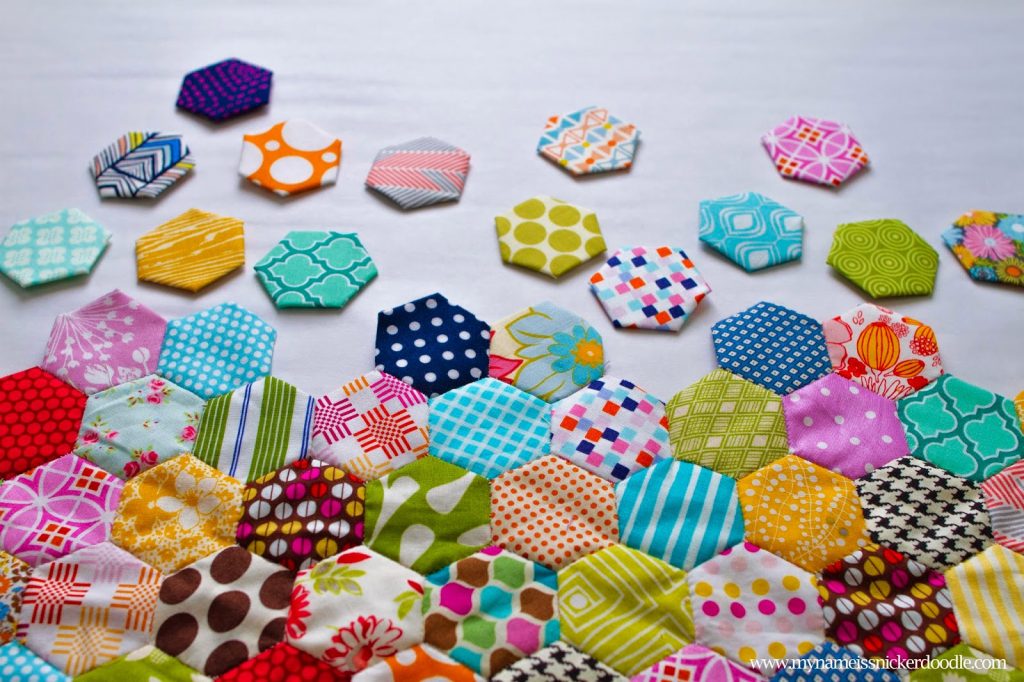 Who is the quilt for? Selfishly, me! After all this hard work, I don't
think I could give it to just anyone! It's been really fun every now
then buying some lovely fabric that I can't resist and adding it to my
pile. That way it truly is random and that's the way I like it!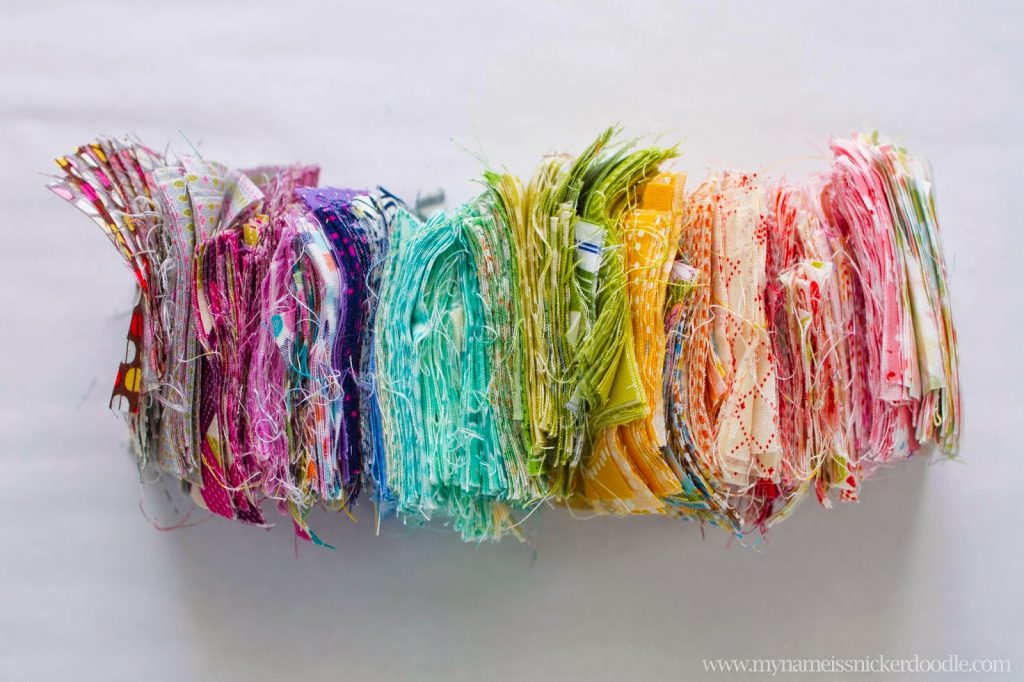 Check out those luscious colors and patterns! It makes me so happy to just look at!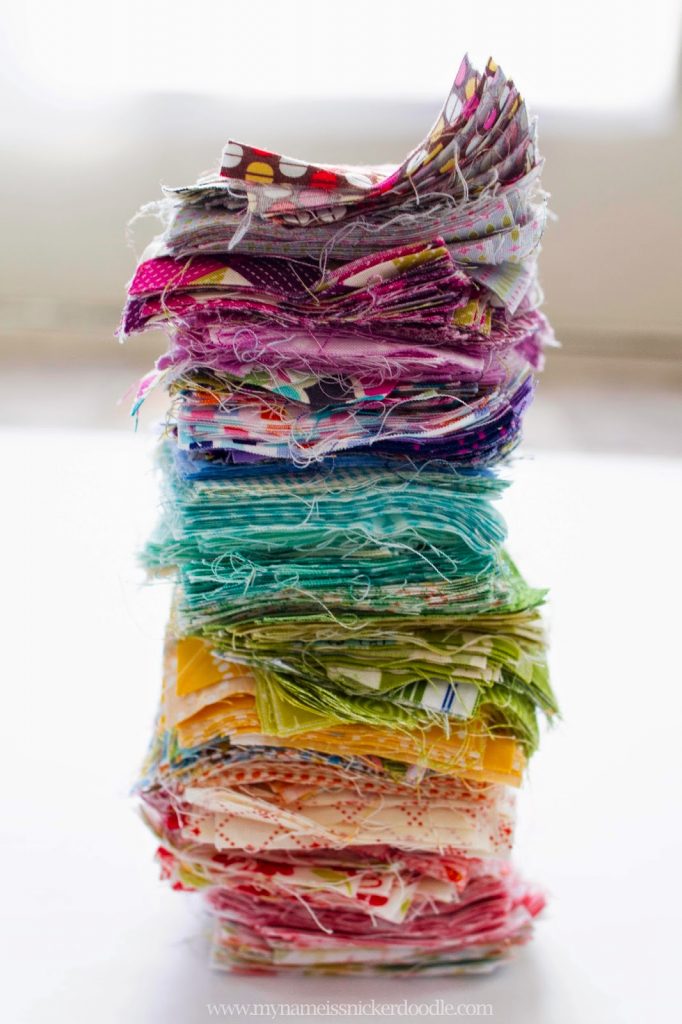 I'm sure there are many ways to accomplish this, but here's what I do. Remember, I'm not a quilter so there are probably actual quilters out there cringing right now! It works great and that's good enough for me.
Below you'll find a free printable for 2 inch hexagons that you'll print multiples of and cut them out. I just keep them all in a little baggy with my thread and needle. The paper hexagons help keep the shape while you stitch. You'll end up removing them so don't worry about it being in your finished quilt. I usually keep them in until all sides are stitched to actual quilt. Then I don't have to worry about it loosing it's shape.
Then, like the picture above, I cut my fabric into 2 1/2 inch squares.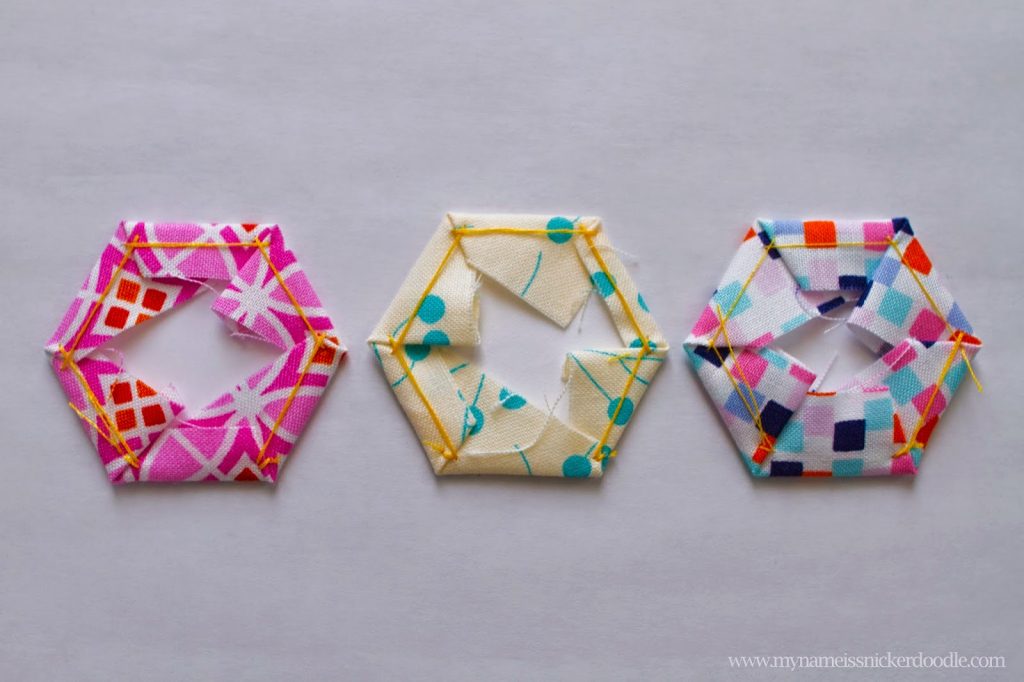 Here's where I learned my lesson that will save me a step in the long run…baste stitch on the back side, not on the front through the paper like below.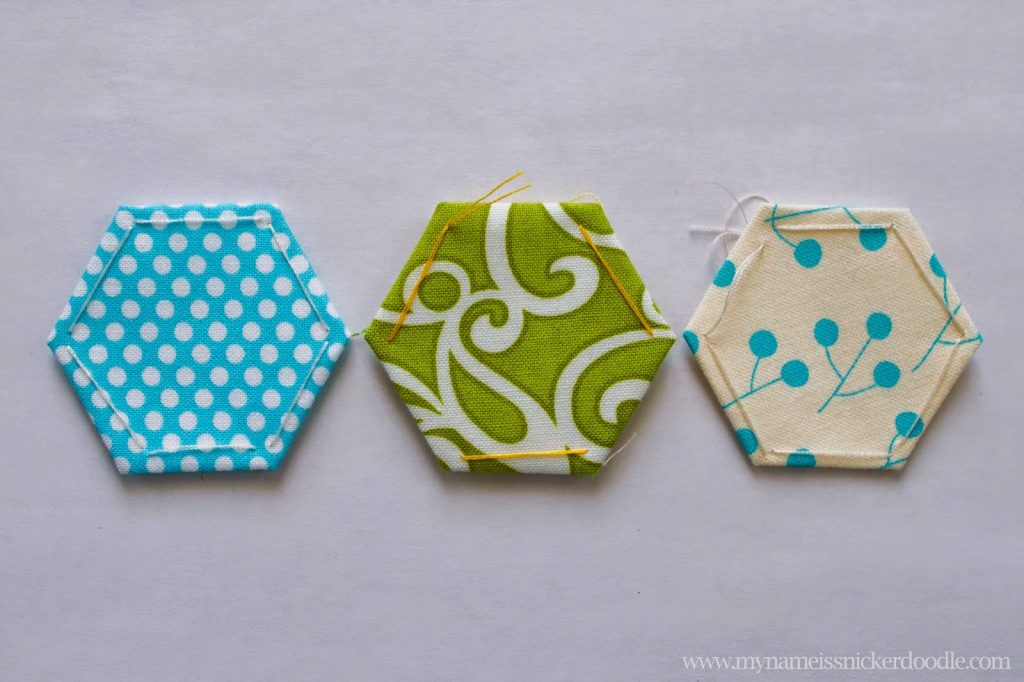 For years I was baste stitching on the front through the paper and then when I'd stitch all sides to my quilt, I'd have to snip that baste stitch and pull it out. If you baste stitch on the back, not through the paper, all you have to worry about is pulling out the paper (once all sides are stitched) and the baste stitch can stay there without being seen.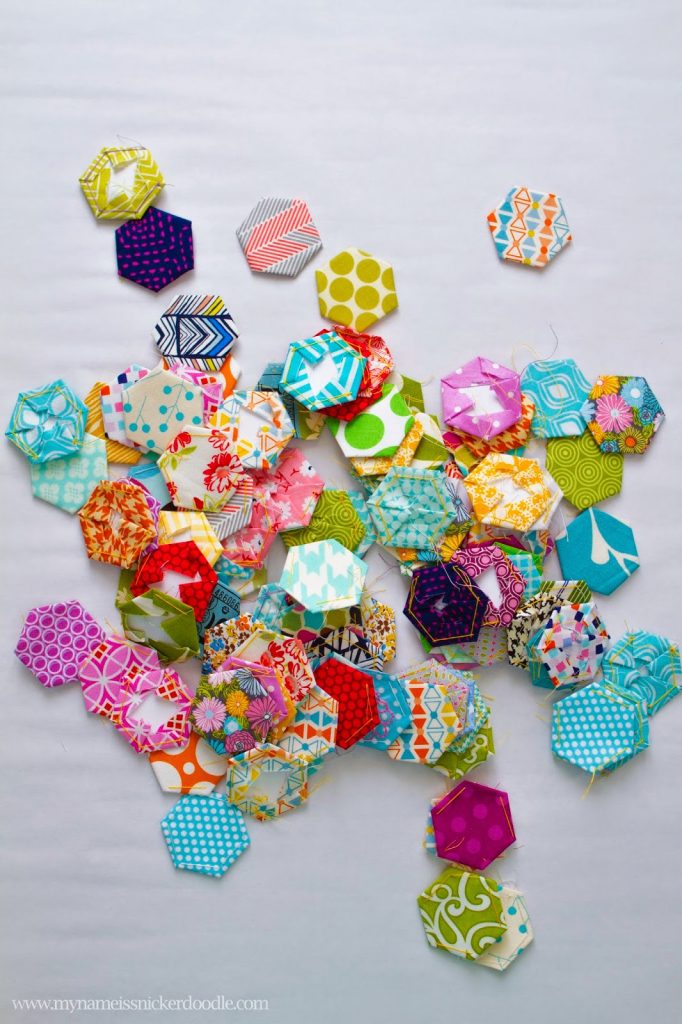 I don't have a method to my madness. When I feel in the mood to make a million hexagons, I'll stitch a million. When I get tired of that, I make little "flowers" just for fun. These makes it a bit easier and faster to add to the quilt instead of a row at a time like I was doing before. Lesson #2 learned.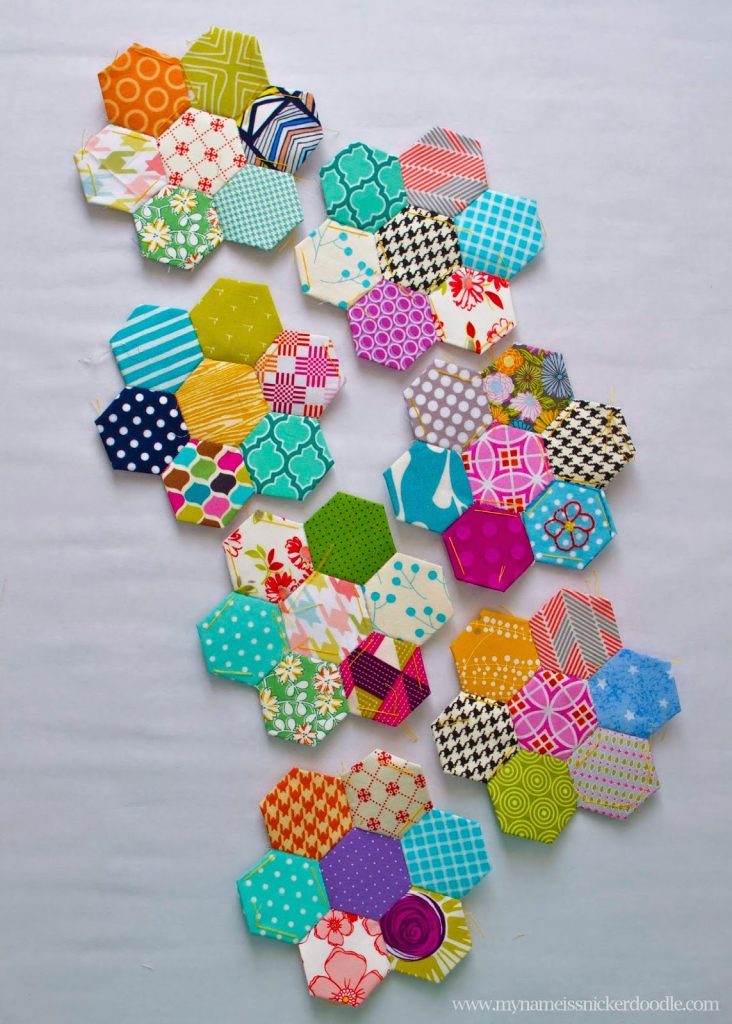 When I'm bored of doing "flowers" I'll start stitching them to my quilt. It's about the size of a baby blanket right now.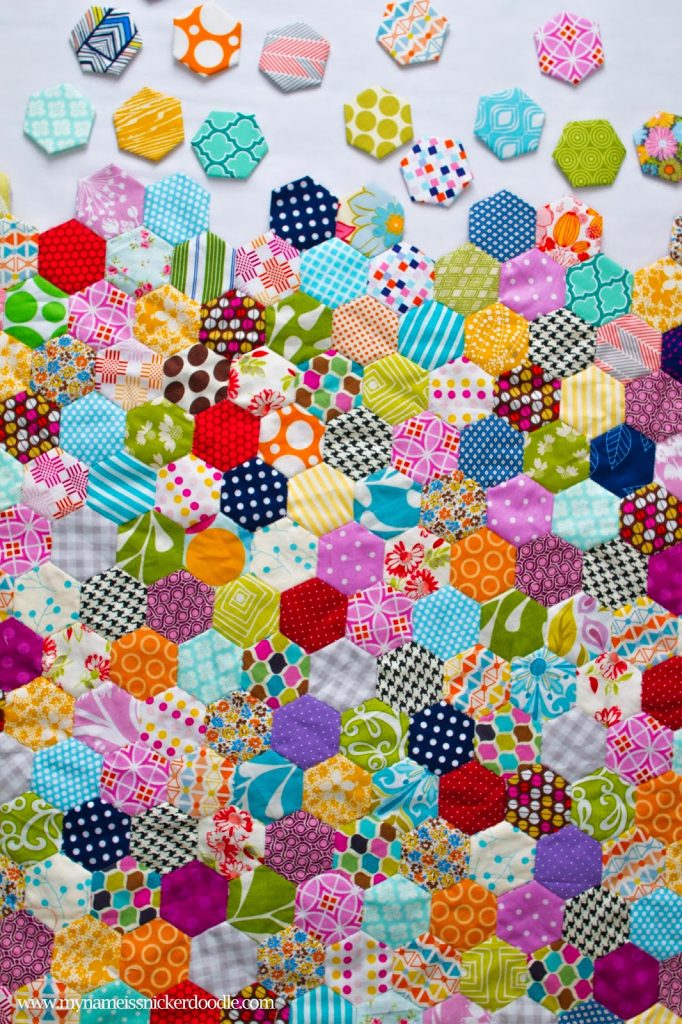 My goal is to make it into a full size quilt. Only 15 more years to go…Hahaha!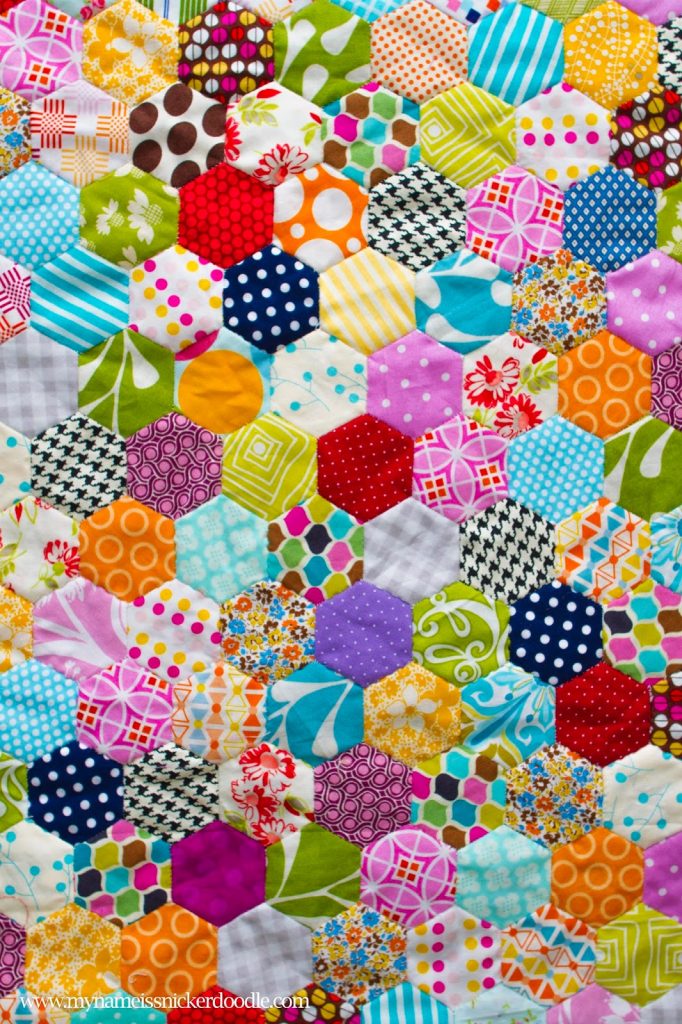 I absolutely love this project so much! I've only got discouraged and overwhelmed once through this whole process. I started to think I really was crazy for taking it on, but then I'll pull it out and feel a huge sense of accomplishment, satisfaction and over all giddiness when I see how gorgeous it is!
I would love to see what you come up so stay in contact!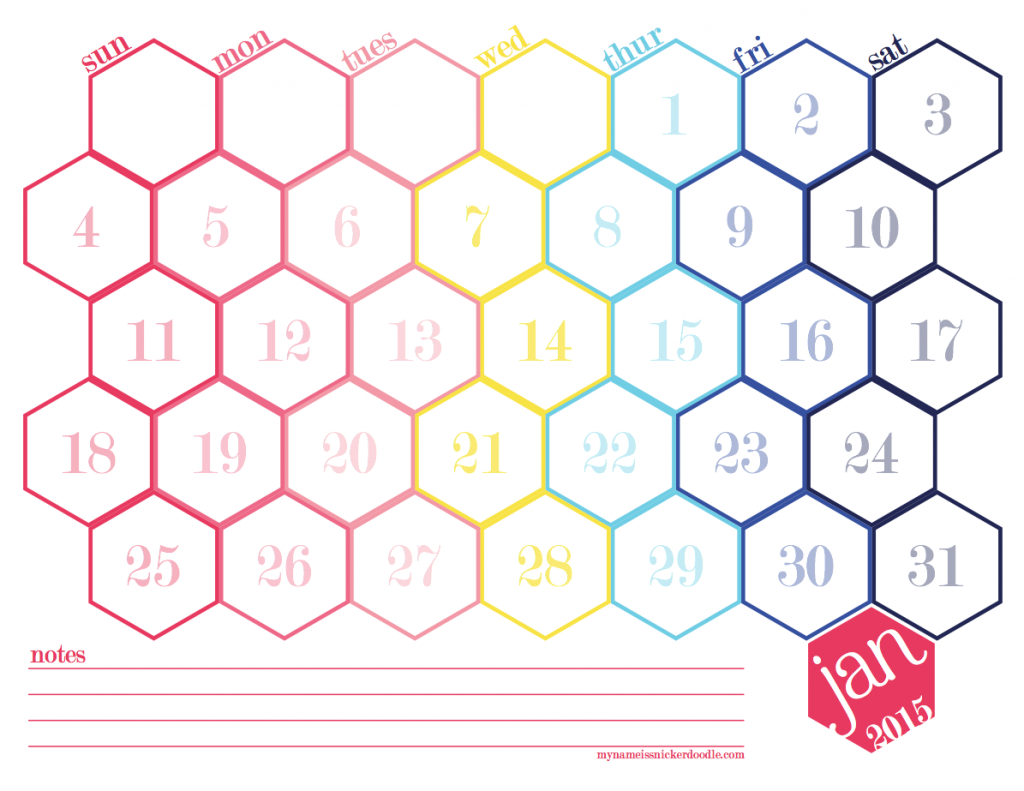 This post is linked up at – Whimsy Wednesday, Wow Me Wednesday, Weekend Re-Treat, Creative Exchange, The Creative Collection, Friday Finds, Link Party Palooza, The Party Bunch, Monday Funday, Totally Talented Tuesdays,