I finally got down to writing my to do list (a.k.a. things I've been falling down on) and blogging made it to the top three! I know it's sort of sad that I have put blogging on that list, but this blog has been neglected long enough.
Let's get back to the beginning of summer and continue with this post from out family reunion.
We spent most of the reunion in the water on the lake, at the ocean or in some natural springs. The kids loved it and let's face it…so did the adults!
Liam was brave enough to go out about 5 times and came back with the biggest smile on his face.
Ian grew up with wave runners. I however did not. He practically had to force me to ride it with him the first time (I will not make you suffer with posting pictures of my terrified face). He is a pretty good husband and didn't torture me too bad. I promised him that I would go out on my own later in the day. I almost chickened out, but pushed myself to just do it. I made myself go up to 35 mph so that was pretty big for me. Maybe next time I will be crazy and get it up to 40 mph!!!
The next few days we spent at two different beaches. One on the Atlantic Ocean and one on the Gulf of Mexico. We all preferred the Atlantic because it was less busy and you could drive your cars on the sand.
After the beach closed to cars, we reparked a few blocks away and came back to watch the sunset…even if it did set on the other side! We had fun writing in the sand and strolling along the water's edge.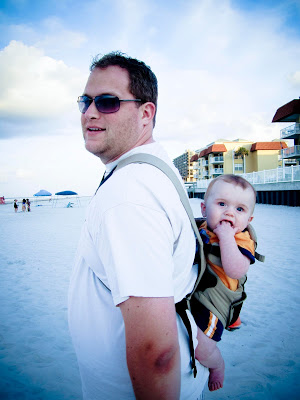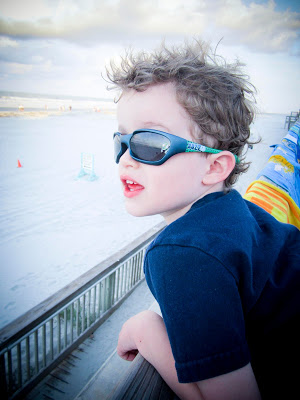 The next time at the beach, we didn't take as many pictures, but this one cracks me up of Liam in the water!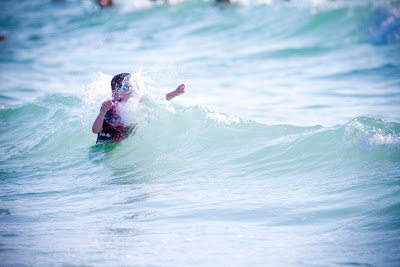 Every time a wave would crash into him, I would get nervous thinking he would panic, but he would come out of it with the biggest belly laugh! He loves a good adventure. (And just so my mom won't panic, I cropped out the family members that were standing right next to him!)
Ian captured this sunset picture (since we were on the west side of Florida this time) and after wards we all walked around the pier for a bit.