When I was pregnant with Owen (our second child) I could not get enough of pizza. Mr. Jim's was (and still is) my absolute favorite and I could practically eat the whole pie myself. Then when I was pregnant with our third child, nothing would make me more sick than even the thought of eating pizza. It took me a while, even after he was born, to get back to where I would eat it again.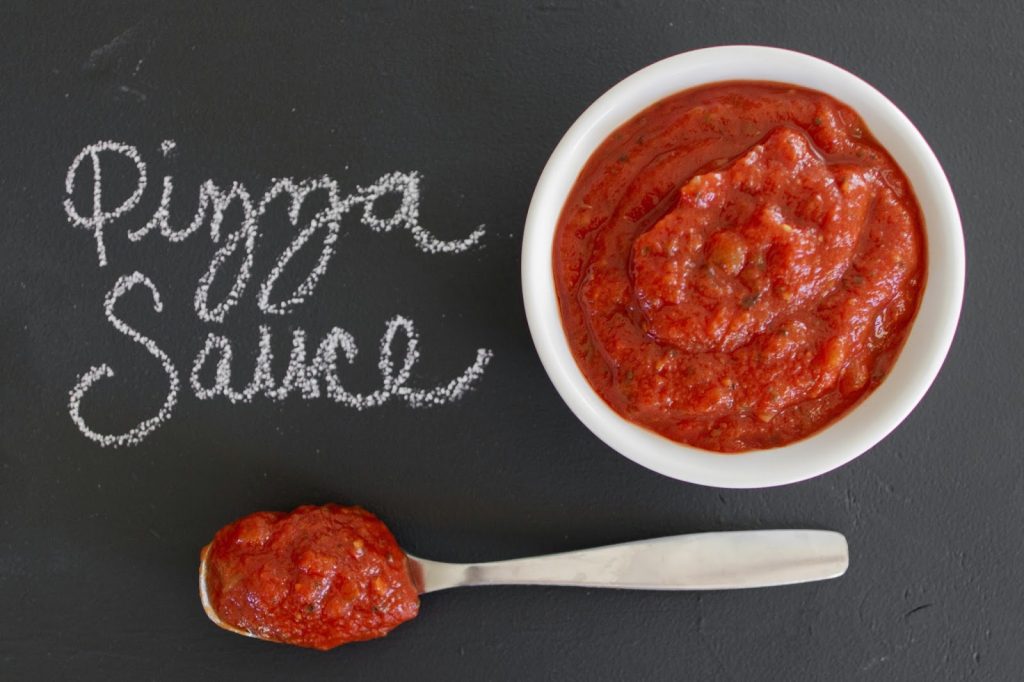 Now I feel like all I do is think about pizza again. And, no, I'm not pregnant! Moving to Austin meant there would be no more Mr. Jim's and where we live, there are very few choices and they are all quite mediocre. Nothing that quite hits the spot, you know?
Over the past few years I've made homemade pizza and it wasn't any better than a frozen one I could buy at the store. All different recipes and nothing was cutting it. I'm happy to report that I've found the perfect thin crust recipe (coming soon), but I kept on ruining it with jarred pizza sauce. No matter how great your crust is, it's the sauce that can make or break the pizza. That's where this recipe comes in! Oh boy, is it some of the best sauce I've ever had. Seriously. I've tweaked it here and there and this is what I've come up with…
Pizza Sauce
Printable Version
Yields about 4 cups
2 TBSP olive oil
1 medium onion, minced
2-3 cloves garlic, minced
1 1/2 cups chicken or vegetable stock
6 oz can of tomato paste
29 oz can tomato sauce
1/2 tsp pepper
1 tsp salt
1 TBSP dried oregano
2 TBSP dried basil
1 TBSP + 1 tsp sugar*
In a large pan heat olive oil over medium high heat. Saute minced onions for 2-3 minutes until soft and slightly caramelized along the edges. Add in garlic and saute for 30 seconds. Pour in chicken stock and using a wooden spoon, scrap up any brown bits from the bottom of the pan. Bring to a boil and let it reduce by half. About 2 minutes. Stir in tomato paste and mix until combined. Add in tomato sauce, pepper, salt, oregano, basil and sugar. Bring to a low boil, then reduce heat to low, cover and simmer for 1 hour. Stir occasionally.
Use right away or let it cool and store in an airtight container in the refrigerator. Store up to 2 weeks in the fridge.
*The sugar helps cut down the acidity of the tomato sauce.
Not only is this sauce to die for on pizza, but it's equally as fantastic as a dipping sauce for homemade soft pretzels. Want the recipe? Okay! I'll share it with you next week!
This recipe is linked up to – Be Different, Act Normal, Jam Hands, Arsty-Fartsy Mama, The Party Bunch Link Party