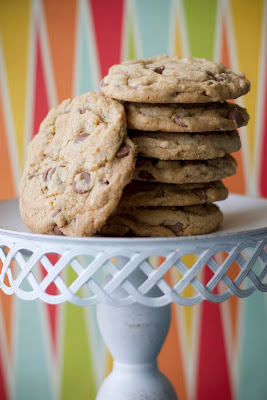 **Edited**
I think I might have perfected the chocolate chip cookie…just maybe! These are slightly crispy on the edges and buttery/chewy on the inside. This recipe makes a ton because you need that many!
Make 'em. Love 'em!
Chocolate Chip Cookie Perfection
Makes about 54 cookies
3 sticks unsalted butter, melted and cooled
2 cups brown sugar
1 cup sugar
1 tsp baking soda
1 tsp salt
3 eggs
4 tsp vanilla extract
4 1/3 cups all purpose flour
1 12 oz bag milk chocolate chips
1 cup semi sweet chocolate chips
Preheat oven to 325°. In a large bowl, beat together melted butter, brown sugar, sugar, baking soda and salt. In a small bowl, whisk together eggs and vanilla. Add egg mixture to sugar mixture. Mix well. Stir in flour until halfway combined. Add in chocolate chips and mix until flour has just become combined. Using a 4TBSP cookie scoop, place cookies on a cookie sheet and bake for 14-17 minutes.
*A tip for baking chocolate chip, oatmeal, peanut butter, or snickerdoodle cookies…I always under cook my cookies about 1-2 minutes. Not so they are completely raw in the middle, but just enough so they stay soft longer. Once they are cooling on the cookie sheet, they will still bake a little while longer.
{Check
this out
for some super secrets to the perfect chocolate chip cookies!}