I had my first taste of Chicken Cordon Bleu at age 18 when I was a caterer. My company would make their own version of the classic dish and I fell in love! We were able to eat some of the left overs from a catered event and those nights were always my favorite. I make my cordon bleu very similar as back then, but I just discovered a new sauce (thanks to Mel's Kitchen Cafe)that just takes this dish over the top.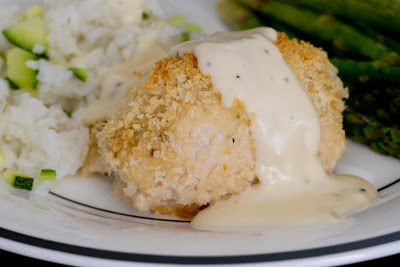 Chicken Cordon Bleu with Creamy Parmesan Sauce
Printable Version
Pin It
Chicken Cordon Bleu
6 chicken breasts
6 slices smoked ham (I just use deli ham)
6 slices baby Swiss cheese
1 cup ranch dressing
3/4 cup bread crumbs
1/2 cup panko bread crumbs
2 TBSP butter, melted
Creamy Parmesan Sauce
2 tablespoons butter
2 tablespoons all-purpose flour
1 cup milk
1 teaspoon chicken bouillon granules (or 1 bouillon cube, crushed)
1/2 teaspoon salt
2 tsp Dijon mustard
1/2 teaspoon Worcestershire sauce
1/2 cup finely grated Parmesan cheese
Preheat oven to 375°. Pour ranch dressing into a small bowl. In a medium bowl mix together bread crumbs, panko crumbs and melted butter. Pound out each chicken breast until thin. On the underside of the chicken place one slice of ham and one slice of Swiss cheese. Holding securely, dip chicken into ranch dressing then into bread crumb mixture. Place into a lightly sprayed 9×13 baking dish. Repeat with rest of ingredients. Bake for 35-45 minutes or until chicken is cooked through and golden brown.
During the last 10 minutes of the chicken's cooking time, prepare the sauce. In a medium saucepan, melt 2 tablespoons butter. Stir in the flour, whisking constantly. Cook for 1-2 minutes. Slowly pour in the milk while whisking quickly. Stir in the chicken bouillon granules and salt. Whisk constantly over medium heat until the mixture begins to simmer and thicken, about 3-5 minutes. Once the sauce has bubbled and thickened, remove from heat and stir in the mustard, Worcestershire sauce and Parmesan cheese. Stir until the cheese is melted. Keep the sauce warm until the chicken is finished baking.
Plate chicken and top each with a delicious helping of sauce! I like to serve mine with Roasted Asparagus and my Zucchini Brown Rice.
Come back later today for a fun recipe giveaway!!!