Photographing food can be totally satisfying. Especially when it comes to something as pretty as these Chocolate Chip Orange Mini Cakes. I typically try to shoot during the day so I can catch the gleaming natural light shining through some of my windows.
Shooting during the day also means I have some extra little helpers around to "assist me". My 4 and 3 year old loves to help by licking the spoons or trying to get into the picture. It rarely frustrates me but, more makes me laugh with how cute they are being.
On this day I couldn't blame my littlest by trying to sneak a taste because these cakes that are topped with a chocolate ganache and are kissed with orange zest, are simply perfection on a plate!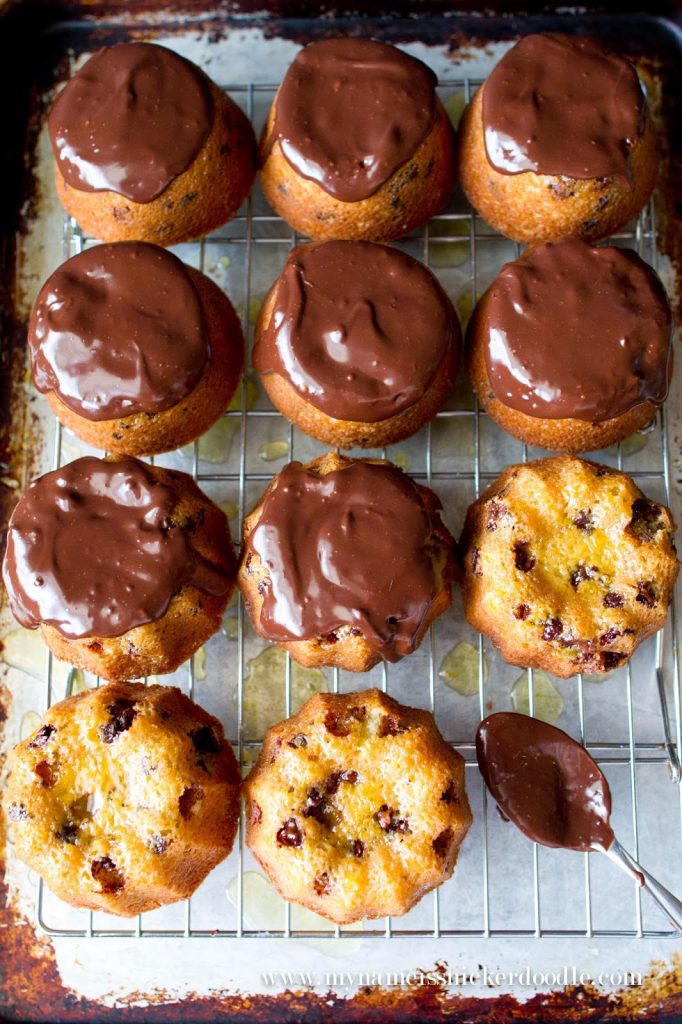 I'm not sure if its the zest in the batter or the orange syrup that get's soaked up by the cakes that I like so much. Maybe it's both. Then there is something about the combination of orange and chocolate that seems heavenly!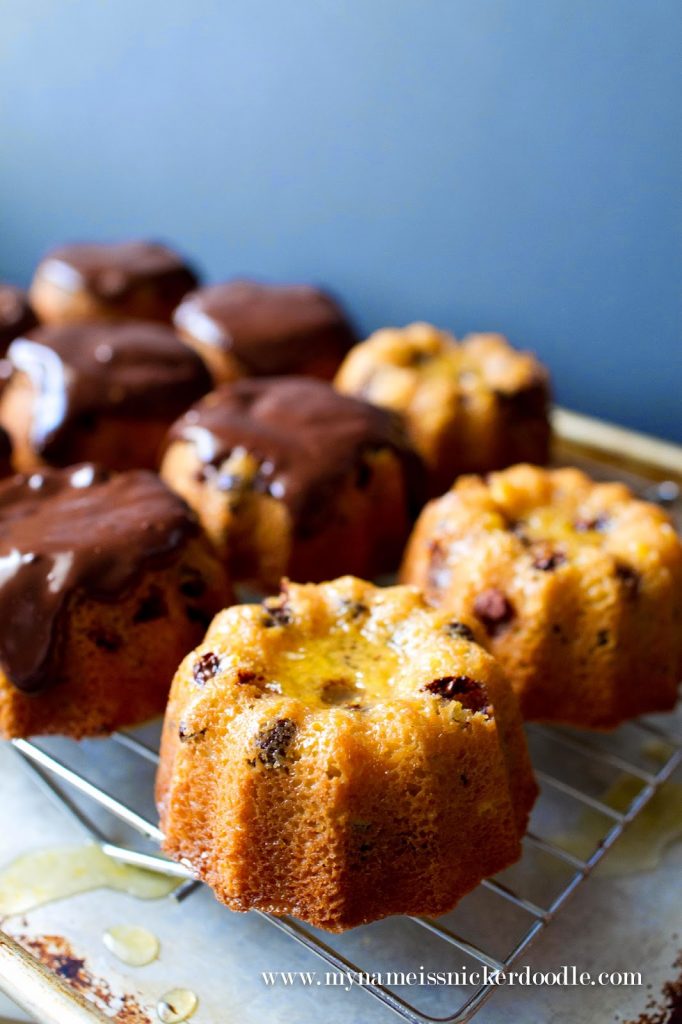 Here is my littlest trying to get in on the cake action! Ha!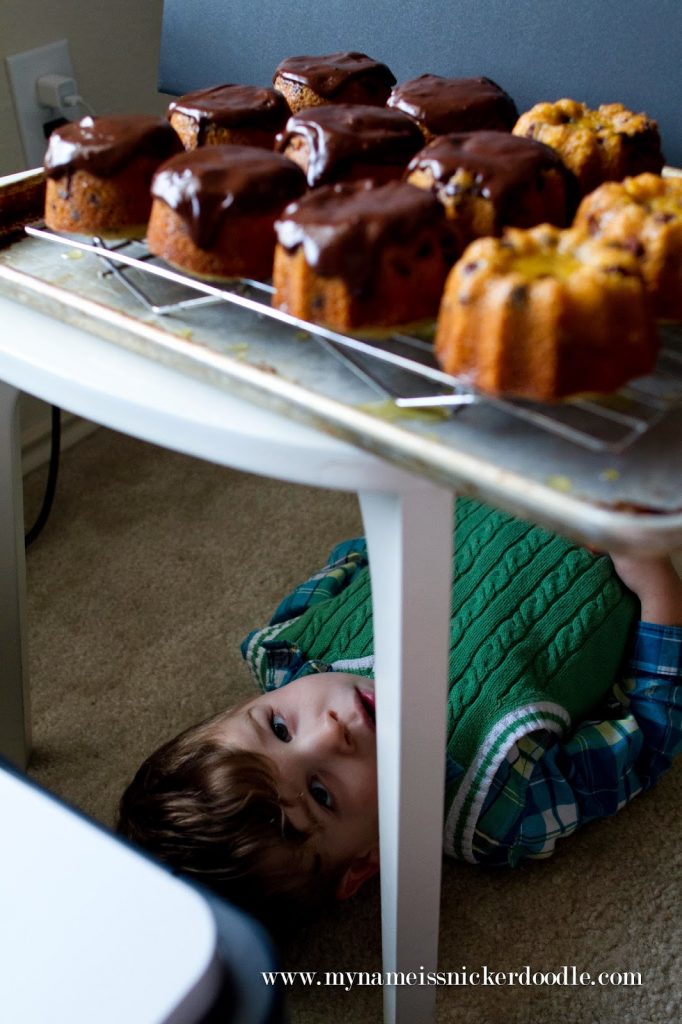 You might notice that there is one cake missing. It didn't come out clean because I didn't grease the mold well enough. So, I had to do my job and eat the entire thing to make sure the recipe turned out!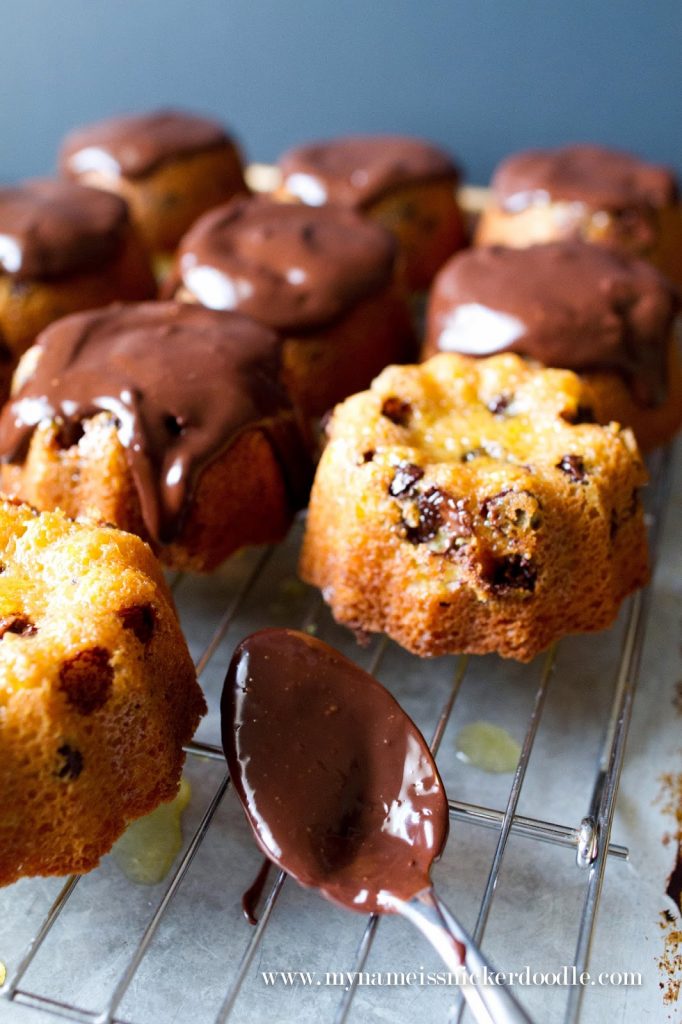 Little one got impatient and tried to go over the top in snitching a treat. It's one of the pictures I couldn't help but capture. However I wasn't finished so I shewed him away. He was not a happy camper.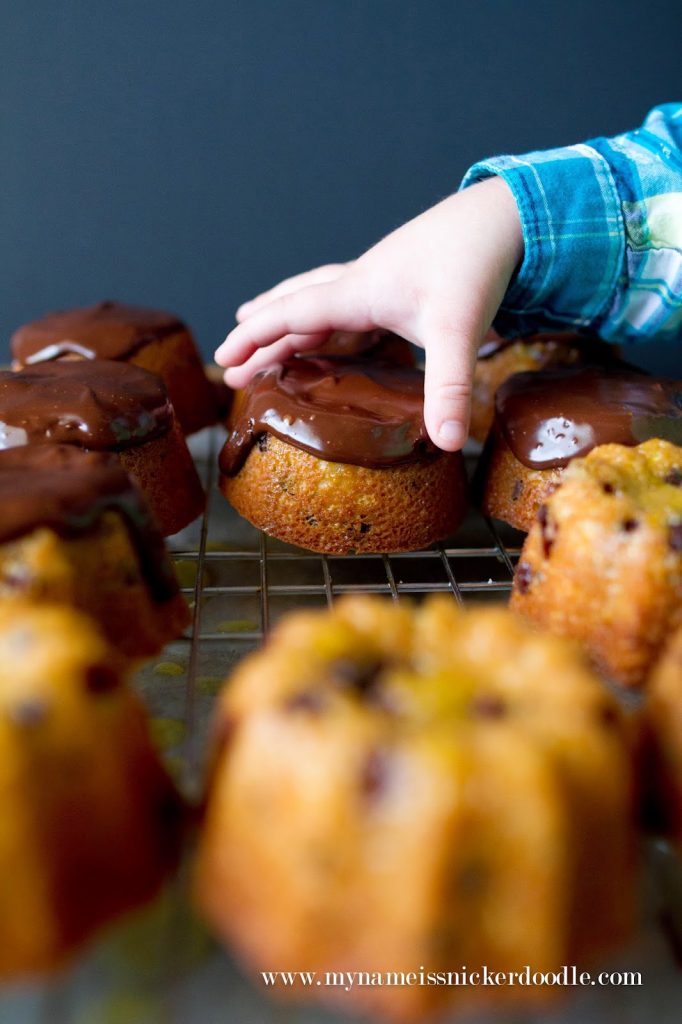 Chocolate Chip Orange Mini Cakes
Printable Version
Makes 12 Mini Bunt Cakes


Ingredients
For Cake:
1/4 cup butter, softened
1/2 cup granulated sugar
1/2 cup brown sugar
2 large eggs
1/8 cup grated orange zest (about 2 large oranges)
1 1/2 cups all-purpose flour plus 1 TBSP, divided
1/4 tsp baking powder
1/4 tsp baking soda
1/4 tsp salt
1/4 cup freshly squeezed orange juice
1/2 cup whole milk
1 tsp pure vanilla extract
1 cup semisweet chocolate chips
For Syrup:
1/4 cup granulated sugar
1/4 cup freshly squeezed orange juice
For Chocolate Ganache:
3/4 cup good semisweet chocolate chips
2 TBSP heavy cream
Directions
For Cake:
1. Preheat the oven to 350 degrees.
2. Grease and flour 12 mini bunt pan molds or muffin tin.
3. In a stand mixer or large bowl cream
together the butter and sugar for about 5 minutes, or until light and fluffy.
4. Add
the eggs, 1 at a time.
5. Add in the orange zest.
6. In a separate medium bowl whisk together 1 1/2 cups flour, baking powder, baking soda, and salt.
7. In another bowl, combine the orange juice, buttermilk, and
vanilla.
8. Add the flour and buttermilk mixtures alternately in thirds to
the creamed butter, beginning and ending with the flour.
9. Toss the
chocolate chips with 1 tablespoon flour and add to the batter.
10. Pour
into the pans, smooth the tops, and bake for 30 minutes, until a cake
tester comes out clean. 11. Let the cakes cool in the molds on a wire rack
for 10 minutes.
For Syrup:
1. In
a small saucepan over medium-low heat, cook the sugar with the orange
juice until the sugar dissolves, about 3 minutes.
2. Remove the cake from the pans and dip them in the orange syrup. Put them
on a rack over a tray, and slowly spoon the orange syrup over the tops of the cakes.
3. Allow
the cakes to cool completely.
For Ganache:
1. Melt the chocolate and heavy cream in the microwave 10 seconds
at a time until chocolate is melted and mixture is smooth.
2. Drizzle over
cakes.
3. Serve.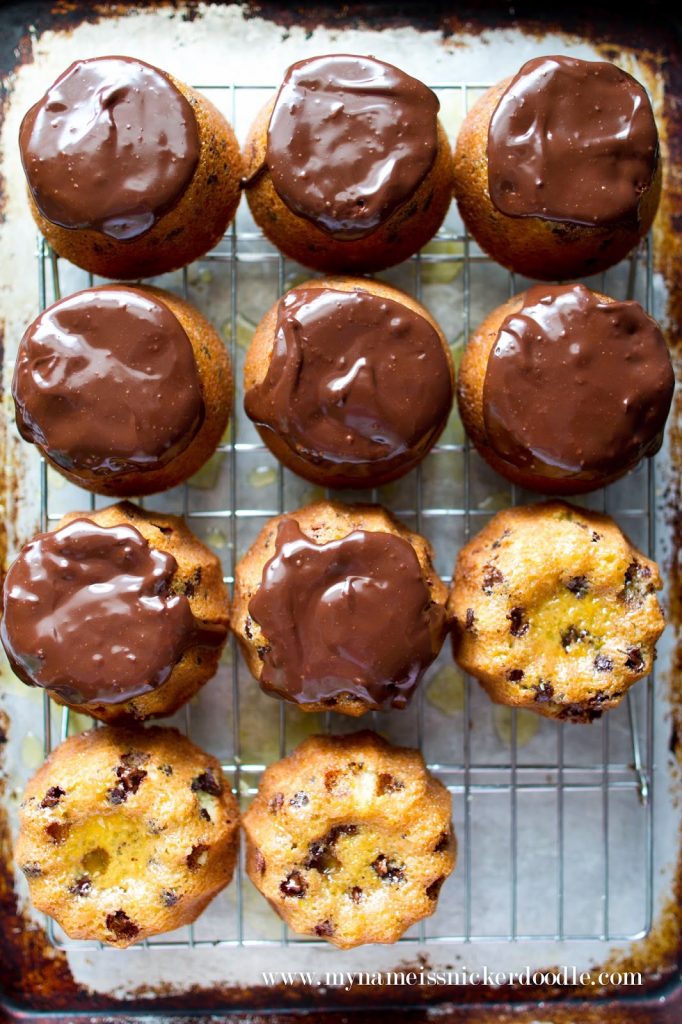 Finally, when I was done taking pictures, I let my assistant indulge. He was still made that I sent him away and was not about to have a bite now! Oh, the mind of a 3 year old!!!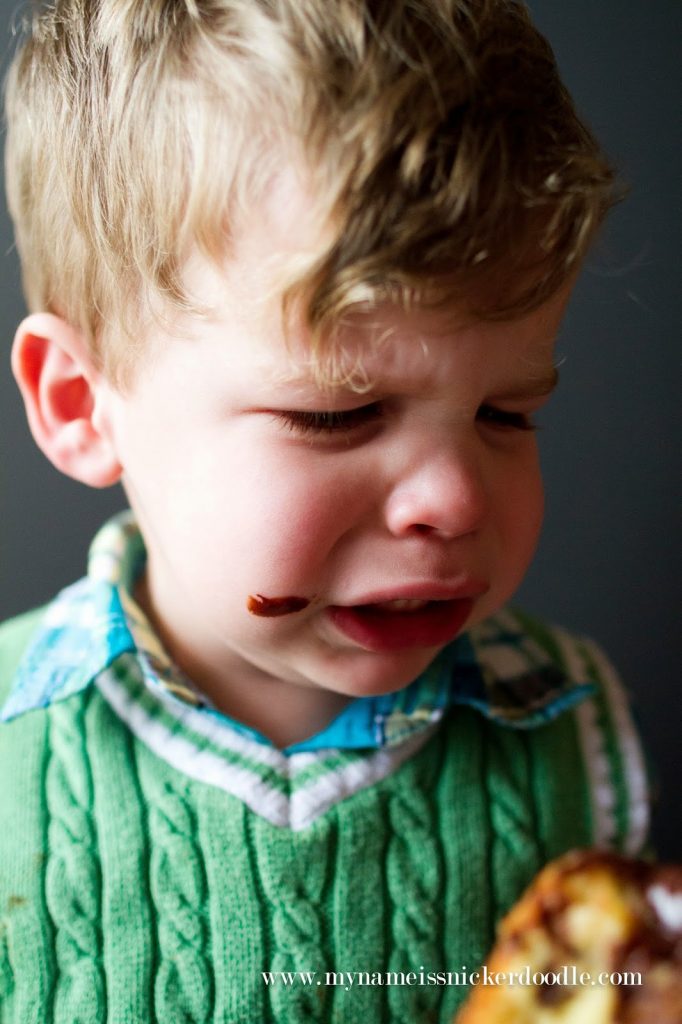 This post is linked up at – Lovely Little Link Party, The Creative Exchange, Friday Finds, Creative Collection, Link Party Palooza, BR and DIYP, The Party Bunch,