You either love quiche or you hate it. I don't think there is an in-between. I happen to be one who laaaahhhuuuuvvves it. But, I only love Quiche Lorraine. It just a mixture of eggs, meat and cheese! I found this recipe months ago (another great recipe on Tasty Kitchen) and have made it several times and altered it a bit to fit my taste. It's completely easy to make and reheats well. I hope you enjoy!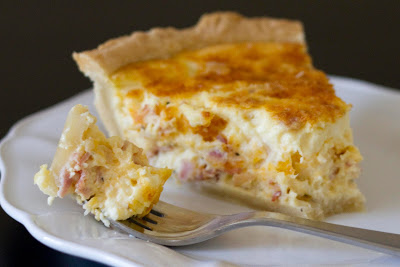 Quiche Lorraine
Printable Version
4 large eggs
1 cup whipping cream or half and half
1/2 cup cheddar cheese, grated
1/2 cup swiss or mozzarella cheese, grated
4 slices bacon, chopped and cooked
1/2 cups ham, chopped
1 refrigerated or frozen pie crust
Preheat oven to 350°. Whisk together eggs and cream. Stir in cheese, bacon and ham. Pour into uncooked pie crust (if using frozen crust, thaw before using) and bake for 30-45 minutes or until quiche is set in the middle. Cool for 10 minutes and serve warm.