As you all know, I'm a huge fan of Pinterest. So, a few weeks back when I saw this, I knew I had to make some of my own!
These snow globe cookies were so much fun to create late last night!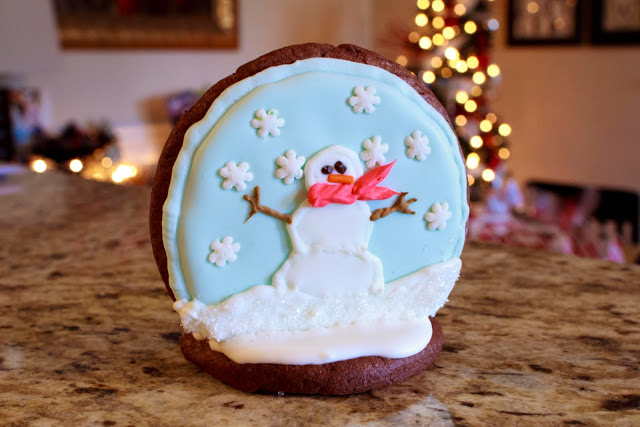 I had some snowflake sprinkles and some "glittered" sugar that I used on the snow. I also used some regular sprinkles that I had on hand for the eyes and nose. Everything else is frosting. He's so adorable, but I think he's missing something…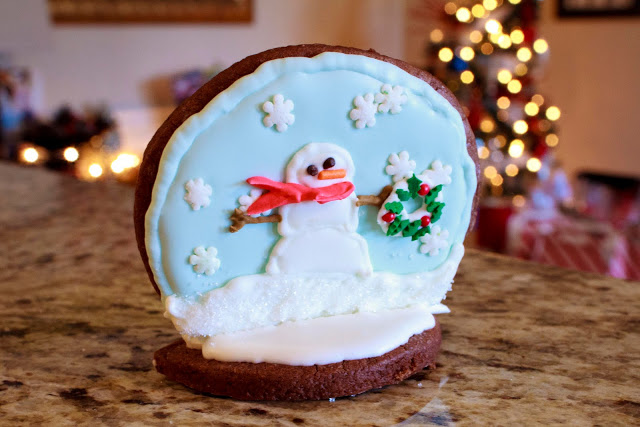 Of course he needed a little holiday wreath!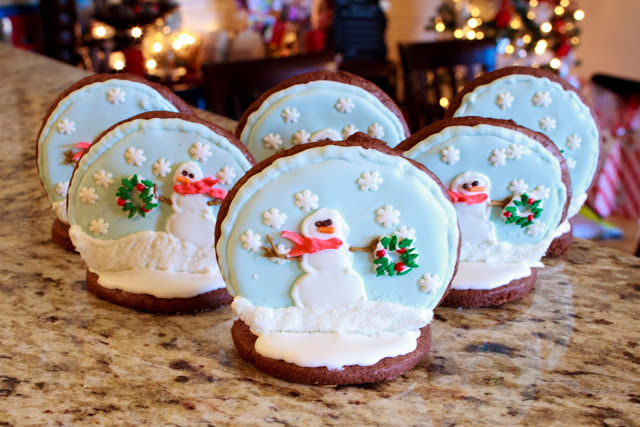 I think these might become a new baking tradition for me. They took a while, but I think it was totally worth it!
I am not going to give you instructions of how I made them, (I was having too much fun to stop and take step by step pics) but I will give you the cookie and frosting recipe so that you can create anything you want this holiday season.
Chocolate Sugar Cookies
(I used the same recipe here)
Printable Recipe
1 1/2 cups butter
1 1/2 cups sugar
1/2 cup powdered sugar
4 eggs
2 tsp vanilla
4 1/2 cups flour
1 cup cocoa powder
2 tsp baking powder
1 tsp salt
powdered sugar for rolling
In a large bowl, cream together butter, sugar and powdered sugar until fluffy, about 3 minutes. Add in eggs one at a time, mixing well after each one. Combine in vanilla extract. In a separate bowl, sift together flour, cocoa powder, baking powder and salt. Add flour mixture to sugar mixture a little at a time. Mix until just combined. Do not over mix. Transfer dough onto a large piece of plastic wrap and form into a log. Cover and chill for 30 minutes or up to 4 days. Preheat oven to 400 and line baking sheets with parchment paper. Roll out cookies for 1/2 inch thick and cut into shapes. Transfer shapes to cookie sheet and cook 7-8 minutes. Cool for 5 minutes then cool completely on a wire rack.
Royal Frosting
(Original Recipe Source)
4 cups powdered sugar, plus more if needed
5 tablespoons meringue powder
Beat sugar, meringue powder, and a scant 1/4 cup water in the bowl of an electric mixer fitted with the paddle attachment on low speed until smooth, about 7 minutes. If icing is too thick, add more water, 1 teaspoon at a time; if too thin, beat icing for 2 to 3 minutes more, or add more sugar, 1 tablespoon at a time. Use immediately or store in an airtight container at room temperature overnight; stir before using.