I haven't been eating the best foods lately. I've really been craving a lot of ice cream and a lot of sweets. So, the other day when I started craving this salad, I knew I needed to make it right away. I was afraid that wanting something remotely "healthy" would pass quickly. Now, I do realize that this salad is sweet, but hey, let's not overlook the super healthy stuff in it, too!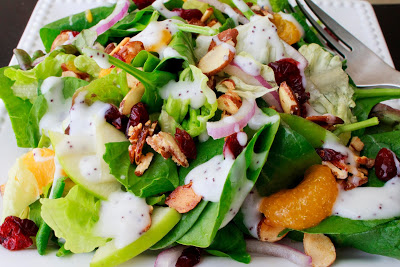 Poppy Seed Citrus Salad
Serves 6
Printable Version
Pin It
Poppy Seed Dressing
1 cup mayonnaise
2 TBSP Mandarin orange juice
3 TBSP white vinegar
1/4 cup granulated sugar
2 TBSP poppy seeds
Salad
1 pk (9 oz) fresh baby spinach, rinsed
1 head red leaf or romaine lettuce, rinsed and torn into bite size pieces
2 small cans Mandarin oranges segments (in juice) drained, but reserve juice
1 red onion, thinly sliced
**2 Granny Smith apples, cored and thinly sliced into bite size pieces
1 lemon
2 cups water
1 1/2 cup craisins
1 cup sugared almonds
Sugared Almonds
1 cup sliced almonds
2 TBSP granulated sugar
Make dressing ahead of time by whisking together all the ingredients in a medium bowl until sugar is dissolved. Chill for at least one hour before.
In a medium saute pan, combine almonds and sugar. Cook on medium high heat for about 5-7 minutes. Stir constantly to prevent burning. You just want the sugar to melt and the almonds to be slightly toasted. Pour out onto a plate and let cool.
In a large salad bowl, combine all salad ingredients and toss with salad dressing. Serve immediately.
*You can make this salad ahead of time, but just wait until ready to serve until tossing with dressing.
**If you are making this salad ahead of time, you will want to put your sliced apples into a lemon bath. Juice one lemon into a medium bowl and combine with 2 cups of cold water. Once you've sliced your apples, place them into the lemon bath and let them "hang out" for about 5 minutes. Drain all liquid and add the apples to the salad. The acid in the lemon will prevent them from browning.