With Easter coming up, I thought it would be the perfect time to post these cupcakes. They are super moist and delicious! If spring had a taste…I think this would be it!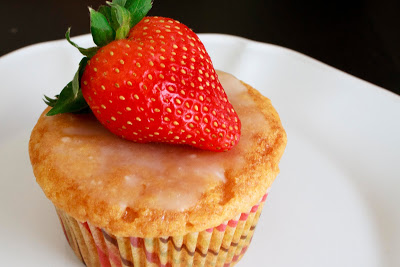 Strawberry Lemon Cupcakes
Makes 24 Cupcakes
Printable Version


1 box yellow cake mix
1 cup Kern's strawberry nectar
1 small box instant lemon pudding mix
1 TBSP lemon zest (about 1 large lemon)
4 eggs
3/4 cup oil
1 1/2 cup powdered sugar
2-4 TBSP lemon juice
24 strawberries
Mix together cake mix, nectar, pudding, eggs and oil. Beat until well mixed. Fill a muffin tin (that either has paper liners or has been sprayed) about 2/3 full. Bake at 325 for 20-25 minutes or until center is set. Cool for about 5 minutes then transfer to a wire rack that is sitting on a cookie sheet. When the cupcakes are still warm mix together powdered sugar and lemon juice. Using about half of the glaze, slowly drizzle glaze over each cupcake cake so some of it soaks in. Let the cupcakes cook completely then drizzle them again with remaining glaze. Top with fresh strawberries.