Well, I don't know about secret, but it's definitely been an obsession in my life.
Hello, my name is Amy and
I (have been, maybe currently) am addicted to office supplies.
So, when
Shoplet.com
approached me to team up with them, I didn't hesitate one bit! Getting
office supplies
shipped directly to me to use and review??? No brainer!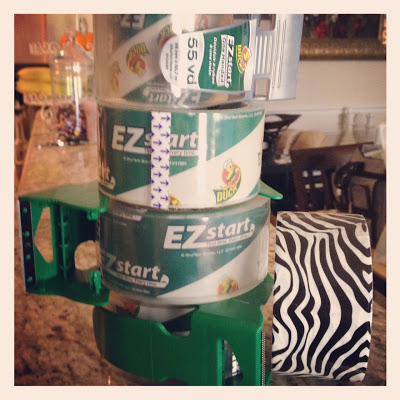 My very first review happens to be packing tape. And not any packing and duct tape! Quality and "trendy" packing and duct tape! I always seem to have packing tape on hand, but I have to admit…it's usually crappy, you can never find the beginning, and shreds at every opportunity. I received Duck EZ Start Premium Packing Tape, Duck EZ Start Premium Packaging Tape w/ Dispenser, and Zebra Printed Duct Tape. The Duck EZ Start was easy enough for Liam to use (he "repaired" one of his diaper box cars with it). It's super sticky and sturdy enough to leave you feeling relieved that it will hold up.
Now, as for the Zebra Printed Duct Tape…need I say more…it's zebra printed! My mind is racing with some fun things I will be able to do with this. Maybe some book binding, flip flop flowers, or I might just cover a box with it just because it's too cute!
I have become a huge fan of Shoplet.com so make sure to check them out. I cannot wait to share with you all of the fun products they have in store for you in the future!