Ian has been wanting me to cook him spaghetti squash for a while now. I, myself, have never cooked it before, but have cooked butternut squash (just roasted it with some olive oil, salt and pepper). I asked him if that's what he wanted or if he was thinking something a little fancier. He just gave me that look like, "What do you think?"
So, off I went searching for something "fancy" and came across this wonderful recipe from Bev Cooks. I adapted mine to what I had on hand of course.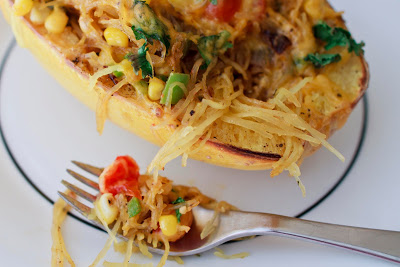 Southwestern Spaghetti Squash
Serves 2
Printable Version

1 spaghetti squash
2 TBSP olive oil
1/2 medium yellow onion, chopped
1 green pepper, chopped
1 garlic clove, minced
1 small jalapeno, minced (remove seeds for less heat)
1 green pepper, chopped
1 roma tomato, seeded and chopped
1 can black beans, drained and rinsed
1 cup frozen corn, thawed
1 1/2 tsp cumin
1 1/2 tsp chili powder
1/2 tsp oregano
pinch of salt
pinch of pepper
1 cup cheddar cheese, shredded
1/2 cup cilantro, chopped
Preheat oven to 375°. Cut squash in half and scoop out seeds. Lightly brush the inside with olive oil and sprinkle each half with salt and pepper. Place cut side down on a cookie sheet and roast for 60-70 minutes. Remove from oven and set aside.
Over medium high heat, heat oil in a medium pan. Saute onion and bell pepper until soft. About two minutes. Add in garlic and jalapeno and stir so not to burn. Stir in beans, corn, tomatoes and spices. Remove from heat.
Using a fork, scrap out most of "spaghetti" from squash. Don't remove too much because you want your shells to still be sturdy. Add to the pan and stir to combine. Scoop filling into each half of the scooped out shells. Place bake onto the cookie sheet and sprinkle with cheese. Broil for 1-3 minutes until cheese is melted and slightly bubbly. Garnish with cilantro.