I just saw these "lollies" on Pinterest last week and decided that Liam and I needed to make them. I already had everything so why not, right? The original post can be found here, but I found that I needed to change mine a bit so here's what I did…
Easy Stripey Suckers


1. Preheat your oven to 250°.
2. Cover a cookie sheet with parchment paper. If you don't have parchment paper you could try lightly spraying your sheet with cooking spray. I did not try this method so I'm not quite sure how it will turn out.
3. Unwrap Jolly Rancher candies, 3 per sucker.
4. Place 3 candies in row, making sure they touch one another. Leave plenty of space between each "sucker" and make sure to off-set with the second row, leaving room for your stick. (I forgot to off0-set some of mine and because of it, I couldn't put my stick where I needed it to be so I ended up with wonky looking suckers. Liam didn't care!)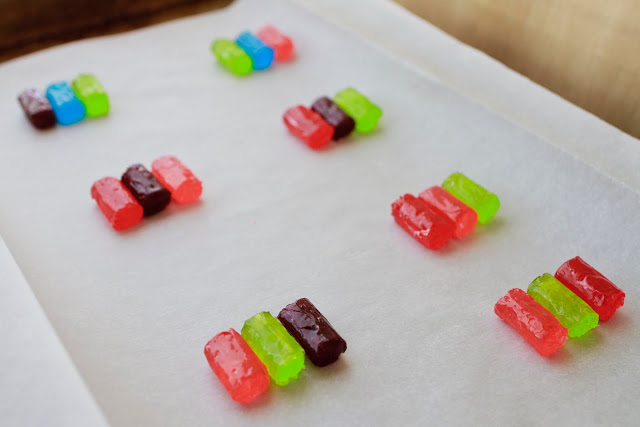 5. Heat for about 5-7 minutes, keeping a very close eye on them. They will begin to melt, but you don't want them liquified. Just melted enough so they stick together and you can insert the stick.
6. Remove from the oven and immediately place your candy stick in the middle. Give it a slight twist until it is covered in the hot candy.
7. Let them cool for 10 minutes and enjoy!