I have to be honest. When I saw this recipe I thought it look kinda of fun, but as I was making them, I became unsure if I (or my family) would even like them. I mean, wontons mixed with lasagna…mmm?
The moment I took the first bite, I knew they would go into my rotation of "family favs" right way! Ian loved them, Liam thought they looked cool, but wouldn't take a bite (still working on that picky eater) and Owen gobbled a few of them up.
Besides the fantastic taste, these were incredibly easy to create and make a huge impression, I think.
In fact, I want these right now because they are so good! Adapted from this recipe from Can You Stay For Dinner.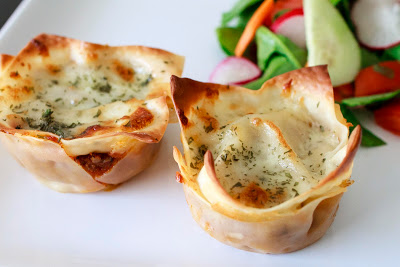 Lasagna Cups

Makes 18
1 lb ground beef (or turkey)
1 small yellow onion, finely chopped
6-8 button mushrooms, finely chopped
1 garlic clove, minced
2 8 oz tomato sauce
1 1/2 TBSP dried oregano
2 tsp dried basil, divided
1/2 tsp salt
1/4 tsp pepper
1/2 tsp sugar
1 1/2 cups riccota cheese
1/4 cup Parmesan cheese
2 cups mozzarella cheese
parsley flakes
36 small wonton wrappers, square
Preheat oven to 350°. In a large skillet, brown beef, onion and mushrooms together over medium high heat. Once beef is cooked (about 5-7 minutes) add in garlic and cook for another 30 seconds. Add in tomato sauce, oregano, 1 teaspoon basil, salt, pepper and sugar. Stir until combined and reduce heat to medium. Cover and let simmer while you prepare remaining ingredients.
Lightly spray 1 12 cup muffin tin and half of another 12 cup muffin tin. Press one wonton inside each sprayed cup, being careful not to tear it.
In a small bowl, combine ricotta cheese, Parmesan cheese and 1 teaspoon basil. Place 1 TBSP of ricotta mixture into each wonton. Pour about 1/4 cup of sauce over ricotta mixture. Once you've filled all your cups, if you have any sauce left over, just divide it up. Sprinkle each cup with mozzarella cheese. Top with remaining wontons and lightly spray each with cooking spray. This will help them brown. Sprinkle with more mozzarella cheese and add parsley flakes. Place muffin tins onto a large cookie sheet (to help catch anything that might melt over) and bake for 8-10 minutes or until cheese is melted and slightly golden.