It's no surprise that I like to watch the Food Network (and definitely no surprise that I read cook books like novels). I have a few shows that I like to DVR and Barefoot Contessa is one of them. The day I watched the episode where she made her Lemon Cake is the same day I made it. I had most of the ingredients already on hand. I only had two lemons, but improvised with oranges I had to make up the difference. That is why mine is a little different than hers, but still just as delicious I'm sure!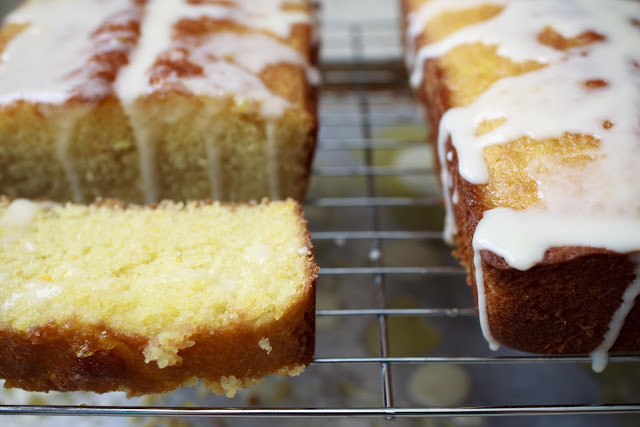 Citrus Bread (really cake)

2 sticks butter, softened
2 1/2 cups sugar, divided
4 large eggs
zest from 2 medium/large lemons
zest from 2 medium oranges
3 cups flour
1/2 tsp baking powder
1/2 tsp baking soda
1 tsp kosher salt
1/4 cup freshly squeezed lemon juice
1/2 cup freshly squeezed orange juice
3/4 cup whole milk
1 tsp pure vanilla extract
Glaze
2 cups powdered sugar
1 1/2 TBSP freshly squeezed lemon juice1 1/2 TBSP freshly squeezed orange juice
Preheat the oven to 350°. Grease and
flour 2 loaf pans.
In a large bowl cream the butter and 2 cups sugar until light and
fluffy, about 5 minutes. Add in the eggs, one at a time, and zest from lemons and oranges.
In a small bowl whisk together flour, baking powder, baking soda, and salt in a
bowl. In another bowl, combine 1/4 cup lemon juice, milk, and
vanilla. Add the flour and milk mixtures alternately to the
batter, beginning and ending with the flour. Divide the batter evenly
between the pans, smooth the tops, and bake for 45 minutes to 1 hour,
until a toothpick comes out clean. Remove from oven and cool in pan for 10 minutes.
While the bread is cooling combine 1/2 cup granulated sugar with 1/2 cup orange juice in a
small saucepan and cook over low heat until the sugar dissolves. Remove the bread from
the pans and set them on a rack set over a tray or sheet pan. Slowly spoon the orange syrup over them allowing the syrup to soak in. Cool the bread completely.
For the glaze, combine the powdered sugar and juices
in a bowl, whisking until smooth. Pour over the tops of
the bread and allow the glaze to drizzle down the sides.