I once heard that the perfect crepe you can get in France is one that is drizzled with lemon juice and sprinkled with powdered sugar. I don't know if that's completely true, but all I know is that combination is mouthwatering!
Why am I talking about crepes when I'm posting about pancakes? These pancakes taste just like crepes without all the hassle of making one at a time.
Seriously. So good.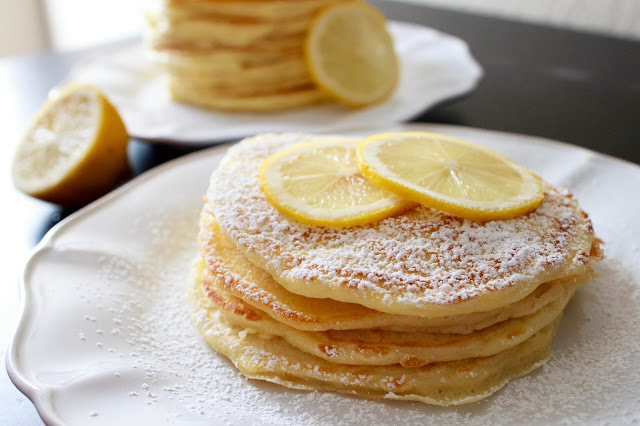 Lemon Pancakes
Printable Version


1 1/2 cups flour
2 tsp baking powder
1/4 cup sugar
pinch of salt
1 1/2 cups of milk
3 eggs
zest of one large lemon
juice of one large lemon
1 tsp vanilla
6 TBSP butter, melted and cooled
In a large bowl whisk together flour, baking powder, sugar and salt. In a medium bowl whisk together milk, eggs, lemon zest, lemon juice and vanilla. Add wet ingredients to the dry ingredients and mix until slightly combined. Pour in butter and and combine completely.
Preheat your pan or griddle to medium heat. Lightly butter the surface. Pour 1/4 cup batter onto the pan and cook until bubbles start to form around the edges. About 1-2 minutes. Flip and cook for 1 more minute.
Serve hot with fresh lemon juice and powdered sugar. Also really good with blueberry syrup or honey.