If you don't like mushrooms, do not be turned off by this recipe. The mushrooms are completely optional. I am a fan of mushrooms. Ian used to be against mushrooms in any form until this recipe. They still aren't his favorite fungus, but now he can enjoy them when served. This recipe originally called for pork chops, but I was in a pinch and only had chicken on hand. Really good, but the pork chops are just as delicious!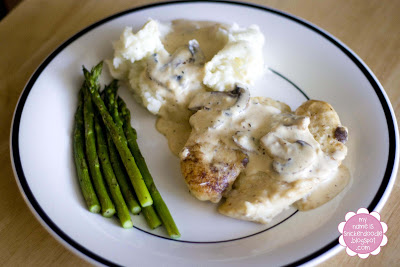 Chicken (or Pork Chops) In A Mushroom Cream Sauce
8 skinless chicken tenders (two per serving) or 4 Pork Chops
Flour
Pepper
Salt
Garlic Powder
2 cans evaporated milk
1 cup mushrooms
Preheat oven to 375º. Dredge chicken (or pork chops) in flour and sprinkle both sides with pepper and garlic powder. Brown with 1 TBSP oil in a large skillet, about 2-3 minutes (chicken) 4-5 minutes (pork chops) on each side. You do not want to cook through. Set aside pan as is, do not wash yet. Place chicken in a 9×13 pan. Top with mushrooms if you are using them. Pour over both cans of evaporated milk. Bake 30 minutes until meat is cooked through. Heat your previously used skillet for about 1 minute on medium heat. Place chicken onto plate and pour milk and mushrooms into your skillet. Add more pepper and salt to taste and whisk up bits from bottom of pan. Keep whisking until sauce thickens about 5-7 minutes. Place chicken back in pan to reheat and serve.
*I like to serve this dish with mashed potatoes because there is plenty of sauce to pour over the top.
Coconut Crunch Delight
1/2 cup butter melted
1 cup flour
1/4 cup brown sugar
1 1/4 cups flaked coconut
1 cup slivered almonds
1 small box instant vanilla pudding
1 small box instant coconut pudding
2 2/3 cups cold milk
2 cups cool whip
In a bowl combine butter, flour, brown sugar, coconut and almonds. Press lightly into a 9×13 pan. Bake at 350ºfor 25-30 minutes or until lightly golden brown. Stir mixture every 10 minutes to form coarse crumbs. Cool completely. Divide in half. Press half into same baking pan. In a bowl beat puddings and milk together. Fold in cool whip and spoon over crust. Top with remaining crumbs. Cover and refrigerate over night.