Forever and a day ago I posted about this, but I didn't post the actual recipe. A few weeks ago I was making homemade chicken strips. As I was heating the oil, I thought to just make a quick batch of pickles before I contaminate the batter with the chicken. They hit the spot.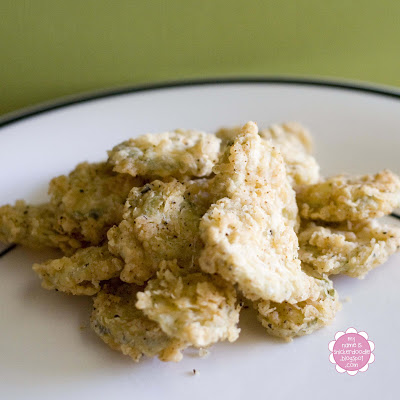 Fried Pickles
1 1/2 cups flour
3/4 tsp garlic powder
1/4 tsp pepper
1/2 tsp parsley flakes
1/2 tsp chili powder
2 eggs
dill pickle chips (about 3/4 small jar)
vegetable oil
Thousand Island or Ranch dressing
Pour enough oil into a large pan until it is about1 1/2 inches deep. Turn on medium high heat. Whisk together flour, garlic powder, pepper, parsley flakes and chili powder together in a medium bowl. In a separate bowl, beat eggs together. Place pickles onto two paper towels and pat dry. Working in small batches, place some pickles into the flour mixture. Shake off any excess and one at time dip into the egg mixture and then back into the flour mixture. Shake off any excess again and carefully place in frying pan. Cook each side for about 2-3 minutes each. You don't want it to burn so check your heat. Cook until lightly golden brown. Drain onto a paper towel and dip into favorite dressing. I am not a fan of Thousand Island dressing, but it works so well with these. Watch out! They are addicting!