I have already made this chicken twice in one and half weeks I loved it so much. In the past I have made versions of this chicken (Lemon Chicken, Chicken Piccata), but have always failed at the ratio of lemon so it always tasted like vomit. Gross, I know, but that's what too much citrus will do. I was a little leery about this recipe and I did tweak it a little so I hope you enjoy! Originally can be found here. She has some great recipes.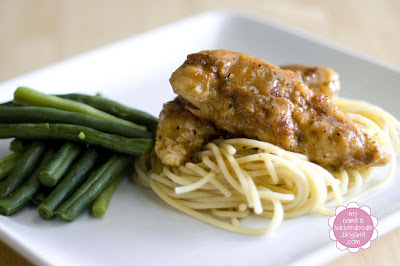 Chicken French With a Lemon Butter Sauce
4 medium boneless, skinless chicken breasts (I used 6 chicken tenders)
1 cup flour
1/2 tsp salt
1/2 tsp pepper
1/4 tsp paprika
1/4 tsp granulated garlic
1 TBSP olive oil
1 TBSP butter
1 can chicken stock (about 2 cups)
juice of 1 medium lemon
3 TBSP butter
salt and pepper to taste
In a ziplock bag, mix together flour, salt, pepper, paprika and garlic. Place chicken in bag and shake until coated. In a large skillet, heat oil and 1 TBSP butter over medium high heat until hot and butter is sizzling. Gently shake excess off of chicken and place in pan. Cook about 7-10 minutes on each side or until center is cooked through. Remove chicken from pan and cover to keep heated. Pour about half the can of chicken stock into hot pan and whisk up the bits to deglaze the skillet. Add remaining stock and turn heat up just a little. Cook for about 5-6 minutes, stirring constantly until sauce is reduced by half. Add in lemon juice and cook for another 2-3 minutes. Salt and pepper to taste. Add chicken back in to heat up a bit and serve.
*I served mine over noodles, but would be good over rice as well. The very first bit has a little zing to it, so don't be afraid to eat it all up!
Not only have I made the chicken twice, but I have made these cookies twice in two days. The first batch I made them larger so it only made about a dozen. We shared some with friends because they were so good. Such a nice thing, but we both didn't get our fill. So the batch I made yesterday I doubled so I can have a stash in the freezer. I can't remember what food blog I found them on, but the original recipe can be found here.
Sorry Girl Scouts….I am not going to buy your Thin Mints anymore.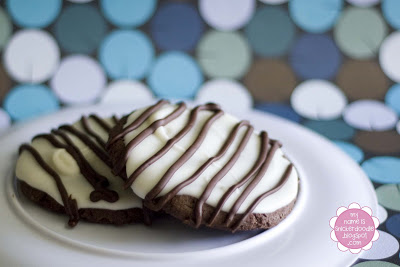 Chocolate Peppermint Cookies (AKA Mint cookies that are thin)
1 cup flour
1/2 cup cocoa powder
1/2 tsp baking powder
1/2 tsp baking soda
1/2 tsp salt
5 TBSP butter
3/4 cup sugar
1 large egg
1 large egg yolk
3/4 tsp peppermint extract
white chocolate bark or chips
1/2 tsp peppermint extract
semi sweet chocolate chips
Preheat oven to 325. Whisk flour, cocoa powder, baking soda, baking powder and salt together. In another bowl, beat together sugar and butter for one minute. Add in eggs and mix well. Beat in 3/4 tsp extract. Fold in flour mixture until well incorporated. Using a 1 inch ice scream scoop (I only use mine for cookies) or about 1 1/2 TBSP of batter…scoop cookies onto a parchment lined cookie sheet. Lightly dust your fingers with flour and press down each cookie until it is about 1/4 thick. The original recipe has a bit more steps than that so check it out if you want to follow it exactly. Place cookie sheet into freezer and chill for about 8 minutes or until cookies are firm. Transfer directly to the oven and cook for 10-12 minutes. Bake until cookies are dry to the touch. Cool completely before adding chocolate coating. *Original cookies were completely dipped, but I didn't have enough to do that with.
Melt white chocolate in a bowl int he microwave being careful not to over heat. Use about 10 second intervals. Stir in 1/2 tsp extract. Spoon over each cookie. Drizzle melted semi-sweet over the top. Place in fridge and let set for about 30 minutes. I promise they are worth the wait!!!
*Even with the double batch and making the cookies smaller, i only got about 2 1/2 dozen when the original recipe said I would get 6 dozen out of it. Weird! Try them out and let me know what you think!