Ian and I have fell in love with this recipe, but new it was missing some key ingredients…veggies! My staple Chinese food had always been Sweet and Sour Chicken. I always ordered it and never gave anything on the menu a second look. Until the day that Ian ordered Chicken Lo Mein. Why is it that sometimes the other person's dish always looks so much better than yours? No Chicken Lo Mein is my go to. It's so good and noodley. I altered the original recipe a bit so I hope you enjoy it as much as we do! Don't let the amount of ingredients scare you off. The nice thing about this recipe is you can almost cook everything at once and then toss together at the end.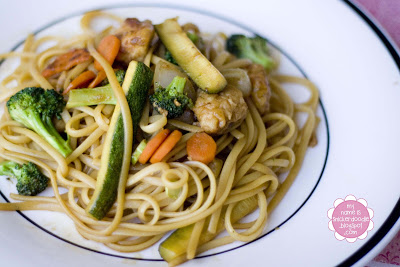 Chicken Lo Mein-"ish"
2-3 chicken breast cut into cubes
flour for dredging
6 TBSP unsalted butter
1 1/2 cups broccoli cut into small pieces
1 carrot thinly sliced
1/2 medium onion thinly sliced
1-2 zucchinis (depending on the size) cut in half then into 1/2 sliced "sticks"
1 cup mushrooms
1 cup bean sprouts
1 box linguine noodles
Sauce:
1 cup teriyaki sauce or soy sauce (if using soy sauce add an additional 1 1/2 tsp sugar to sauce)
2-3 cloves garlic minced
5 TBSP lemon juice (usually 1 large lemon will be enough)
2 TBSP sugar
Whisk together sauce ingredients and set aside. Cook noodles according to directions. While noodles are cooking, dredge chicken in flour. Melt 5 TBSP butter in large sauce pan. On medium high heat, fry chicken until golden brown and cooked through. Remove chicken onto a plate and set aside. Do not drain pan. In a microwave save bowl put in carrots and a little bit of water. Microwave for 1 1/2 minutes. Add in broccoli and cook for another minute. Drain and set aside. Add in 1 TBSP butter to pan. On medium high heat, saute mushrooms, onions and zuccini. Once cooked through, add in broccoli and carrots to brown slightly. Remove ingredents to chicken plate. Do not drain. Pour in sauce and whisk bits off the bottom of pan. Stirring constantly, cook sauce until thickened. About 4-5 minutes. Drain noodles. Add in chicken, veggies, noodles and bean sprouts. Toss until well coated.
This cake would be a fabulous addition to any BBQ. You could make it that morning while your chicken or meat is marinating. I am totally breaking the cardinal rule by not posting a picture, but I am sure you could use your imagination with a bunt cake. (Every time I think of a bunt cake I think of My Big Fat Greek Wedding…a booont cake!) Another recipe that I have had for so long, but can't remember where I got it!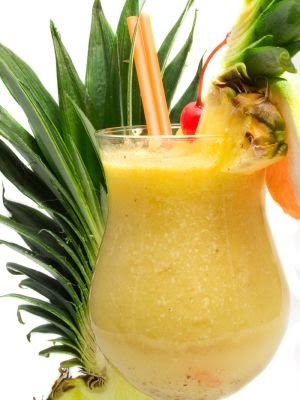 Pina Colada Pound Cake
2 1/2 cups flour
1/2 tsp baking soda
1/2 tsp salt
1 cup butter at room temp.
2 cups sugar
4 eggs
1 8 oz container vanilla yogurt
1/4 cup canned crushed pineapple
1 tsp grated lime rind
1 tsp coconut extract
1/2 tsp vanilla
Glaze:
2 TBSP fresh lime juice
1 cup powdered sugar
Preheat oven to 325. Grease and flour bunt pan. Whisk together flour, soda and salt. In a second bowl, breat together butter and sugar. Add in eggs one at a time, beating well after each one. Mix together yogurt, pineapple and lime rind in a small bowl. On low speed, beat flour mixture into butter mixture in 3 additions, alternating with the yogurt mixture, starting and ending with the flour mixture. Blend in extracts. Beat on medium speed for 3 minutes. Pour batter into prepared pan. Bake for 1 hour or until center comes out clean. Transfer to wire rack and let cool for 15-20 minutes. Turn out on to plate. Cool for another 15 minutes. Whisk together lime juice and powdered sugar. Slowly drizzle half of glaze over cake. Let cake cool completely. Drizzle remaining glaze over the top. Garnish with lime slices, marachino cherries and pineapple wedges if you are feeling fancy!
*Picture from foodista.com.