I am not sure what is going on lately, but a good handful of new recipes that I have tried have been a flop! They look good on paper, but don't ever taste good. Surely, that has happened to you and it might be safe to say…with recipes you have tried off of my blog. YIKES!
However disastrous a recipe might turn out, it's always fun to try something new. I LOVE when I create something out of our usual edibles and find another keeper.
So, here is something new for Fabulous Food Fridays…a recipe that is, might we say, healthy! After baby was born we were very blessed to have families in our church bring us some fabulous dinners. Oh, man were they good! I remember one night just relishing in one dish. I turned to Ian and asked, "Is this as good as I think it is or am I just really hungry?" He concurred that it was delicious. I asked forced and stalked the sweet ladies for the recipes and this is one of them from Lisa. I really hope you try it this weekend and if not this recipe something new and out of the norm for you!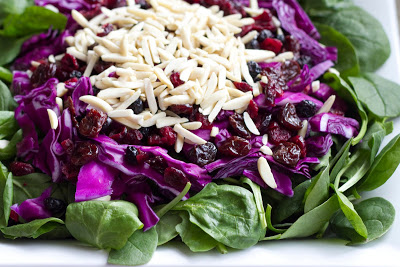 Fresh Spinach Crunch
Salad
1 (9 oz) pkg fresh spinach
1/2 head purple cabbage
1/3 cup slivered almonds
1 (6 oz) pkg dried mixed berries
Dressing
1/4 cup sugar
1/2 cup vegetable oil
3/4 tsp salt
1 1/2 TBSP dry minced onion
1/4 cup white wine vinegar
3/4 tsp dry mustard
1/2 tsp celery seed
Combine the dressing ingredients in a mason jar. Tighten on lid and shake vigorously. Chill for 2 hours. Slice cabbage into thin strips. In a large bowl or large deep plate layer salad starting with spinach, cabbage, berries and top with almonds. Drizzle with salad dressing and serve.
OPTIONS: If you have time you can toast your almonds. Place nuts in a pan and heat over medium heat. Stir constantly about 3-5 minutes until lightly toasted. Cool on a paper towel.
The first time I made this recipe, I had some leftover cashews and they also went perfectly in the salad.
{All recipes have been added and updated to my recipes page…go on…check it out! ⇰}