I didn't discover how divine Alfredo sauce could be until about 8 years ago. Which is probably good it's only been that long because it's so bad for you. It was this exact recipe that turned me to the dark side. It's perfect to drench noodles in or or half the recipe and make a dipping sauce for bread sticks. Seriously, people…this is a no fail, rich and creamy, make you want to lick the plate kind of sauce!
Fettucini Alfredo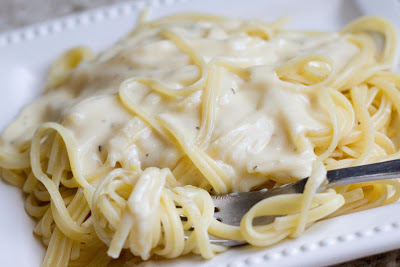 1 pound dry Fettucini noodles
1/2 cup butter, salted
1 cup heavy cream
1 1/2 cup freshly grated Parmesan cheese
2 TBSP flour
1/2 tsp pepper
1/8 tsp salt
Prepare noodles according to directions. While waiting for the pasta water to boil, prepare Alfredo sauce. Cube butter into smaller pieces. This will help it melt faster. In a medium sauce pan, combine all the ingredients (except the noodles). Cook over medium heat and stir constantly as to avoid scorching. DO NOT boil the sauce. Adjust your heat if bubbles start to form. Once butter and cheese are melted, heat for another 2 minutes then keep on a low temperature until noodles are done. Drain noodles and plate up. Pour sauce over noodles and serve. *You can substitute freshly grated Parmesan cheese with the grated cheese from the tub found in the refrigerated section. Not that powdery cheese that you shake from a canister. And of course you could add some grilled chicken to make it even tastier! You can print this recipe
here
.