One night in the middle of January, Ian came home from visiting his cousin Shalene. He had mentioned that she gave her laundry room a make over and that it was a great face-lift. She was inspired when seeing this adorable make over. Then he followed it up with, "Why haven't you made over your laundry room?" There are two things wrong with that question…can you pick them out? Don't ask me why I haven't done something when I have done plenty of other things. And it's not just my laundry room! When I gave him the look…you know…that look…he followed it up with, "I really think you could do one fantastic job in redoing our laundry room." I hadn't planned on doing anything with except make sure the doors were closed when company came over. However I was equally as inspired when I saw her cute new room and knew that I needed to something just as fun.
It is all based off the flirty material I recovered my ironing board in. It's not completely finished, but I am a big fan of leaving things unfinished! Or so it would seem by the pile of unfinished projects. Please ignore my horribly stitched pictures and my weird angled shots. It's not the biggest laundry room so I got the best I could.
BEFORE
The dryer side…


Above the dryer…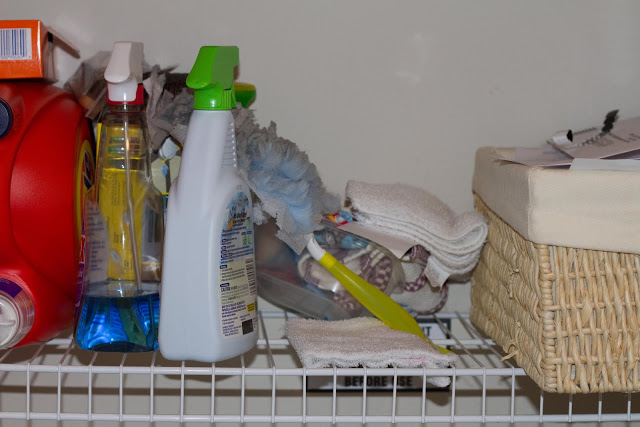 Above the washer…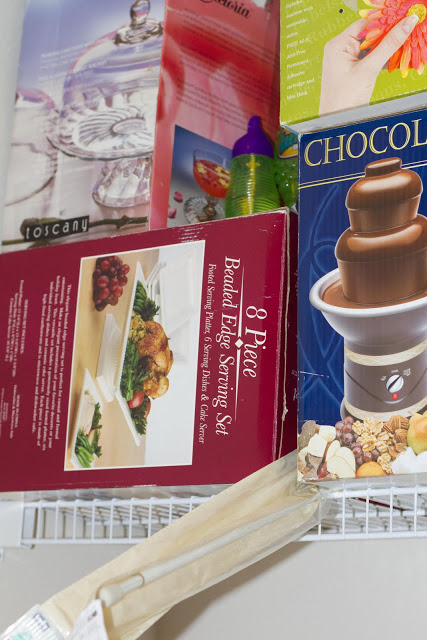 There wasn't a low shelf above the washer so everything was on the dryer side. This shelf is actually about 2 feet above the washer and held all of my rarely used items.
AFTER
Ian had the smart idea to hang the ironing board (it was previously stuffed in the hall closet and a pain to get out.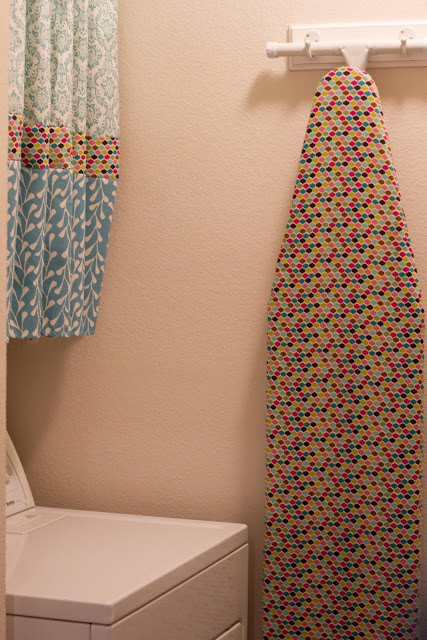 I had bought both of the blue materials with the intentions of putting a cute ruffle in the darker shade on the lower 1/3 of the lighter blue. HOWEVER…when I got to sewing, the damask had a particular printed direction. That meant I was really short on the length that I need to cover all of the storage space. So, I had extra ironing board material and created a band to extend the length. Not what I intended and not my favorite, but I like it well enough to keep it around.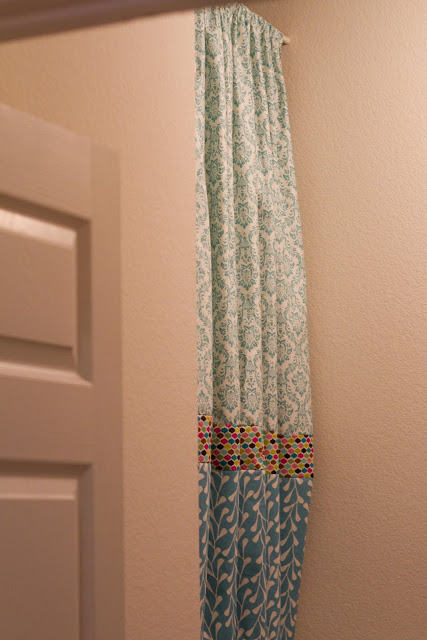 I put the fabric baskets I made on the dryer side to hold my cleaning rags, cleaning toothbrushes and my Swiffer.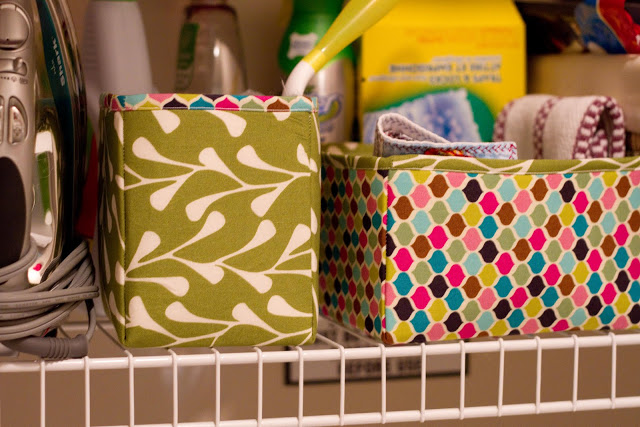 Ian put up a shelf above my washer (not pictured) so I had room to put more cleaning supplies and my iron.
Above the washer…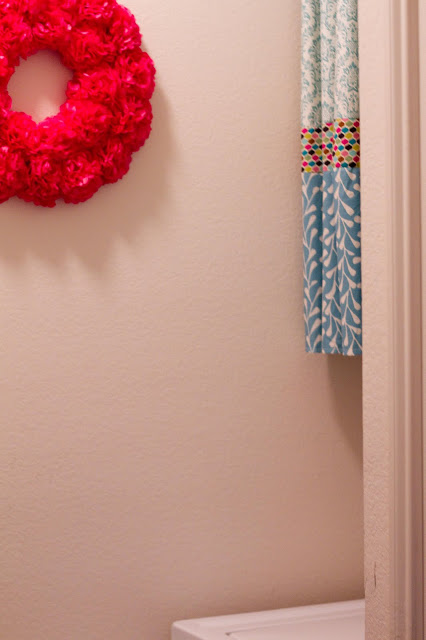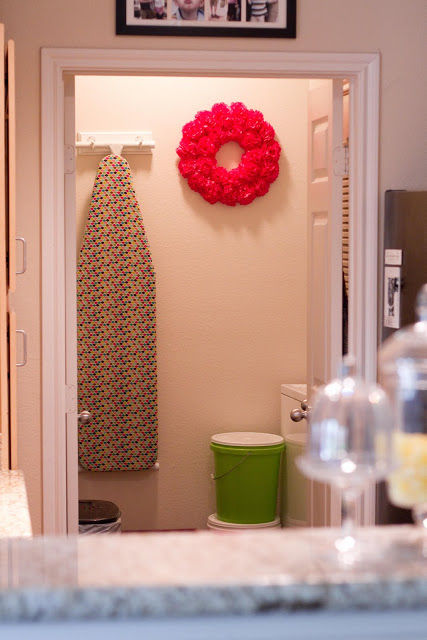 I was helping my mother in law make some pom poms for a baby shower and came up with an idea…that adorable wreath! Come back on Monday and I will show you how I made it…it cost me a whopping $2.00.
I am still in the brainstorming phase of trying to figure out what to put in the white space below the wreath so hopefully I can come up with something soon. Now that I have a cute space, it makes me want to leave the doors open and actually keep that room clean now. Dare I even say WANT to do the laundry…I wouldn't go that far!