Yesterday in celebration of spring actually a pre-shopping cursor for my birthday I went to Old Navy. I have a love/hate relationship with that store. I love it when they have fabulous things for the new seasons, but hate it when it gets to be too summery and everything becomes skimpy. It's not so fabulous for a generous sized person like I have been in the past and currently am. Yes, I am dreading putting up a new profile pic because of all the weight I gained after baby #2! But, that is another topic for another time never.
I took the boys and was not disappointed in their new spring line. There were a million things there that I tried on and wish I could have gotten more, but of the chance of disappointing Dave Ramsey, my money told me what I was going to buy.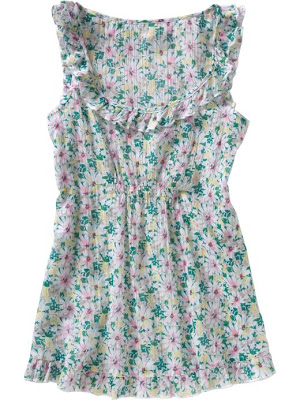 This shirt just screams, "BRING IT ON SPRING TIME!" I also got a cute yellow and white striped tee to go under it (that I couldn't find on the site) and am on the look out for a thin pinky cardi to go over it…so I can keep my options open for two looks.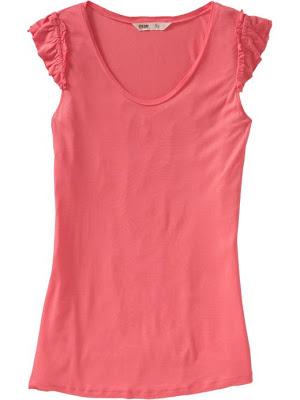 I am in love with this new corally pinky color. It's one of those colors that I think looks good on everyone. I couldn't resist snagging this top.
I also tried on a swim suit GASP and regretted it wholeheartedly. This swim top to be exact (hoping to pair it with some cute boy shorts)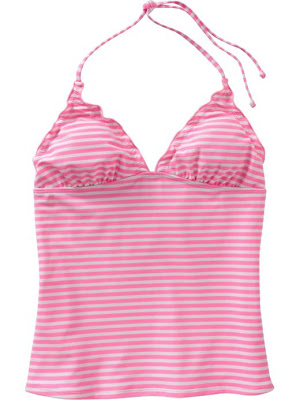 The hightlight of trying on said swim suit was once I got it on Liam proclaimed that he had to use the bathroom RIGHT NOW! Well, this cute little top was just that, little. It took a minute to remove it. If you have no idea what this is like just go ahead and eat a cookie…maybe two cookies!
The reason for this torture is we are going to Florida for a family reunion in June and the word 'beach' has come up a few times. I might have to swap a swim suit this year for a full length, long sleeve parka…or something that resembles this…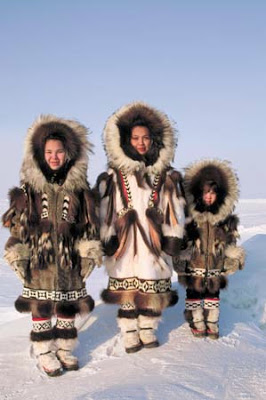 Totally appropriate I say.