Pork chops always remind of a dinner I made my husband when we were first married. I had bought some cheap pork chops and simply dredged them in flour then fried them in a little oil. All through dinner he kept asking me what "meat" he was eating. I told him three different times that it was pork. He didn't believe me and thought I had served him some sort of chicken. It wasn't until I finally pulled the package out of the garbage to prove that I had, indeed, served him pork.
The reason he doubted me is because when he grew up, his mom used to make pork chops that were so tough and chewy they had no flavor! We had a great laugh about it and he still will ask me (teasingly) if I'm serving him pork or not.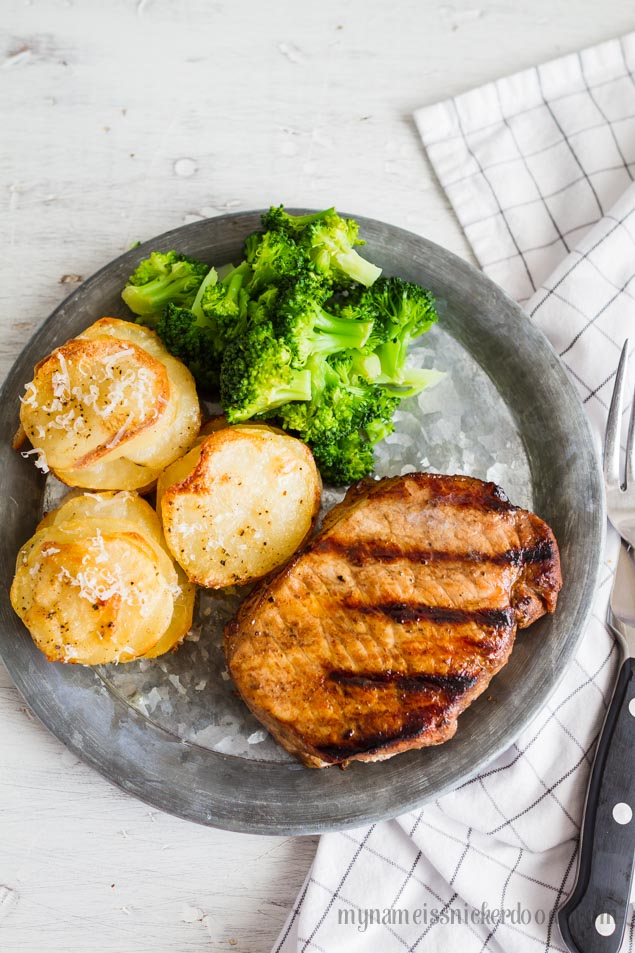 I truly do love pork chops pretty any way you cook them, but they are especially great grilled. We currently don't have an outdoor grill so I like to use a grill pan I can heat up on my stove top.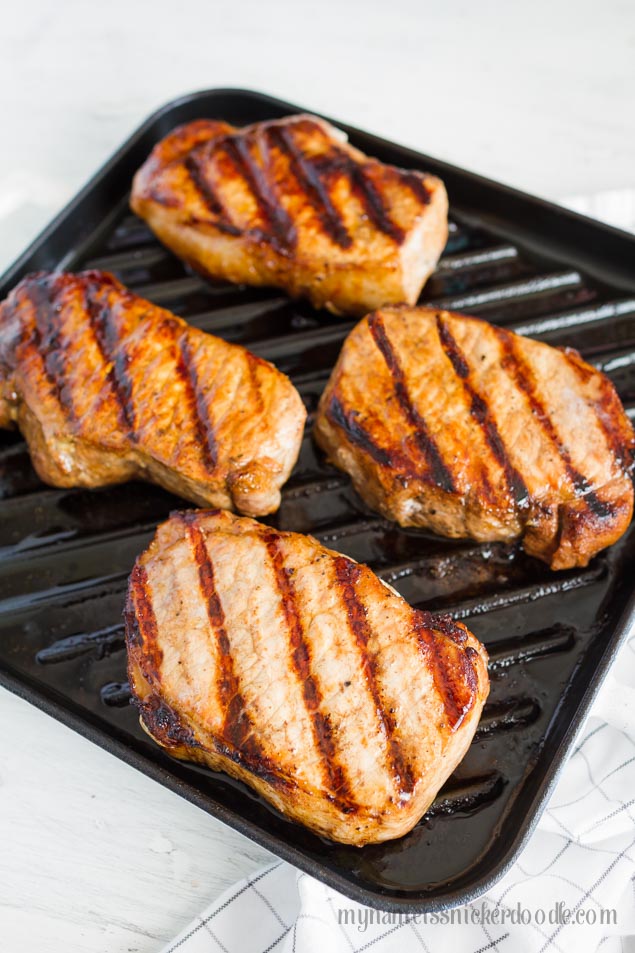 The marinade is only a few ingredients, but all of them truly make the pork chops incredible!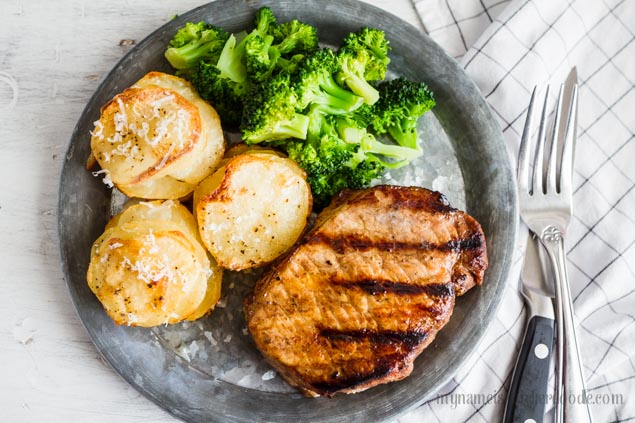 Grilled Garlic Balsamic Pork Chops
Ingredients
4 Thick Cut Pork Chops
1/2 Cup Olive Oil
1/2 Cup Balsamic Vinegar
2 tsp Kosher Salt
1 tsp Ground Pepper
1 Whole Garlic Bulb, Cut Into Half Width wise
Directions
1. Cut whole garlic bulb in half lengthwise, leaving most of the paper in place.
2. In a gallon size ziploc bag, mix together oil, vinegar, salt, pepper, and cut garlic.
3. Add in the pork chops, seal tightly and turn bag to coat.
4. Place the bag in a large bowl then marinate in the fridge for 2-4 hours. Placing it in a bowl helps if the bag leaks.
5. Remove the bag from the fridge and let it rest on the counter for 10 minutes before cooking.
6. Preheat grill to 375 degrees.
7. Lightly oil grill.
8. Once hot, carefully place each pork chop down on the grill. Brown for about 5-6 minutes on each side.
9. Make sure each chop is completely cooked through and no longer pink.
10. Place onto a plate and cover with foil to allow the chops to rest. This will help it stay juicy.
11. Serve.