Ian brought me home an early birthday present today. Two of some of my favorite words…perfume and FREE! On his lunch break he cruised the mall and happened upon Macy's to look for some new cologne. The sales girl had a big bag of "just got in" new samples and one of them happened to be this new perfume. He is such a sweet talker and told her that it was my birthday coming up and I just gave birth to our first child two months ago. She happily handed over a 2.5 oz bottle of the soft body lotion and said I would love it. I have been only wearing Ralph Lauren's Romance for years and have been so picky of what I wanted to move onto. THIS SMELLS SO GOOD! Ian felt bad that he was using something he got free as one of my birthday presents, but this is no different if it had been free jewelery, free chocolate, or a free car!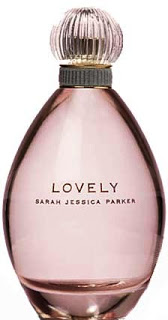 Next time you happen upon a department store, you have to try it out. It literally is LOVELY!
Thanks Ian! I really couldn't have a better husband.