It's no secret that I really do love recreating some of my favorite dishes from restaurants we frequently visit.  We don't eat out often, but when we do it's mostly to Mexican places.  We eat copious amounts of chips and salsa before our meal comes out and always get about half our dinner packaged up in to go boxes.  It never really occurred to me to recreate a restaurant salsa because I was just focused on the entree or dessert ingredients.  I rarely buy salsa in a jar anymore, because I know I can make it better at home!  One of my favorites is this recipe on my site, but it was never in attempts to try to mimic another salsa.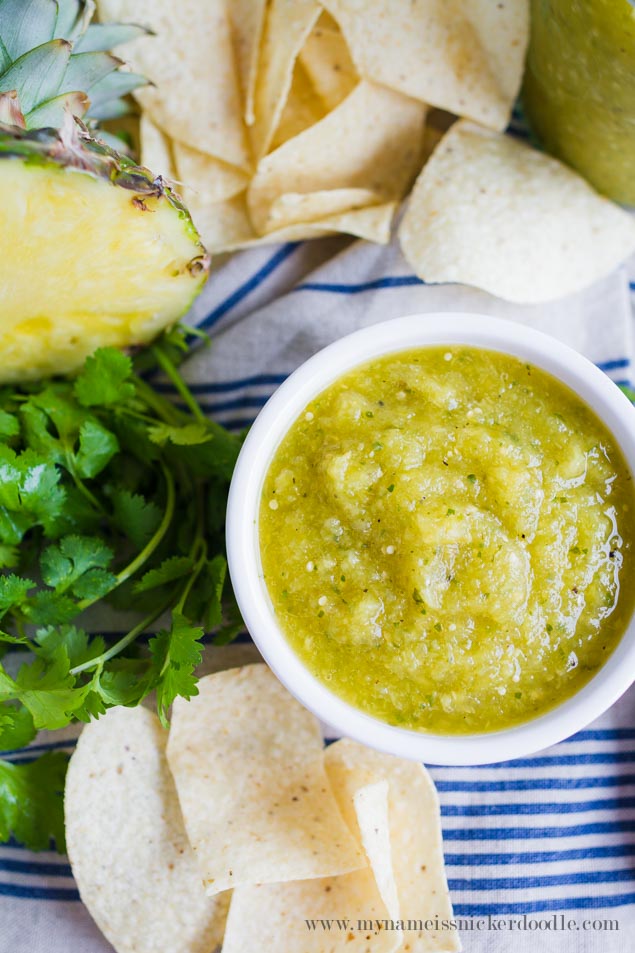 A few weeks ago we went to our favorite restaurant with friends for a date night.  We have been going there for years as well as the other couple (just not together).  They asked for a different salsa to be brought to the table and my husband and I were mesmerized by the idea that we hadn't tried everything on the menu in all the years we've been going there.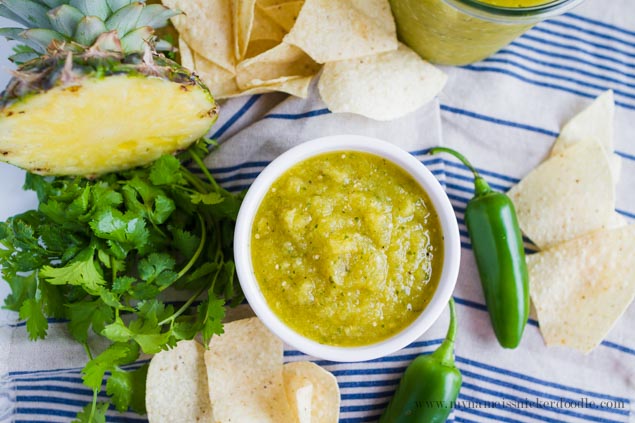 This golden salsa, as our friends called it, was incredible!  It was a tad spicy, but cooled off by the sweetness of the pineapple.  I couldn't resit asking the manager how they made it.  I didn't get the precise recipe, but just the list of ingredients and the cooking method.  That was good enough for me!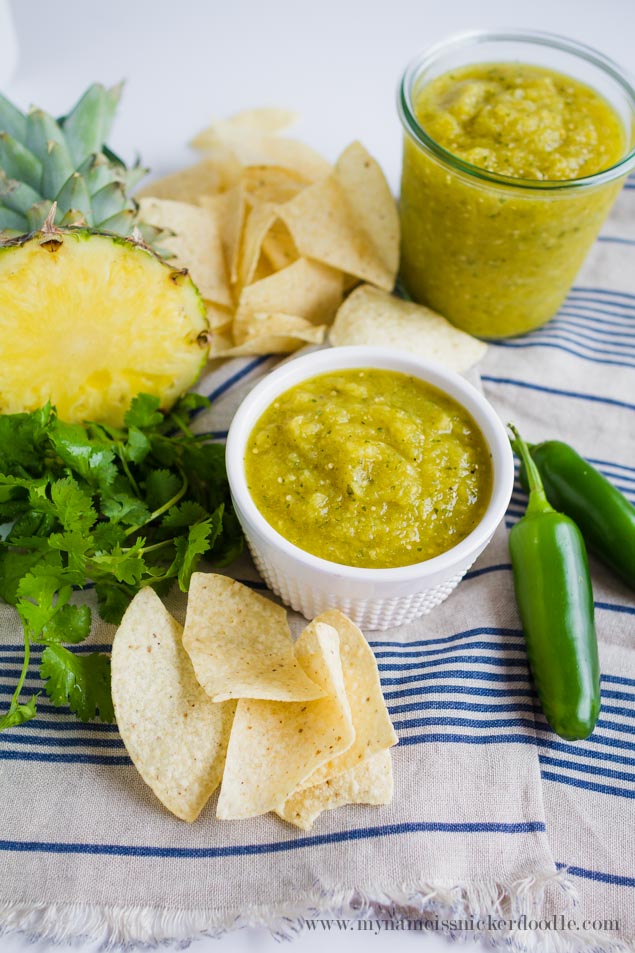 Pineapple Tomatillo Salsa
Printable Version
1 lb Tomatillos
1 Large Pineapple
1/4 Medium Yellow Onion
1/2 or Whole Jalapeno Pepper
1/2 Bunch Cilantro , Stems Removed
1 tsp Salt
2 tsp sugar
1.  Turn your oven onto broil and move your rack to the top rung.
2.  Remove husks from tomatillos and place tomatillos, jalapeno and onions onto a baking sheet and broil for about 15-20 minutes or until somewhat charred and roasted.
3.  Cool for about 10 minutes.
4.  In the meantime, remove rind from the pineapple and cut into medium chunks.
5.  Cut the stem off the jalapeno and place it along with the tomatillos, onion, pineapple and cilantro into a food processor.
6.  Pulse until blended and add in salt and sugar.  Blend till combined.
7.  Chill for two hours before serving.
8.  Store in an airtight container in the fridge for up to one week.
Here are few other recipes to spice up your life!