There was a pivotal point in my life when I realized that food could be fun.  I was 18 and had just graduated high school.  The very next day my family and I drove out of town to attend my cousin's high school graduation as well.  As we walked through the door my aunt was just pulling the most amazing appetizer I had ever had at the point out of the oven.  Her friend and neighbor was helping her with the after party food and had made 4 trays of these Sausage Stars.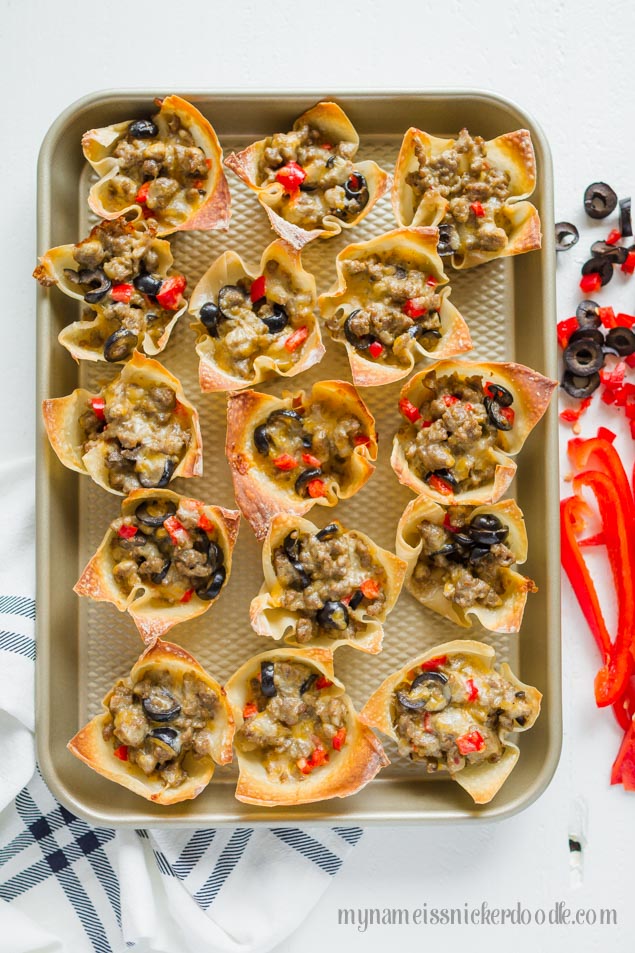 In my family if you help in the kitchen you get to snitch on the food before hand so I stepped right in and started to transfers these to the serving tray.  Once they cooled a bit, my aunt and I each shared one and it was pretty incredible.  Very savory and cheesy.  Just what you want in an appetizer.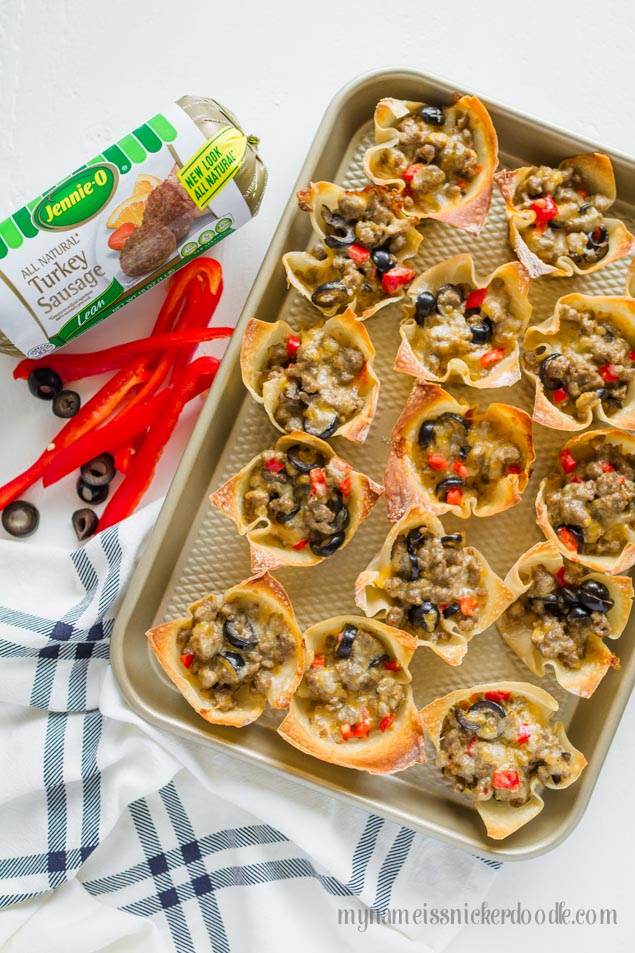 It became a family favorite recipe over the years and we make them often.  I've only made one change to it recently and I'm in love with the results!  I substitute the regular breakfast sausage for Jennie-O All Natural Turkey Sausage.  It's lean and full of flavor!
After making the change, I realized just how greasy the original version was and have now made the complete switch for the lean turkey sausage.
Every time I have made these, they are the first thing gone on the table.  They might not look like the fanciest thing on the planet, but I promise that you won't have any leftover after you make them!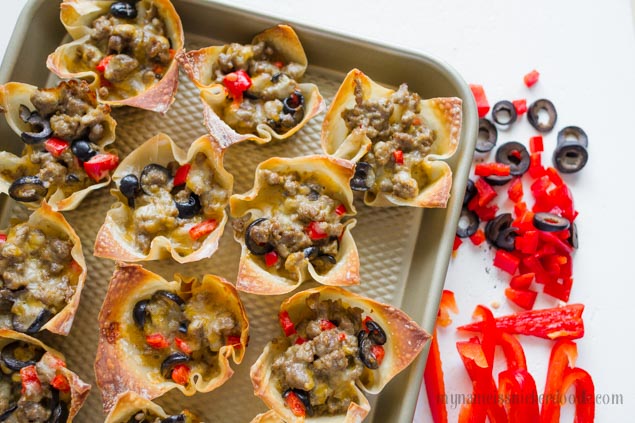 Turkey Sausage Stars
Makes 24
Printable Version
Ingredients
24 Square Wonton Wrappers
1 lb Jennie-O Turkey Sausage
1 Red Bell Pepper, Diced
1 Cup Sliced Black Olives
2/3 Cup Ranch Dressing
1 1/2 Cups Colby Jack Cheese, Shredded
Directions
1.  Preheat oven to 350 degrees.
2.  Lightly spray 2 standard muffin tins with cooking spray.
3.  Gently press each wonton wrapper into the tins forming a cup.
4.  Bake for 5 minutes or until very lightly brown.
5.  Once cooked, place each wonton cup onto a large baking sheet with sides.
6.  In a large pan crumble and brown turkey sausage over medium high heat.
7.  Drain onto a paper towel and let cool for 10 minutes.
8.  In a large bowl mix together diced bell peppers, sliced olives, ranch dressing, shredded cheese and sausage.
9.  Spoon a heaping tablespoon of mixture into each wonton cup.
10.  Bake for 5-7 minutes or until mixture is melted and bubbly.
11.  Serve hot.
Make these other delish appetizers, too!