Vanilla Cupcakes with Vanilla Frosting are super light, fluffy and sweet!  Typically I am such a chocolate cake girl (my favorite are these Triple Chocolate Cupcakes!) .  There are times, though, that I crave a pure vanilla cupcake or slice of cake.  These little gems are perfect for a spring treat and fairly easy to make.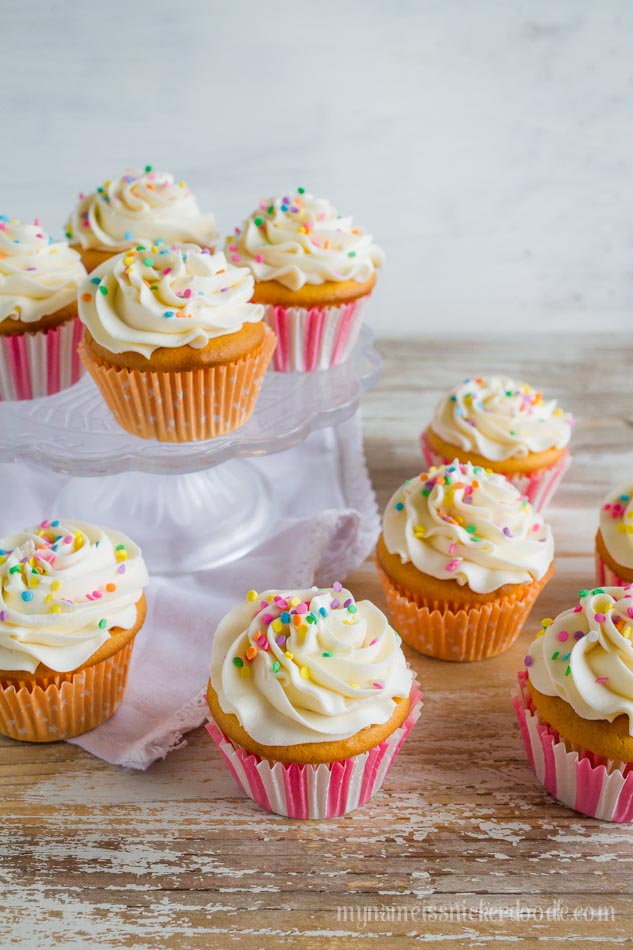 I know there are great recipes out there for purely from scratch cake recipes.  I just prefer using cake mixes and amping them up with additional ingredients.  It's a trick I learned when I made wedding cakes years ago.  They turn out perfectly and considerately every time!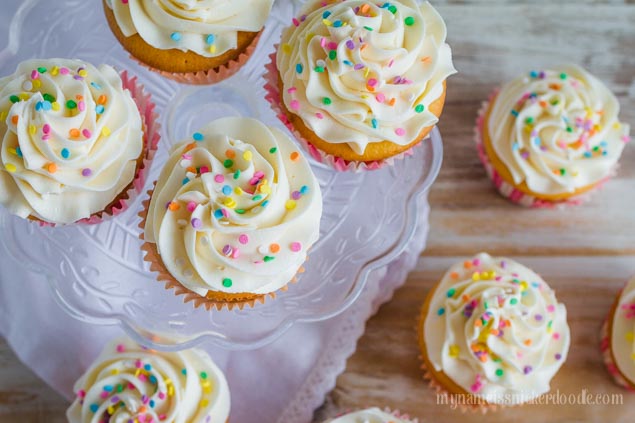 My middle son really prefers vanilla to anything else, so he felt extra special when I made these.  I finally had to hide them because he kept eating them when I wasn't around!  They really are such a classic cupcake that no one can resist!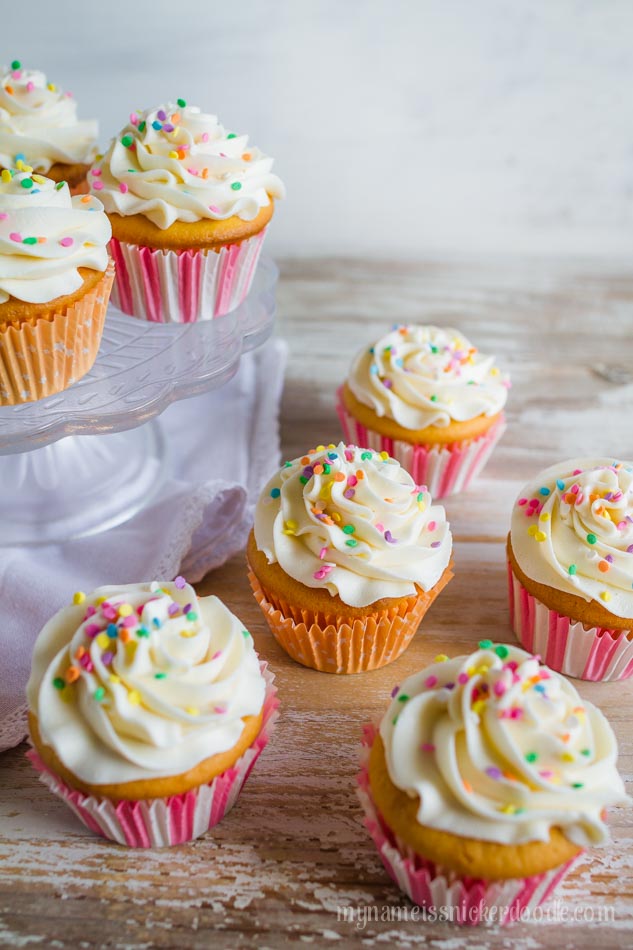 Vanilla Cupcakes With Vanilla Frosting
Ingredients
FOR CAKE
1 Box White Cake Mix
1 Whole Egg + 2 Egg Whites
1/4 Cup Canola Oil
1 Cup Milk
2 tsp Pure Vanilla Extract
1 tsp Almond Extract
1 Cup Sour Cream
FOR FROSTING
1 Cup Butter, Softened To Room Temp
1/3 Cup Shortening
6 Cups Powdered Sugar
1 tsp Pure Vanilla Extract
1 tsp Almond Extract
2 TBSP Milk
Sprinkles
Directions
FOR CAKE
1.  Preheat oven to 350 degrees and line two standard tins with cupcake paper liners.
2.  In a large bowl beat together cake mix, egg, egg whites, oil, milk and extracts for two minutes.
3.  Fold in sour cream and mix until just blended.
4.  Fill paper liners 2/3 full of batter.
5.  Bake for 18-22 minutes or until center is set.
6.  Remove from oven and cool completely before frosting.
FOR FROSTING
1.  In a large bowl cream together butter, shortening and extracts together.
2.  Mix in 1 cup of powdered sugar at a time, beating well after each cup.
3.  Thin out with a little milk to desired consistency and mix until creamy.
4.  Using a large pastry bag and star frosting tip, pip frosting onto the top of the cup cake in a circle motion.
5.  Immediately top with sprinkles.