Yesterday I sat down and was filling out my calendar for the next few weeks. I started to get a little overwhelmed with how much will be going on for the rest of the year. All of the school functions, playdates, parties and the holidays. Oh, those end of the year holidays! This year I plan on being a little more organized and make the most of my time.
That's were easy and comforting recipes come into play. I'm already planning my Thanksgiving and Christmas menus and those tend to be pretty time consuming. Don't get me wrong. Those are two of my favorite holidays to cook and bake for! With everything else going on in my life I need prepare more recipes like this ever-so-tasty Teriyaki Chicken.
There are three things that I laaauuuuve about this dish.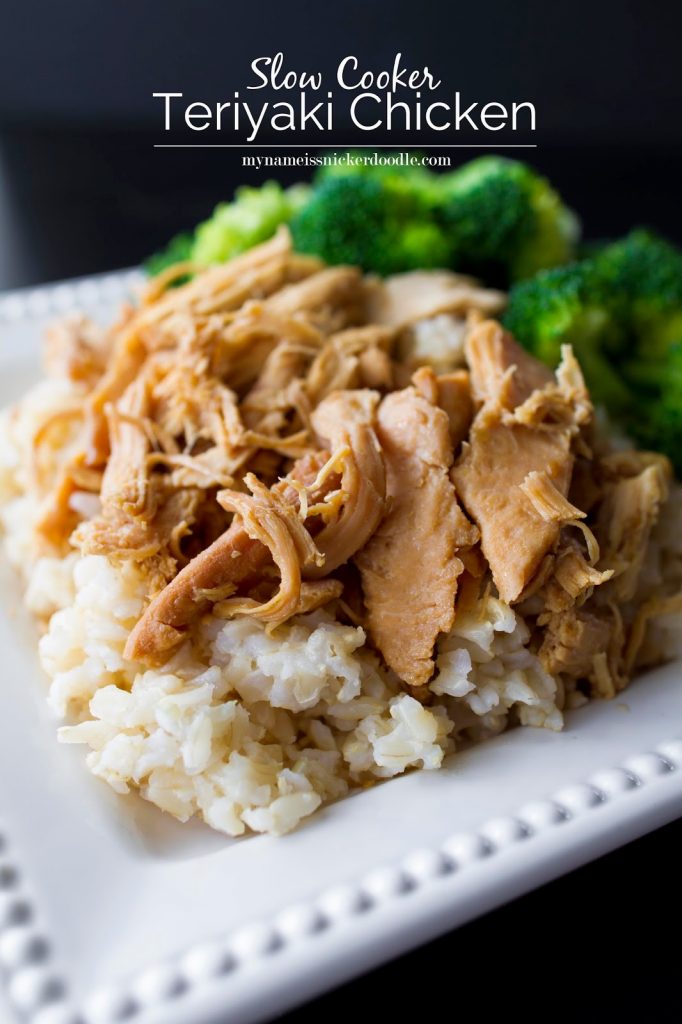 1. It's only 2 ingredients. Truly.
2. You make it in the slow cooker. The only thing hard about that is remembering to put it together in the late morning.
3. My kids gobble this up! And recipes like that are hard to come by with picky eaters.
This is one of those dishes that I hate to even claim I have a recipe for because it's so simple but, here you go!
Teriyaki Chicken
Printable Recipe
Serves 6
6 chicken breasts, any fat and skin removed
2 cups *Veri Veri Teriyaki Sauce
Place chicken and sauce in the slow cooker and cook on high for 4-6 hours. Once chicken is cooked, take 2 forks and shred chicken while it's in the slow cooker. Serve over rice and with your favorite veggie.
I use frozen chicken breasts and place them in the slow cooker and cook them on high 6 hours. Once they are cooked, I remove each chicken breast and cut off any fat or skin. It's easier this way rather than trying to cut it off while it's frozen. Place it back in the sauce and then shred.
*Veri Veri Teriyaki is made by a company Soy Vay and I absolutely LOVE this. It make for the perfect for every type of meat. It can be found in the Asian isle of your market. Trader Joe's also makes a very comparable version called Soyaki.
Here are some of my family favorites for easy weeknight meals…

This post is linked up at – Totally Talented Tuesdays, Whimsy Wednesday, Wow Me Wednesday, Project Parade, Riverton Housewives Roundup, Live Laugh Linky, The Creative Exchange, Weekend Re-Treat, Link Party Palooza, Super Saturday, Creative Collection, Bloom Designs Online, The Party Bunch, Show and Tell, Monday, Funday,