With Independence Day next week (I know! Can you believe it?) I thought that I would share and revisit some of my recipes each day this week to maybe inspire you for your own food festivities! I mean, it's grilling/bbq season. Right?
Here's a new side that I created a couple of weekends ago. I've always seen this corn here and there when it comes to summer recipes, but never looked at the actual recipes or how to's. I always thought that it looked easy enough to create on my own. Soooo, I'm not sure if I can even call it a recipe because it's so simple to make!
(I was so excited to make this that I forgot to bring my camera (we were at another house) so I snapped one with my phone. I love the iPhone!)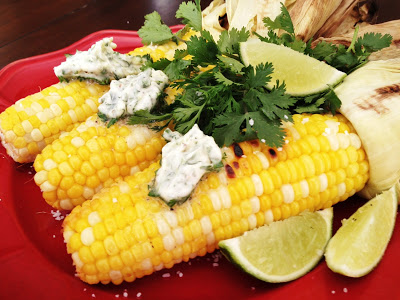 Grilled Corn with Lime Cilantro Butter
4 ears of corn, with husks
4 TBSP butter, softened
2 TBSP cilantro, chopped
1 TBSP lime zest, about one lime
1/2 tsp pepper
1 lime cut into wedges
salt
Heat grill to 375. Peel back husks and remove silk, keeping husks intact. Pull husk back over corn and roll each ear in foil. Cook on indirect heat for about 15-20 minutes or until tender. While corn is grilling make butter by mixing together butter, cilantro, lime zest and pepper. Remove foil from corn and carefully peel back husks (it's hot!). Give the husks a twist. This will give it something to hold on to while eating. Place a tablespoon of butter on corn and spread around until nicely covered. Sprinkle with salt and serve with a lime wedge.
* If you don't have a grill feel free to just boil the ears (without husks) until tender.
* If you buy corn without the husks, still wrap them in foil and cook the same. The corn will get some great grill marks and blister more (which is just fine).