My favorite "vegetable" is asparagus. I didn't discover it until I was almost 19. The first time I had it it was wrapped in bacon so what's not to love. Every since then I've only cooked it two different ways…roasted and a few times in a yummy pasta dish.
I have food epiphanies every now and then and this new recipe was one of them! It's dishes like this one that make me really excited to share it with you. I almost can't stand to wait until Friday to post it and have to refrain from posting sooner. I hope you enjoy this recipe as much as I have enjoyed creating it!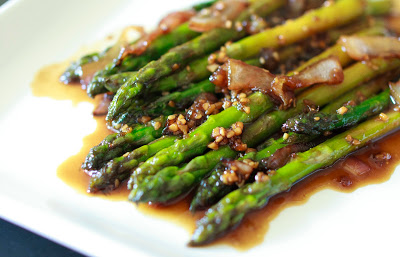 Spicy Sesame Asparagus

1 bundle fresh asparagus
1/2 purple onion, thinly sliced
2 TBSP olive oil
Sauce
1/3 cup teriyaki sauce
1/2-2 tsp sriracha chili garlic sauce
1/4 tsp sesame oil
1 garlic clove, minced
1/4 tsp ground ginger (or 1 tsp freshly grated ginger)
1/2 tsp sesame seeds
In a small bowl whisk together sauce ingredients and set aside. Wash asparagus and cut off the woody end, about 1/4 off the bottom of the stalk. Over medium high heat, heat olive oil in a medium saute pan. Add in asparagus and sliced onion. Saute for about 5 minutes, stirring a few times. Once asparagus is tender pour sauce into saute pan and, using a wooden spoon, scrap off any bits from the bottom of the pan. Cook until sauce is slightly thickened, about 1-2 minutes. Serve.
* Sriracha chili garlic sauce is VERY spicy. HOT HOT HOT! Because of my Crohn's I have to limit how spicy my food is so I usually avoid it all together. However, I like a slight kick every now and then so I just added 1/2 teaspoon of it and it was just enough of a hint of hotness. Now, if I were making this strictly for Ian (who always asks for extra wasabi when ordering sushi) I would add in the 2 teaspoons.
**This recipe would still be delish if you are avoiding sesames because of allergies.