Do you remember those brownies I shared a few weeks ago?  I also shared a video you can watch HERE.    Well, if you thought brownies couldn't get any better, I'm here to prove you wrong!
I get these crazy ideas for recipes when I'm about to fall asleep.  Or when I'm sitting at a red light.  There really is no rhyme or reason to how they come.  Some have been complete fails, and others, like these Candy Dipped Brownies, are absolutely genius!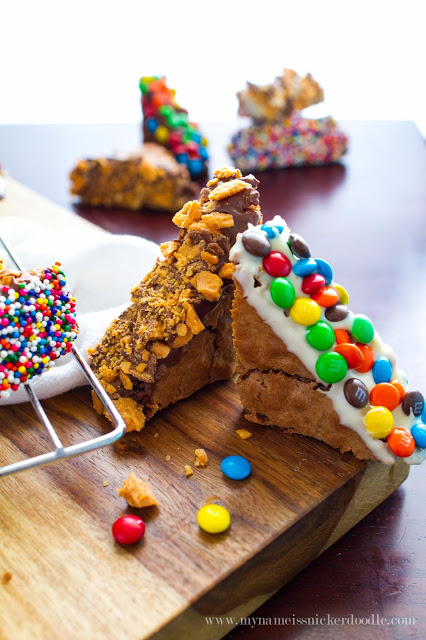 I mean, look at them!  They are not for the faint of heart and totally a food beauty!  Is that even a thing?  It is now!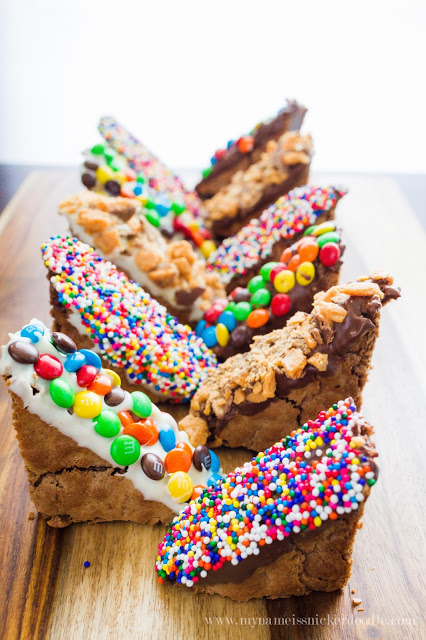 I'm thinking these would be so fun to make this holiday season for neighbor gifts, for your kids teachers or for those festive parties.  Use seasonal candies to take it over the top!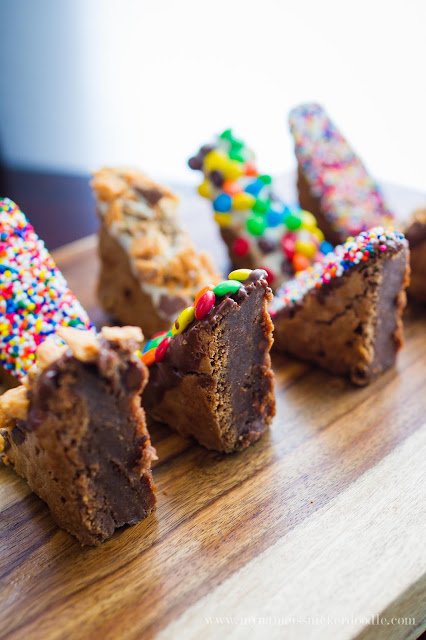 Candy Dipped Brownies
Ingredients
Brownie Recipe Here
1 cup semi sweet chocolate chips
1 cup white chocolate chips
assortments of candies and sprinkles
Directions
1. Bake brownies according to recipe directions and let them cool completely in the pan.
2.  Run a knife around the edges then cut the brownies into 16 squares.
2.  Cut each square in half triangles.
To Dip
1.  In two microwave bowls, melt semi sweet chocolate and white chocolate until melted.  About 1 minute stirring after each 10 seconds.
2.  Pour crushed candies or sprinkles into separate bowls.
3.  Dip the long side of the brownie triangle into the melted chocolate.  Shake off some of the excess.
4.  Dip into candies or sprinkles.
5.  Place onto a parchment lined baking sheet and allow for the chocolate to set up.  About 1 hour at room temp.