Chocolate Peppermint Patty Cookies are made with a simple cake mix, pantry ingredients and a minty Peppermint Patty hidden inside.  It's then topped with a mint chocolate drizzle and pretty perfect for holiday celebrations!
To all of you peppermint fans, I've got a few other recipes using that classic holiday flavor.  I make Christmas Peppermint S'mores every year to give out to my neighbors.  They are unique and oh so good!  Chocolate Peppermint Bark Cookies are also a great treat to create for those peppermint lovers in your life.  These Chocolate Peppermint Pretzels are fun to make with the kids.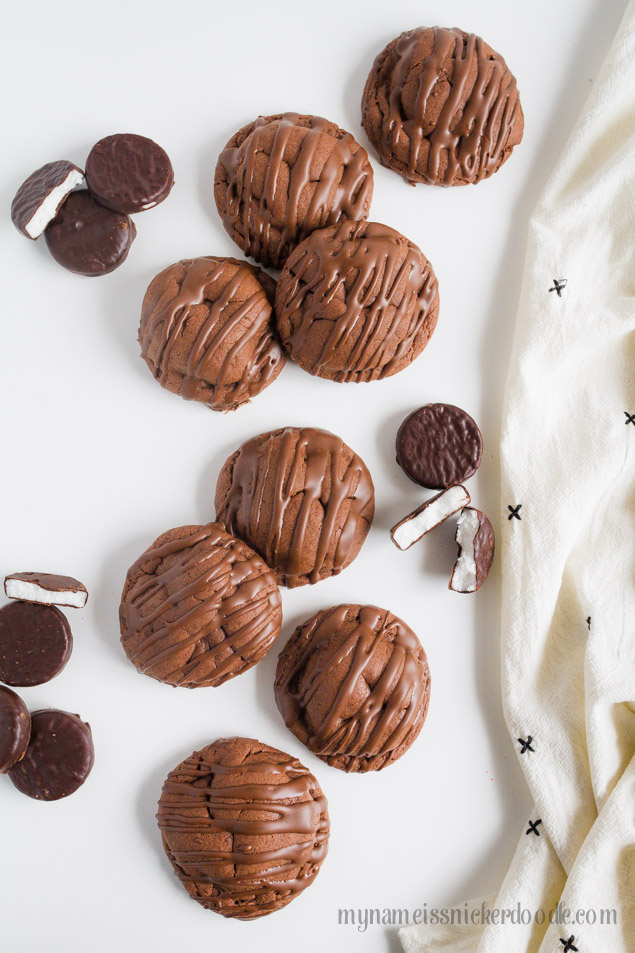 Peppermint Recipes
I have two family members who are BIG fans of Peppermint Patties.  My husband alway loved them as child and then passed that love onto our oldest son.  Occasionally my husband will bring home one of the big Peppermint Patties, one for each of them, and they sit and enjoy the sweet treat with such admiration.  It's pretty entertaining to watch.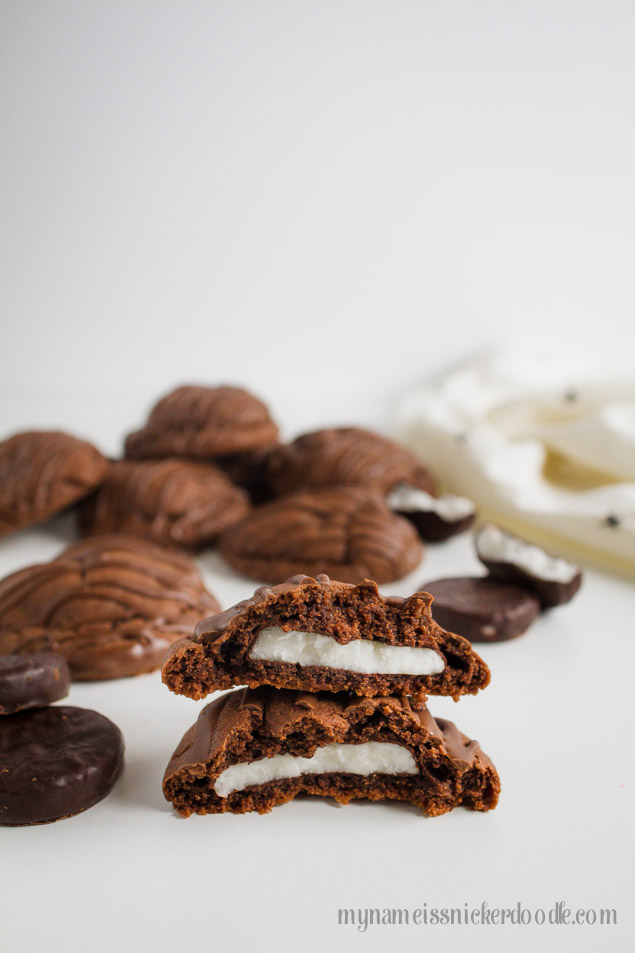 I had the idea for these cookies when we I found a few smaller peppermint patties in my pantry.  First, I was surprised they weren't all gone.  Second, I quickly stashed them away because I knew exactly how I wanted to give a surprise to my two mint lovers.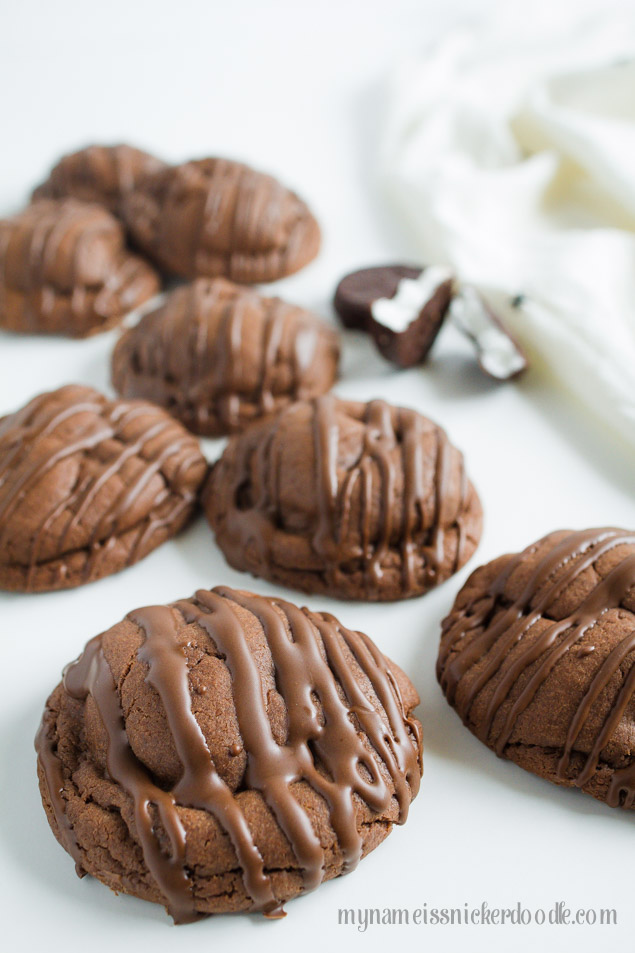 How To Make A Cake Mix Cookie
Cake mix is something I have on hand at all times.  It's very versatile.  You can not only make a cake, but you can make brownies and cookies from a simple box of cake mix.
All you need to do is add some eggs and some sort of moisture like water and oil or butter.  Every recipe is different, but I like the below recipe for two reasons.  These bake up really well and aren't too fluffy.
Second, I love the chewy texture.  They are a cross between a cookie and brownie.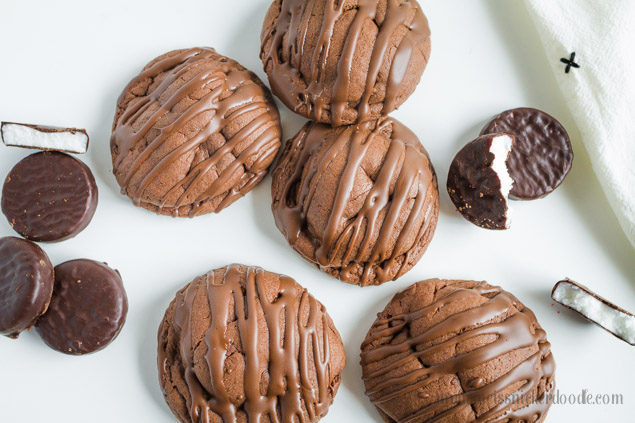 There is the added bonus of a peppermint patty in the center that make these all that much better.  I also like to add a minty chocolate drizzle on top.  It adds a bit of flare to the cookie to let you know they are something special.
Make these other holiday recipes!
Chocolate Peppermint Patty Cookies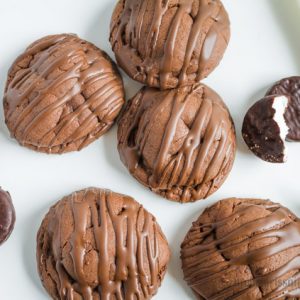 Chocolate Peppermint Patty Cookies
Chocolate and Peppermint are such a classic flavor pair! These are made easy using a simple cake mix!
Print
Pin
Ingredients
1

Betty Crocker Devil's Food Cake Mix

1/2

Cup

Canola Oil

1/4

Cup

All Purpose Flour

2

Large

Eggs

24

Small

Peppermint Patties

1

Cup

Andes Mint Baking Chips
Instructions
Preheat oven to 350 degrees.

In a stand mixer combine cake mix, oil, eggs and flour. Mix on medium speed for 1 minute or until well combined.

Using a 2 tablespoon cookie scoop, scoop out cookie dough and form each one into a ball.

Press one peppermint patty into each ball and form cookie dough around the candy.

Place cookie dough balls onto a cookie sheet evenly spaced. 24 dough balls divided onto two cookie sheets.

Remove cookies to a wire rack to cool completely.

In a medium heat proof bowl, melt mint baking chips in the microwave for 20-30 seconds until melted.

Pour chocolate into a pastry bag or gallon baggie. With scissors snip off a tiny opening.

Drizzle melted mint chips over the cookies.

Allow for chocolate to set for 20 minutes before serving or storing.
*Originally posted November 2018 and updated November 2020.