Today we took down all of our Christmas decorations and were left with a few needles on the carpet. Our living room instantly was large again and all of our furniture looked bare. It's always a bittersweet moment for me. I absolutely love having Christmas up in our house! I'm a classic red, green and white kind of decorator.
We still have plenty of Christmas goodies around the house including plenty of candy canes! I couldn't resist making a batch of these tasty Peppermint Pretzels to kick the new year off with. I'll be staring my resolutions to eat a little better another day!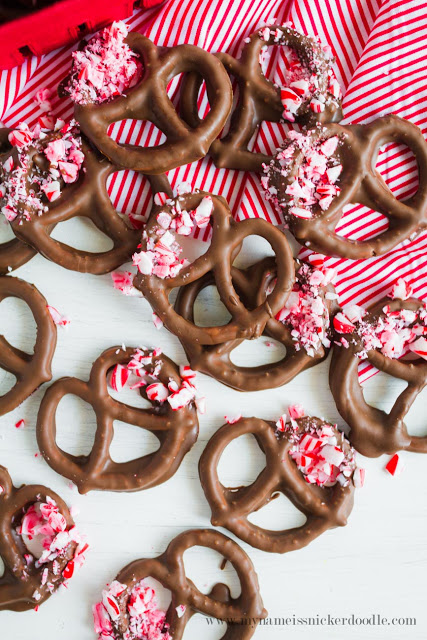 I really like to use Ande's Baking Bits to dip things in because it sets up really well. It's not as temperamental as regular chocolate.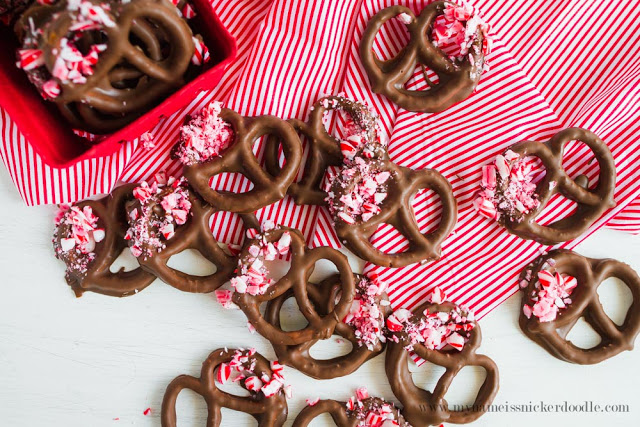 Be sure to pin this to your favorite Christmas Pinterest board so you can have the recipe ready at hand to make your own to pass out to neighbor and friends next year!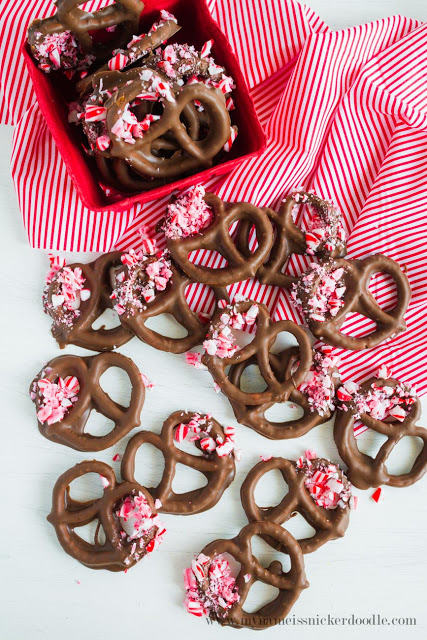 Chocolate Peppermint Pretzels
Printable Version
Ingredients
40-50 Large Pretzel Twists
1 Bag Ande's Mint Baking Bits
4 Candy Canes, Crushed
Directions
1. Line two baking sheets with wax or parchment paper.
2. In a medium heat proof bowl, melt baking bit for 1 minute in the microwave. Stir halfway through.
3. Place crushed candy canes into a small bowl.
4. Completely dip each pretzel into the chocolate and gently shake off excess.
5. Immediately dip one corner into the candy cane and place onto the baking sheet.
6. Repeat until you've used up all the chocolate.
7. Let the chocolate set up for 1 hour before serving.
8. Store in an airtight container for up to 2 weeks.