We are slowly coming upon everything peppermint season and I couldn't be more excited!  I try to incorporate the flavor when I can and it's typically together with chocolate.  You can't go wrong with that!  I had made some classic rice crispy treats and a thought popped into my head of how much better they would be with some minty chocolate covering them!  These Minted Rice Crispy Treats are a new family fav and I love that they are bite size!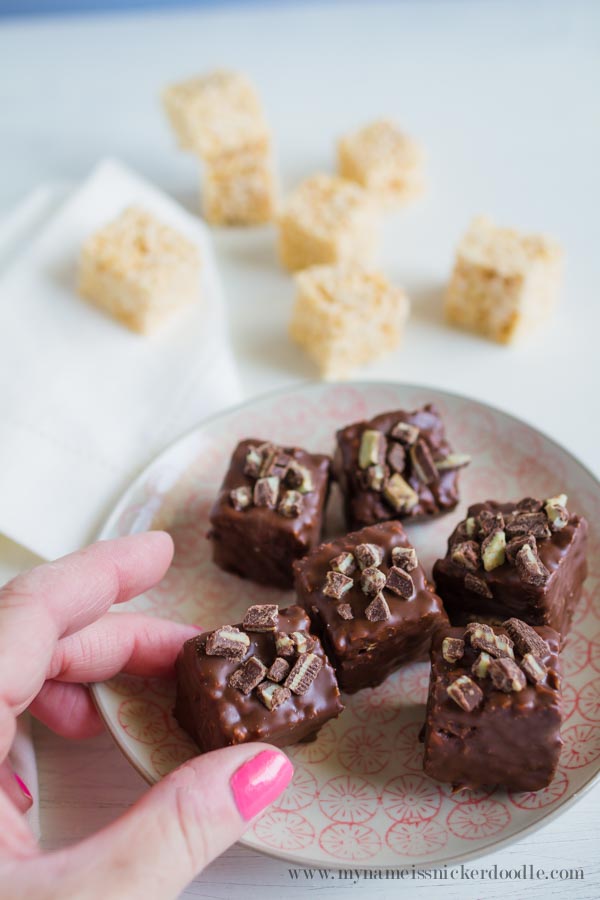 Did you know that Ande's Mint Chips make for the perfect dipping chocolate!  It melts really smooth and hardens nice and glossy!  Just think of the possibilities!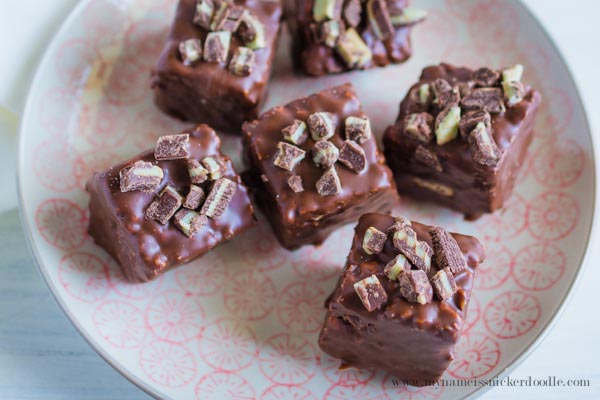 Since mint can be a pretty strong flavor, I cut my squares into a bite size.  They turned out not only delicious, but kind of adorable too!  Who doesn't like mini desserts?
I'm thinking these would make a great treat for neighbors and teachers this holiday!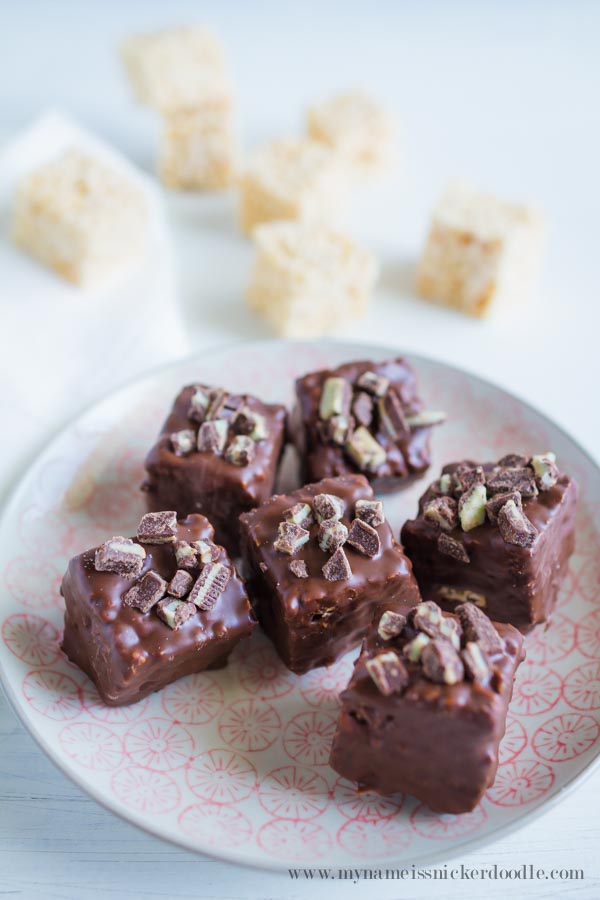 Minted Rice Crispy Treats
Makes about 30
Printable Version
Ingredients
3 TBSP Butter
10 oz Mini Marshmallows
7 cups Puffed Rice Cereal
12 oz Ande's Mint Chips, Divided
Directions
1.  In a large pot melt butter and marshmallows over medium low heat, stirring constantly.
2.  Once completely melted, pour in cereal and stir until completely coated.
3.  Spray a 9×13 baking pan with cooking spray.
4.  Spread coated cereal into pan and press down evenly to make level.
5.  Let cool for 1 hour.
6.  Turn out treats onto parchment paper and cut into 1 1/2 squares.
7.  In a medium bowl pour in chips, reserving 1/3 cup for sprinkling on the top.
8.  Melt chips in the microwave for 30-60 seconds until melted, stirring after each 10 seconds.
9.  Dip each square into chocolate and shake off excess.
10.  Place back onto the parchment paper and immediately sprinkle with a few reserved chips.
11.  Repeat with remaining squares.
12.  Let them set up for 1 hour before serving.
13.  Store in an airtight container.
Make these Christmas Peppermint S'mores!