Christmas Punch really would be great all year long, but there is just a little extra magic when you make it in the holiday season.  It's sweet, sparkling and slushy.  Plus it's kid friendly!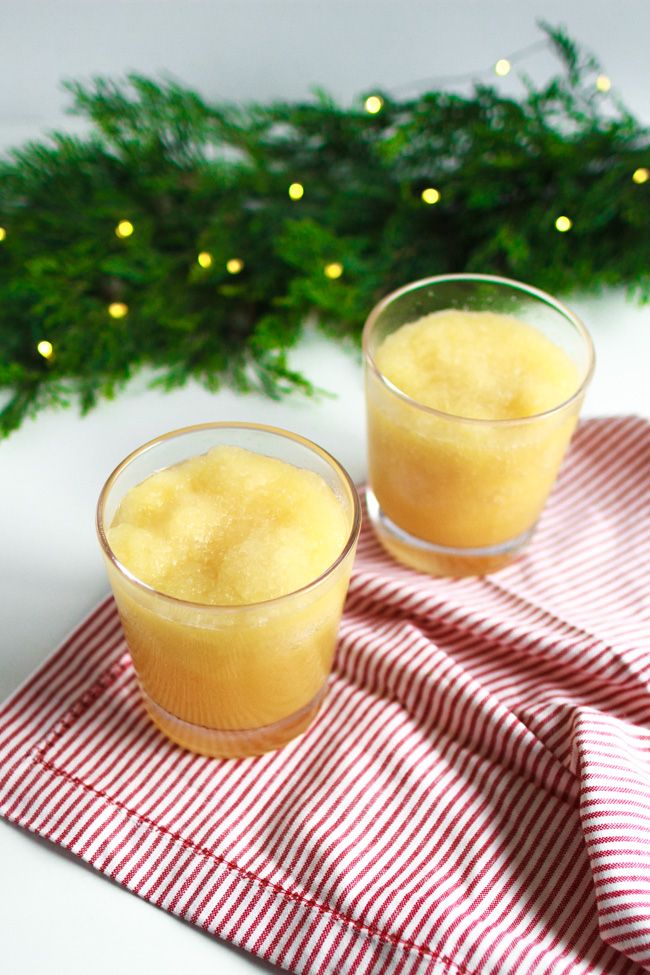 I love a good mixed drink.  I don't drink alcohol, but I love coming up with different concoctions that make any get together super festive.  Making these drinks are especially fun during the holidays.  It would be perfect for a simple game night with immediate family or for a decadent feast with family and friends.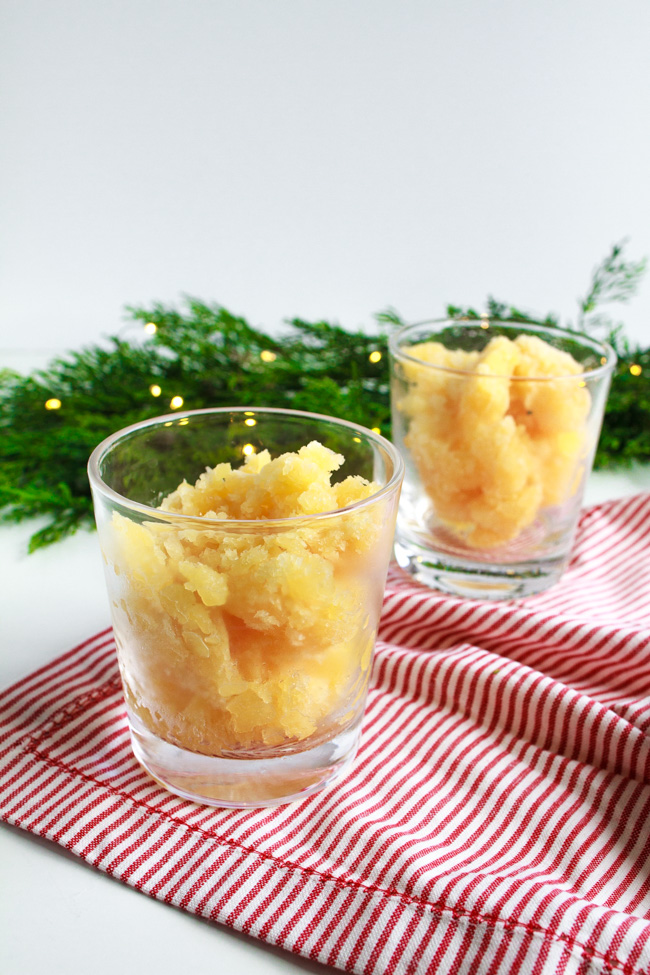 There are few things I love about this Christmas Punch.
It can be made weeks in advanced.  This way you are rushing at the last minute while you're trying to get your entire meal on the table for your guest.
I also love that it's slushy!  Call me a little kid, but gosh, this is super refreshing and just is fun to drink.
You can serve it in individual glasses or combine the entire thing in a large punch bowl and let your guests serve themselves.  It tastes incredible either way.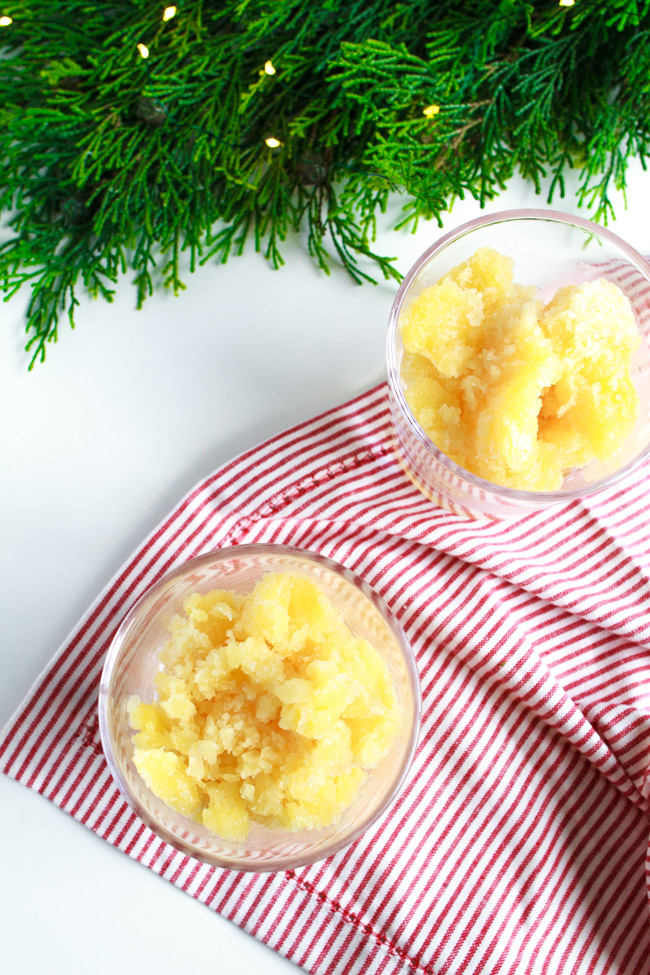 Christmas Punch
Ingredients to make Christmas Punch
Frozen Orange Juice Concentrate
Frozen Cranberry Juice Concentrate
Pineapple Juice
Water
Ginger Ale or Sprite
This mix is full of citrus flavors and I love adding the sparkling touch with either ginger ale or Sprite.  I'll leave it up to you with your preference.  My family loves ginger ale with this!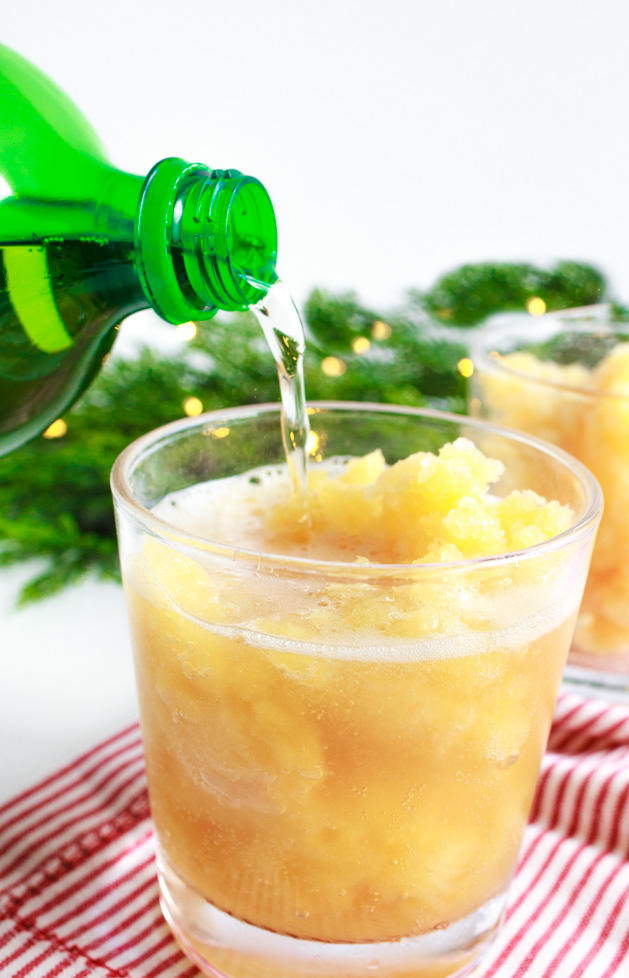 How To Make Christmas Punch
A truly simple method makes this punch something your family will remember for years.
Here's what you need to do.
Mix together your juice concentrates in a large bowl.  I like to set them out on the counter for about 30 minutes to thaw them out a bit.  It's not necessary, but it does make it easier.
Pour in the water and pineapple juice and stir until well incorporated.  I use a wooden spoon, however a whisk or spatula works well, too.
Gently pour it into a 9×13 dish or something a little larger.
Place it somewhere in the freezer where you have easy access to it.  You'll be pulling it out frequently for a few hours.
After it's been chilling for 1 hour take it out and start scraping it with a fork. It will still be pretty liquidy at this point, but a few ice crystals will have formed.
Put it back in the freezer and pull it out every hour and scrap it with a fork.  The reason you want to do this is it will prevent it from forming into a large solid ice block.  This whole process will take about 6 hours.
When it is all frozen you'll want to cover it with a lid or plastic wrap until you are ready to serve it.  If you make this way ahead you will want to cover it with a lid or a double layer of plastic wrap then a single layer of foil on to of that.  This will help prevent it from tasting "like the freezer".
Once you are ready to serve you will scoop the slush mixture into a glass then pour ginger ale or Sprite over the top.  The longer it sits it will form into a full slush or you can slightly stir it to combine a bit.
You can also scoop the entire slush mixture into a large punch bowl and then pour over a liter of ginger ale or Sprite.  This way your guests can serve themselves.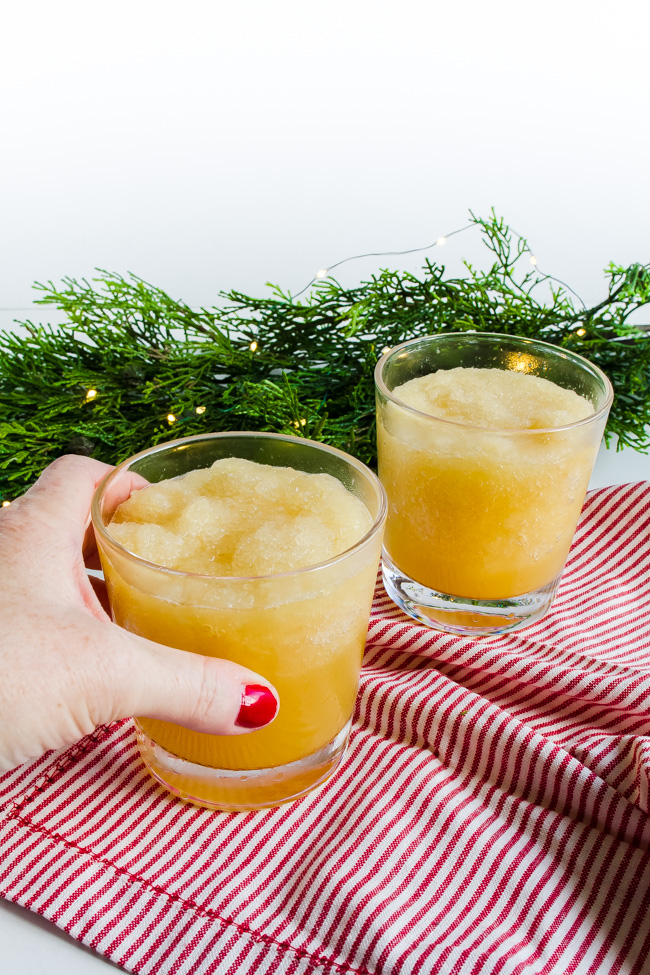 If you find it's too sweet you can certainly add more water to the mixture.  You can also use club soda to pour over it instead of ginger ale.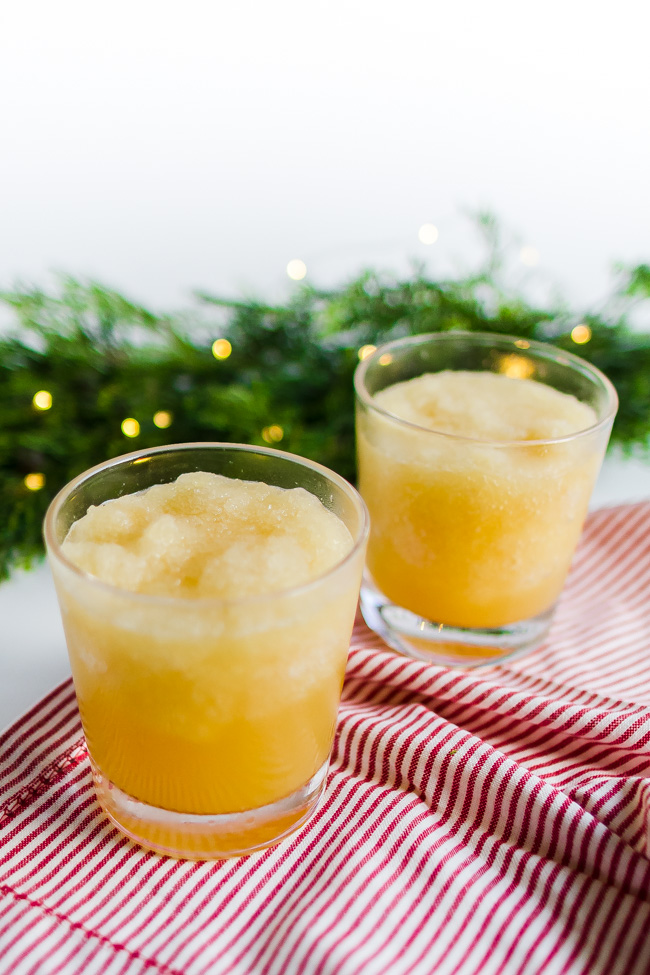 Be Sure To Try These Other Recipes
Are you on my favorite social media?  Be sure to follow me over on Instagram!
Christmas Punch Recipe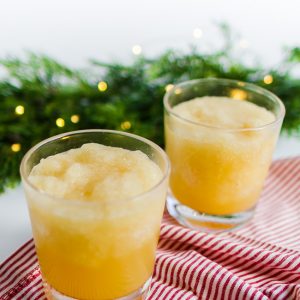 Christmas Punch
Christmas Punch is such an easy and simple recipe for the holidays. It's kid friendly and can be made ahead of time. Slushy, sweet and sparkly!
Print
Pin
Ingredients
12

oz

Frozen Orange Juice Concentrate

12

oz

Frozen Lemonade or Cranberry Juice Concentrate

If using Cranberry Juice the color will differ from the picture above.

3 1/2

Cups

Pineapple Juice

2

Cups

Water

3-4

Liters

Ginger Ale or Sprite
Instructions
Spoon out frozen juices into a large bowl and break up a bit with the back of the spoon.

Mix in pineapple juice and water until well incorporated.

Pour into a 9x13 dish and place into the freezer.

Freeze for 1 hour then pull out and scrap with a fork.

Repeat this step until the entire mixture is frozen. Scraping it with a fork every hour will help prevent it from freezing into a solid block.

Fill a cup 3/4 of the way full with frozen juice and top off the entire glass with cold ginger ale or sprite. Serve.

Cover the dish with plastic wrap until ready to serve. The slush will keep in the freezer for up to 1 month.