Christmas Tree Cheese and Cracker Tray is such a great food idea for the holidays.  Use your favorite meats and cheeses to create this adorable edible tree!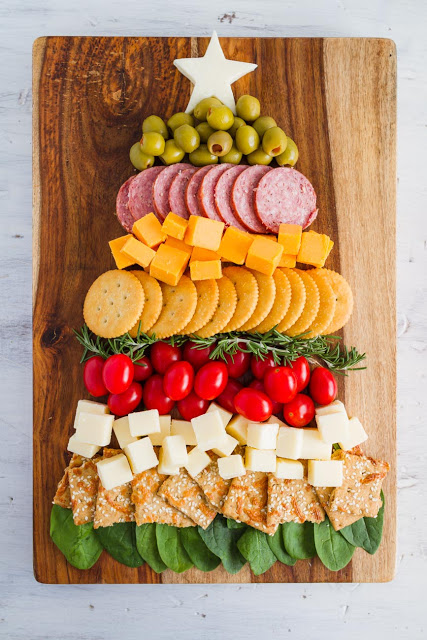 I have a Christmas planner.  A few years ago a friend shared hers and I thought it was a brilliant idea!  I pulled together a few supplies and created the cutest little planner.  It's where I pretend I'm super organized and have my December calendar filled out along with lists of gifts to buy, traditions written down and holiday recipes printed off.  I'll have to share it with you sometime soon.
Back to that calendar…it's full.  Every year the days fill up before the month of December even hits.  Like, with plenty of activities throughout the month.  And there are few parties planned which I'm always super excited about.
Christmas Tree Cheese and Cracker Tray
This cheese and cracker tray is one of my go to spreads if I'm every asked to bring anything to these holiday parties.  It's even fun to make a more elaborate one if I'm hosting a party myself.
Isn't it darling?  Can food be darling?  If so, this is!  It is definitely not your typical cheese and cracker tray  There is something about a cheese and cracker tray that I cannot resist.  Maybe it's all the different colors and textures, but I can't get enough.
I tend to play it a little safe on the types of cheese, meats and vegetables that I use when creating this.  I also focus on using the traditional reds and greens so popular during the holiday.  You certainly could could branch out and use fancy ingredients if you think your guests would love it.
This project I created images for  Oriental Trading Company. You can check out all the details over there.
I'd love for you to make these other holiday recipes!