Alright!  It's been a little over a month since I shared that I was upping my game on my Facebook Page.  I will have all parts linked up at the bottom so make sure to scroll down and click over.
My only goal was to do better than I did the month before.  Actually, that will most likely be my main goal the entire time I have my FB page.  Last month I gained 37 new followers and this month I gained 29.  Not exactly what I was looking for.
Let's factor in a little thing called life.  All three of my kids have been sick with ear infections, coughs, croup, fevers and many sleepless nights.  That, in turn, makes for many sleepless nights for me!  Hahaha!  I also took a week long trip to Utah spend some time with my parents and visited with friends.
Even though I did schedule posts while I was gone, I didn't have enough time before I left to get as many in as I had hoped.  There were projects with deadlines that had higher priority.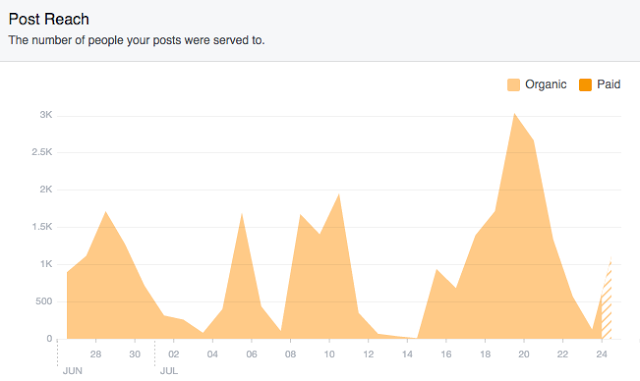 I did, however, get a higher Reach last week and that spiked my following, shares and likes on those posts.  Reach is pretty important because it meas that's how many people are actually seeing your content.
That huge spike you see on July 18th and 19th is when I shared my recipes for Sonoma Chicken Salad (1,728 reached) and Berry Scones (2,726 reached).
This month I am going to try posting at different times of the day to see if I can increase my reach and my engagement. I'm still not ready to post every hour of every day, but I'm getting there!
I still look at this month as a step forward.  I did also lose followers along the way, but I truly want readers who enjoy my content!
My Facebook Page Experiment
PART 1