I mentioned a while ago that we've been trying to eat just a little healthier lately. I've learned that the best way for our family is just to do it gradually. I've traded out certain ingredients for healthier versions. It's not too extreme, but works for our family. This is one of those "healthy" sides that we fell in love with so I make it often because it goes with everything. So if you are a rice loving family, I highly recommend this version!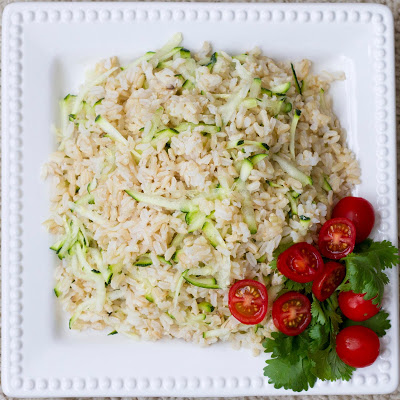 Zucchini Brown Rice
Printable Version
Pin It
1 cup uncooked brown rice
2 cups water
1 small zucchini
Cook brown rice according to directions on your package. Once the rice is cooked turn off heat, but leave pot on burner. Using the small holes on your grater, grate whole zucchini on top of your rice. Fluff together with a fork then cover it with a lid. Let it stand for 5-7 minutes. Serve.
The zucchini is barely noticeable, but you are definitely getting all those nutrients!