Week 2 of my peppermint themed month brings me to something I discovered last year at Costco. Mine aren't just like them, but we have sure enjoyed them. I was fighting back the family to save some for my pictures! Liam kept begging for 'Christmas pretzels'. Isn't it so fun to have kids around for the holidays? Well, it's fun to have them around the rest of the year too!
This is one of those recipes that's not really a recipe and those are the easiest kind!
I couldn't decide if I wanted to do pretzels dipped in white chocolate and red/green candy canes or…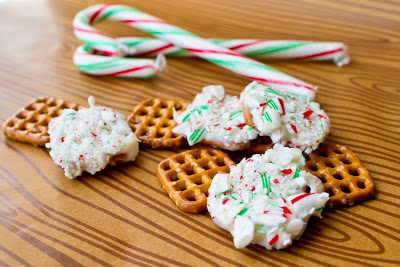 …pretzels dipped in semi-sweet chocolate and red/white candy canes.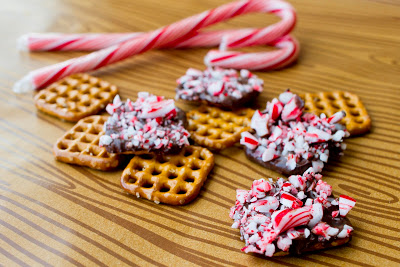 So I did both!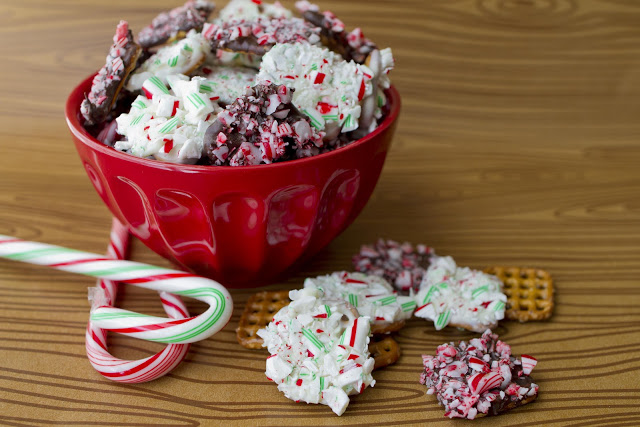 Peppermint Bottom Pretzels
(Or Christmas Pretzels!)
Printable Version


About 75-100 Waffle Pretzels
1 1/2 cups white chocolate chips
1 1/2 cups semi-sweet chocolate chips
5 red/green/white candy canes
5 red/white candy canes
Line two large baking sheets with parchment paper. Place unwrapped candy canes (what ever color you want to start with) in a large resealable bag. Crush with a rolling pin. You don't want to make it too fine or too chunky. Just small little bits. Pour crushed candy into a shallow bowl.
In a microwave proof bowl melt one chocolate at a time for about 20-60 seconds. Stir after each 10 seconds until completely melted. Do not melt chocolate at the same time. You won't be able to dip fast enough (unless you have a helper) and the chocolate will harden up.
Once the chocolate is melted, dip the bottom of each pretzel in the chocolate and lightly dip into the crushed candy cane. Place candy side down onto parchment paper. Repeat until you've used up all of your chocolate. Let the chocolate 'set' for about 8-12 hours before serving.