It's been pretty chilly around here. I told you that it snowed Christmas day and wouldn't you believe it…it snowed again this last Monday. For Texas, that's big.
Chilly weather always calls for something comforting to eat like soup! My recipe was sparked from Lucinda Scala Quinn's (one of my favorite chefs) soup recipe. This chowder is made with chicken instead of seafood so that's why it's called "farmhouse". I could eat this morning, noon and night. Seriously.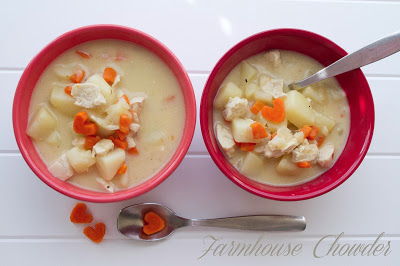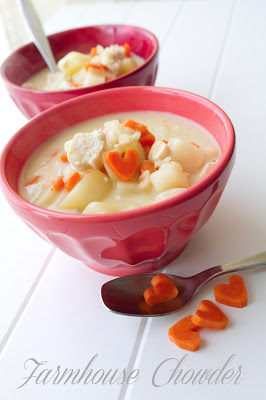 Farmhouse Chowder
Printable Version
Serves 4


2 large chicken breasts, boneless and skinless
8 cups chicken broth
2 small chicken bouillon cubes
1 medium yellow onion,chopped
4 medium carrots, peeled and diced
4-5 medium potatoes, peeled and cubed
Salt
Pepper
6 TBSP butter, divided
4 TBSP flour
3/4 cup heavy cream
In a large pot, simmer chicken breast in chicken broth with bouillon cubes for 10-15 minutes or until no longer pink in the center. Remove the chicken to a plate and let cool. Reserve broth. In another large pot, saute onions and carrots with a pinch of salt in 2 tablespoons of butter for about 6 minutes. Add remaining butter and flour and whisk together for about 1 minute. Whisk in all of the chicken broth and bring to a boil. Season with salt and pepper to taste. Add in cubed potatoes and reduce heat. Simmer for 8-10 minutes and taste again for seasonings. Shred or cube chicken and add to the chowder. Stir in the heavy cream. Heat through for 2 minutes and serve.