Here is another food re-creation from one of our favorite appetizers from Red Robin. We had the Just-In-Quesadillas a couple of years ago when we were being adventurous and ordering something we had never had before at our favorite restaurants. I don't know if they are even still on the menu because once I knew I could make them at home, I moved on to other items. Super easy and super delicious!!!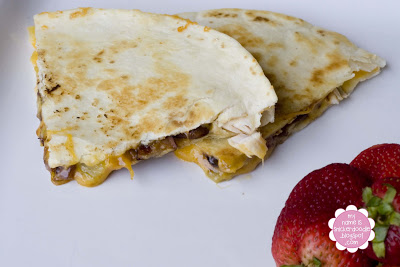 Chicken, Mushroom and Bacon Quesadillas
8 8″ flour tortillas
2 cups cooked shredded chicken (rotisserie is the best and easiest)
1 1/2 cups sliced button mushrooms
4 ring slices of purple onion (about 1/4″ thick)
1 small can diced chilies
1 cup cooked and chopped bacon
4-5 cups shredded cheddar cheese
2 TBSP butter
1 TBSP soy sauce
In a small sauce pan, saute mushrooms and onions in butter and soy sauce until lightly golden brown. Place 4 tortillas on counter. Sprinkle about 1 cup of cheese onto each tortilla, spreading out to the edges. Then evenly top each with chicken, bacon, onions, mushrooms and as much chilies to taste. Top with remaining tortillas. You can either bake all of them at 400º for 7-10 minutes until golden brown and cheese is melted through. You can also brown them in a skillet (which is what I did in the picture above) one by one until toasted on each side. Slice in half or in quarters.
*I find the key with toasting them in the pan is constantly spinning them with my fingers so they don't get burn. Flip them with a spatula and continue to spin the other side until cheese is melted. You really can put anything you want in them. I found that these flavors are fabulous together. If you can think ahead when make bacon for breakfast, reserve a couple of strip, chop them and cook them when you are done with the strips. Then you can use them for dinner the next night.
When I was 18 I worked for a catering company that a family friend owned in Utah. I love my mom so much, but Mellor's is where I learned to cook. I loved working there and have plenty of fond memories..even the 68 hour work week I did one December. I still crave the drumsticks that Rod used to make and the delicious gravy Marba used to whip up. And don't get me started on the brownies. But I would have to say that I used to drowned myself in their Lemonaid. I am not sure if they still serve it so I hope I am not giving any house secrets away. All it was was Country Time Lemonaid and Pineapple juice. I loved it. Todays sweet treat is a version of this mouthwatering lemonaid.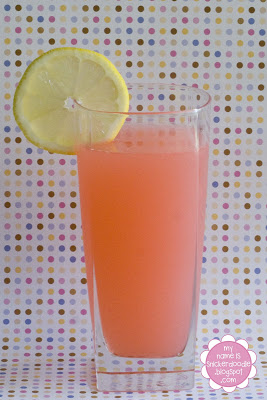 Cherry Pineapple Lemonade
Country Time Lemonade powder
1/4 cup Maraschino Cherry juice
2 cups pineapple juice
In a large pitcher mix lemonade according to 2 quart directions. Add in cherry and pineapple juice. Stir well and chill.